ITALY CYCLING MAP & HIGHLIGHTS
---
MAKE THE MOST OF YOUR TIME
As the northeastern Italy disappears into the Dolomites and the northwest aligns with the Alps, cyclists endure or enjoy steep climbs and alpine vistas; however, head to Venice or the Piedmont region, respectively, and the Panoramica del Monferrato and Strada del Vino set a more relaxed scene for Italy cycling vacations. Cycling from Cinque Terre to Pisa conjures up Ligurian waves melding into Tuscan folds and Umbrian undulations, whereas follow the coast south and you'll find the Bay of Naples and inevitable excitement on the Amalfi coast. Finally, Pugli provides peaceful paths leading to wild stretches of beach where Ostuni, Gallipoli and Otranto prompt time out of the saddle in between the Ionian and Adriatic.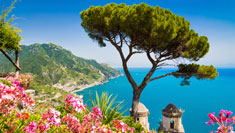 Amalfi coast
Cycle just a short distance from the curvature of the famed Amalfi coast and you'll discover a world away from the hairpins to leave you just as exulted but without the added stress. Cycling from Capo Palinuro towards Positano, Ravello and Salerno unveils the Bay of Naples with ancient Greek settlements and seaside villages tempting steep climbs and plenty of freewheeling to the beach.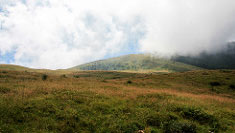 Piedmont
Practically half of the northwest Italian region of Piedmont is mountainous with the Alps accounting for exquisite natural borders with France and Switzerland. Cycling in Piedmont leaves nothing to the imagination with a series of 50km stretches encapsulating the agricultural Montferrato hillsides, topped with vineyards, churches and castles, which lie between Torino, Asti, Alba and Bossolasco.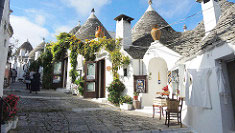 Puglia
As the heel of booted Italy, Puglia serves cyclists with an enviable variety of countryside and coastal scenes all the way from Matera in the north to Santa Maria di Leuca in the south. A train ride from Ostuni to Lecce allows for more time spent in the saddle with the unique architecture of Alberobello and the ancient sites of Otranto adding to views over olive groves and out to sea.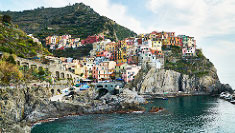 Tuscany
Set between the Apennines and the Med, Tuscany always appeals with a succession of medieval towns, surrounded by rural life, offering options for free days after time spent freewheeling. From the medieval ramparts of Vinci and the baths of Montecatini Terme, to Castelnuovo di Garfagnana and the Cinque Terre coast, cycling in Tuscany can be challenging but rewards are unforgettable.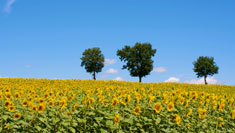 Umbria
Believe it or not, you can cycle from Florence to Rome via the hilltop towns, back roads and felt-green fields of Umbria over the course of a week. Seriously, no joke, 210km is a snip for cyclists with yellow seas of sunflowers and towns like Perugia, Assisi and Spoleto breaking up an enjoyable journey filled with medieval monuments, ancient basilicas and some darn fine early morning coffee.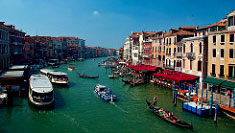 Venetia
The region surrounding Venice is rarely seen by the cruise and coach brigade. This makes places like the Paduan plain and the Berici hillsides picture perfect for pedalling past vineyards and villages en route to lakeside picnics or gelatti on a peaceful piazza. Explore in the Euganean hills or visit Vicenza, Verona or Venice, whatever you do, don't forget to feed your mind as well as your body and soul.


Things to do on a cycling vacation in Italy
---
What to do, & what not to
Things to do on an Italy cycling vacation…
---
Mangia, mangia! It would be awfully churlish to miss out on the delights of Italy's dining table just because you're on a cycling vacation so shout 'bravo!' for bigoli con l'anatra in Venice, bagna càuda in Piedmont, bistecca alla fiorentina in Tuscany and burrata in Puglia, before adjusting saddle bags accordingly and burning it all off over a couple of klicks. Every region boasts its own best dish, so try something new or stick to carb-filled spaghetti – there's a reason why Italian cyclists love Lycra.
No matter which region of Italy you've chosen to explore there will be an abundance of cultural and natural treasures that necessitate a day off to really do them justice. Building a free day into a week-long cycling itinerary also gives you the chance to do absolutely nothing around the pool or on the beach as you relax lengthened limbs and ensure you're buoyed and ready to go the following morning.
Even if undertaking a guided cycling tour as part of a small group, it's still pertinent to know what to do with a puncture and how to protect yourself from the elements. Packing your own saddle, a gel seat, helmet, padded shorts and first-aid kit, including Vaseline, is also advisable, as is plotting your progress on a map so you can really be prepared and gain a deeper understanding of the route and what to keep an eye out for along the way.
Things not to do on an Italy cycling vacation…
---
Overdo it. Cycling in Italy does build excitement levels and ramp up adrenaline somewhat so don't push your pedals to their limits, particularly over the first couple of days. Find a route that suits you and make sure you put in a few hours of cycle time, at least, before heading to them there hills. You may be cycling, but you're still on vacation, so be honest and know your limits before donning your wraparound shades, wiggling your bottom and pumping pedals like Mario Cipollini.
Ignore advice. Ride at your own pace; don't plug in your headphones whilst cycling; cycle in single file; learn the Italian highway code – this is just some of the expert advice that's really worth heeding. Here's some more: set off early to avoid the midday sun, stick to designated cycle tracks and avoid drinking alcohol before you get back to base. Please don't ignore advice if you're hoping to have a cycling vacation in Italy that's successful, enjoyable and memorable – for all the right reasons.
Stick to cities. Turin, Venice, Florence, Rome and Naples are undoubtedly amongst the world's finest cities and if you've never been to Italy before then we'd certainly recommend a visit to any of the locations mentioned above if you're close enough to do so on a day off. However, cycling in and out of Italian traffic is not fun, it's dangerous. Stick to rural tarmac roads and peaceful paths leading through vineyards to hilltop towns and villages.
ITALY CYCLING HOLIDAYS TRAVEL ADVICE
---
TIPS FROM OUR FRIENDS IN ITALY
Packing advice
---
Melanie McAnaw, from our cycling vacation supplier, Headwater: "Cycling shorts are a must. You can get good padded undershorts now that fit under normal clothing and play down the nappy effect. Take comfortable clothing – you're on a relaxed cycling vacation, so Lycra is not an essential. Pack lightweight waterproofs that can be pulled out if needed. For the keen cyclist, go for wider cycling sunglasses as they offer complete protection from 'fly in the eye'. And we always tell guests to pack a cycle helmet. We can't provide them as we can't guarantee its history."
Andrew Ross, Cycling Programme Manager for our tour partners Exodus, passes on packing info: "I'd always recommend taking your own saddle and pedals if you're using a local hire bike. Also pack padded shorts and a map to properly understand the route (even if on a guided group ride)."
PREPARATION IS THE KEY
---
Andrew Ross, from for our supplier, Exodus: "Do as much training as possible beforehand as the fitter you are the more you can relax during the trip and properly appreciate the experience and where you are cycling. That said, always avoid the temptation to be competitive on the trip, someone will always be the slowest rider and it really doesn't matter if that is you. A good cycling vacation will always have been designed to allow enough time for most people to complete the rides each day."
RELAXING & CHALLENGING ROUTES
---
Andrew Ross, Cycling Programme Manager from our supplier, Exodus, recommends regions for relaxing and for more of a challenge: "Actually if you choose your route carefully, the Dolomites can be a great place for a leisurely and relaxing ride. There are some lovely hotels, the scenery is spectacular and they also take their food and wine very seriously. If you are looking for a challenge I'd recommend the lesser-known mountainous north of Tuscany and the coast to coast route from Puglia to Amalfi which crosses some excellent mountain passes."
ITALY CYCLING HOLIDAYS TRAVEL ADVICE
---
TIPS FROM OUR TRAVELLERS
At Responsible Travel, we think the best people to advise our travelers are often... other travelers. They always return from our tours with packing tips, weather reports, ideas about what to do - and opinions about what not to.

We have selected some of the most useful Italy cycling vacation tips that our guests have provided over the years to help you make the very most of your vacation – and the space inside your suitcase.
"Bring clothes for all weathers. We had one day when we needed sunscreen and a hat, and the next it was freezing rain. It's not a tremendously demanding ride, but you do need to be able to ride 30 miles a day and climb a hill or two." – Wendy Pillar, cycling in the Dolomites

"Do some training riding up hills! On two of the days there are very long climbs (and very long descents afterwards). Bring clothes for a wide range of weathers if traveling in April as it can be cool and wet, but when the sun comes out it can also get pretty hot." – Wendy Pillar cycling in Sicily

"Get some cycling practise in - most of the riding is on quiet roads, although it's still worth getting used to cycling in traffic." – Michelle Bickle cycling in Umbria

"The whole trip was memorable... Tuscany is one of the most beautiful places we have ever been to. I think the most exciting part of the trip was when we were biking to Pisa and got our first glimpse of the leaning tower. It was so surreal!" – Manpreet Annand

"Be prepared to eat lots of amazing food, pack a swimsuit." – Charlotte Graham, cycling in Sardinia

"All of the services and accommodations were wonderfully done by small local groups and families." – John Holder, self guided cycling in Umbria