Best time to go on an Italy winter vacation

Yes it was cold, but we were moving all the time while cross country skiing, so I didn't feel the cold at all.

The best time to go on an Italy winter vacation is, not surprisingly, in Dec-Apr when snow forms a beautiful blanket over the Alps and Dolomites. Most small group tours head to the Italian mountains between Jan-Mar. This is when the north turns into one idyllic 'inverno' – Italian for winter. Temperatures can drop as low as -10°C, but the dry air makes this surprisingly comfortable. Expect eight to 10 hours of sunlight in the Dolomites in particular. Epiphany, which is 6 January, is a big public vacation in Italy, so be prepared for some businesses closing down for the day.
Things to do on an Italy winter vacation
Things to do in Italy in winter…
Snow shoeing is the dream winter activity for those who love to hike in wilderness areas, through small villages and remote valleys during summer. We have moved far from the times of battered old tennis rackets on our feet too, with modern snow shoes made of lightweight aluminium, allowing you to traipse through dramatic landscapes with ease. Just put your own waterproof walking boots on and follow your leader. Beginners are more than welcome.
Cross country skiing, also known as langlauf, is the growing, greener alternative to downhill skiing. Using a long, narrow ski with a free moving heel, and a lighter boot than with downhill skiing, escape the crowds on set ski tracks or loipes. These are usually on forest trails or through spectacular valleys which are used for hiking in summer. Don't get cross with the downhill destruction that is happening. Go cross country instead.
Tuck into all things Tyrolean, because Italy's Dolomites are far from the world of Dolmio. Not surprisingly, this mountain fare is hearty. It also has an Austrian influence including Groestl, a bacon, onion and potato fry-up; Kaiserschmarren, a pancake served with plum compote, and South Tyrolean speck ham. Try Tris di Canederli bread dumplings too, served with soup. And all very local, of course. As for wine – plenty of grapes are grown on these slopes in summer, too.
Things not to do in Italy in winter…
Support the synthetic approach. By this we mean the snowmaking mania that is taking over some parts of the Alps. Less frequent snowfall on the downhill terrain has meant that snow cannons are brought in en masse to produce environmentally harmful artificial snow. Read more on why we say no to fake snow. The snow shoeing and cross country skiing vacations on our site keep it very real. Which is refreshing on all fronts.
Ignore the importance of having an expert guide on winter vacations In the Dolomites, for example, you really need an International Mountain Leader (IML) or one recognised by the International Federation of Mountain Guides Association (IFMGA). Don't hesitate to ask your tour operator about your guide's qualifications.
Ignore the danger of avalanches. There might not be snow where you are but, if there is a big melt higher up, it can travel down the valley. A responsible vacation company will include instructions on how to use an avalanche transceiver and other emergency procedures during their introductory sessions. Don't be alarmed, just be astute.

Expect warm weather. This Italy winter vacations guide is all about mountains and snow. If you want to hike or explore without snow in Italy in winter, check out tailor made vacations in Italy, with destinations such as the Amalfi Coast or Sardinia in the south still being lovely at this time of year.
Our top trip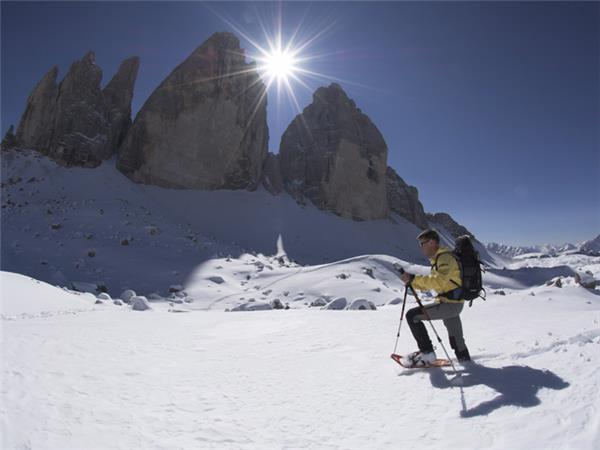 Michelin recommended cuisine & inspiring walks
From US $2475 to US $2925 8 days ex flights
Small group travel:
2024: 20 Jan, 27 Jan, 10 Feb, 17 Feb, 24 Feb, 2 Mar, 9 Mar, 23 Mar
If you'd like to chat about Italy winter or need help finding a vacation to suit you we're very happy to help.

Tips from our friends in Italy
The Dolomites vs. the Alps
The Dolomites vs. the Alps
Claire Daniel, from our supplier Exodus, share their expert advice for winter vacations in Italy:

"The Dolomites boast dramatic scenery with jagged peaks and lush green valleys, but they have a very different culture and feel to the French Alps. The Tyrolean influence mixed with the Italian culture give them a truly unique flavour. Parts of the Dolomites speak primarily German, while other ones are more Italian dominated, but also speak a much rarer language called Ladin."
Itinerary tips
Claire Daniel:

"The Tre Cime di Lavaredo is possibly my favourite place in the world. I trekked around there when I was a child and kept incredible memories of the area and the sheer rock faces of the 'three chimneys.' I am always happy to go back again and again."
Cross country skiing tips
Cross country skiing tips
Tom Wilkinson, from our supplier Exodus, share their expert advice for winter vacations in Italy:

"Don't compare cross country skiing to downhill! It's smooth, often peaceful, and a wonderful way of experiencing the landscape. Also, if you are a downhiller you often forget your heel is not attached, particularly when doing a snowplough. It's not about going 100 miles an hour. It is however more of a full cardio workout. And pack a drinks bottle/flask. Just because it's cold doesn't mean you don't get thirsty. Also I'm also a mega snacker, so need things to eat to keep me going."
Packing advice
Tom Wilkinson:

"Gaiters can be good, there's nothing worse than getting snow down your boots. Also remember that bulky downhill skiing gear isn't great. Layers are the way forward."
Snow shoeing tips
Tom Wilkinson:

"If you can walk you can snow shoe! There are of course techniques and tips for going up and down, and through deeper snow, but really this is the winter sport anyone can do. With snow shoes a beginner can access places usually reserved for red hot off-piste skiers – and you're far less likely to crash into a tree on snow shoes! People can forget that if you're walking in deep snow, walking in single file means the person at the front does all the work breaking the trail, though good etiquette is to take turns doing that!"
Claire Daniel:

"The thing to look at is the fitness level required for the trip, to make sure that you can cope, as it is more tiring than walking. Keep age in mind, too – our small group vacations in the Dolomites are only for adults and the minimum age is 16."
tips from our vacation reviews
At Responsible Travel, we think the best people to advise our travelers are often... other travelers. They always return from our tours with packing tips, weather reports, ideas about what to do - and opinions about what not to.

We have selected some of the most useful Madagascar travel tips that our guests have provided over the years to help you make the very most of your vacation - and the space inside your suitcase.

Considering snowshoeing? Go for it! The vast snowy landscapes – fields of snow punctuated by dramatic, sharp-edged peaks – were truly memorable.

- Paul Chinnock, snow shoeing in the Dolomites
"The fitter you are before you go the more you'll enjoy it. If you've never skied before then don't worry as you won't be the only one... the scenery and skiing were incredible. The people that I met who are now friends were amazing. Skiing over the roof of the [Dobbiaco] stadium is a great memory as well as being told that I was good enough to be able to enter a race" - Ellen Goldsmith, cross country skiing in the Dolomites
More Italy winter articles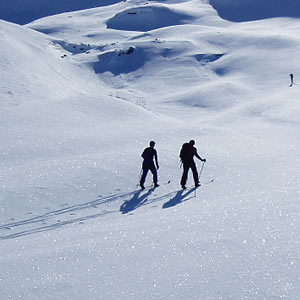 Our travel guide will make you think twice about the mountains, and consider exploring other areas of Italy, too.