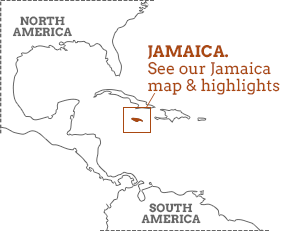 Few countries are associated with a particular sound quite as much as Jamaica – and people often arrive here with a head full of clichés – of Rastas, ganja, laid back residents and a never-ending reggae soundtrack. Curious, then, that so many visitors choose to spend their time in bland international resorts, not taking the time to explore these clichés for themselves. Do this and you sell yourself – and the local people – short. The bulk of your money will go to international companies, and you'll come away without a true sense of the country and its culture.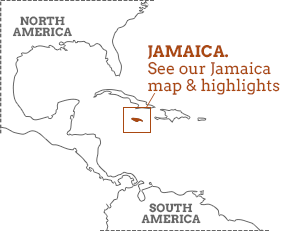 Jamaica's global influence extends far beyond its own borders. This island of just 2.9 million citizens has produced dozens of famous writers, musicians and athletes, not to mention its own genre of music.

Get away from the resorts and you're in a different world. One in which you'll rack up unique, memorable experiences and your money can make a real difference to small, local economies. Spend time with Maroon communities hidden in the hills, sample jerk chicken and local brews at tumbledown roadside cafes and pay your respects to artists and activists such as Jimmy Cliff, Grace Jones, Marcus Garvey and – of course – Bob Marley, whose Kingston homes are now cultural museums.
Don't forget about the island's wild side either. Jamaica is crammed full of natural treats, from the famous Blue Mountains that form Kingston's bucolic backdrop, to waterfalls that crash straight into the Caribbean.
Jamaica is…
so much more than resorts and paradise beaches. There are thriving cities, glorious architecture, and contemporary art museums.
Jamaica isn't…
all Rastas, reggae and marijuana. Just one percent of the population identifies as Rastafarian, so be sure to explore beyond the music and movie clichés.
What we rate and what we don't
Hiking
Ramble in the dense forest of the Blue Mountains, scramble 180m up the stunning Dunn's River Waterfall, take a walking tour of a Maroon village, stroll along the (actually four mile-long) Seven Mile Beach... there are plenty of opportunities to stretch your legs in Jamaica – even after dark. A night hike up the country's highest peak, your path lit by the sparks of fireflies, is a magical experience.
History
Spend all your time on the beach and you'll miss out on the chance to delve into Jamaica's past. As well as visiting the museums and galleries of Kingston, you could tour one of the country's former plantation houses, visit Maroon villages in the hills or explore the sleepy fishing village of Port Royal, once a pirate haven dubbed 'the wickedest city on earth.'
Sailing vacations
Cruise ships are big business here, but for a more sustainable form of waterborne transport, stick to a sailboat.
Sailing
is a wonderful way to explore the country's hidden coves, with snorkeling and sinking cans of Red Stripe on deserted beaches all part of the low-key fun. Most sailing vacations go between Jamaica and other Caribbean islands. You could, for example, sail between Jamaica and Martinique or Cuba.
Wildlife spotting
Under the waves you'll find healthy marine life, including dolphins and turtles, but set your sights away from the coastline and there's much more besides. Set off through the mangroves in search of giant crocodiles, hike the hills in to find colourful endemic birds like the streamertail and explore the country's many cathedral-like caves, where huge numbers of bats hide in the shadows.
Beaches
Jamaica has some of the best beaches in the Caribbean, but if you want to avoid an "I could be anywhere" experience, skip the megaresorts and private beaches of Montego Bay, Ochos Rios and Negril and go small and local. Treasure Beach, for example, has a clutch of laid-back boutique hotels, homestays and cottage rentals, and the beaches remain unblighted by hustlers, jet skis and beach clubs.
Bob Marley
While in Jamaica, you simply have to pay your respects to Bob Marley. In Kingston, you can visit two of his former homes. The colonial house where he lived from 1975 until his death, now the Bob Marley Museum, and the restored Trench Town Culture Yard – the famous 'government yard' where Marley was taught guitar and penned 'No Woman No Cry'. The yard houses artifacts including guitars, a rusting campervan and Bob and Rita Marley's single bed.
Food
Should you get sick of the ubiquitous (but delicious) jerk chicken, rice and peas, there's plenty more on offer in the country's markets, restaurants and roadside food stalls. Curry goat, fish patties, fried plantain, peanut porridge… Jamaica's cuisine is a fusion of all the cultures that have settled here.
Watersports
Forget jet-skiing or being pulled along by a speedboat on an inflatable banana, and instead opt for lower-impact sea kayaking, reef snorkelling or deep sea diving. A real highlight is swimming in the turquoise waters of the famous Blue Lagoon, near Port Antonio. If you're a diver, you can explore the lagoon's depths, which reach depths of 55m.
All inclusive resorts
Staying in an identikit resort on an island which is bursting with such personality as Jamaica is an odd choice. As well as being packed with mountains, waterfalls and historic villages, Jamaican culture is one of the most fascinating and accessible in the Caribbean. Enjoy the gorgeous beaches, of course, but be sure to venture beyond to discover Jamaica's real wealth.
Stereotypes
It's easy (and lazy) to stereotype Jamaica as a nation of spliff smoking, reggae listening, dreadlocked Rastas, but don't reduce all Jamaicans to this simplified parody. First, only around one percent of Jamaicans identify as Rastafarian. Second, Rastafarianism is a recognised religion which was developed in the 1930s, although it was popularised globally by Bob Marley and reggae music in the 1970s. Do your research and respect the local culture.
Swimming with dolphins
There are dolphinariums and marine parks throughout the Caribbean that have captive dolphins which tourists can pet, swim with or watch perform and Jamaica is no different. We believe keeping dolphins in captivity is morally and ethically wrong –
read our stance on whales and dolphins in captivity
. Better to take a boat trip and see wild dolphins dancing along by the prow.
Our top trip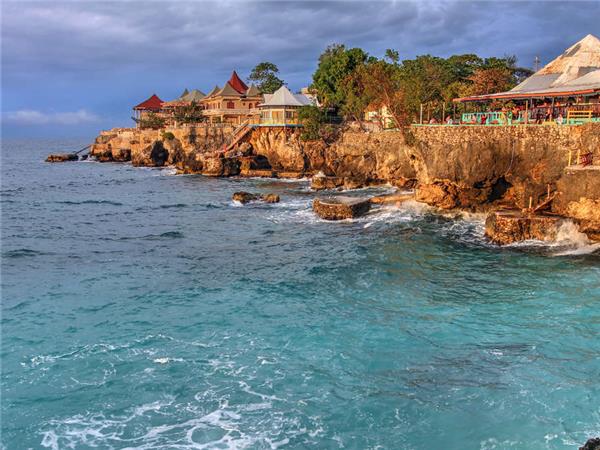 Jamaica highlights tour in 12 days
From
US $

3200
10 days
ex flights
Small group travel:
2024: 24 Jan, 14 Feb, 20 Mar, 24 Apr, 2 Oct, 30 Oct, 13 Nov, 27 Nov
If you'd like to chat about Jamaica or need help finding a vacation to suit you we're very happy to help.

Food, shopping & people in Jamaica
Eating and drinking
It's definitely true that Jamaicans love their food. Socialising often revolves around it, and they'll happily tell you that "half of your life gone" if you refuse to try new tastes or experiences. For Carmel Hendry from our expert vacation company Explore, experiencing local food culture is key to understanding Jamaica. "We really try and get that kind of interaction going around cafes and food stalls, which is a great way to see the culture of a place," she says. "It's local people going out on Friday or Saturday night, sitting at the bar and ordering half a pound of pork and a Red Stripe."
Jamaica's national dish is
ackee and saltfish
, a sautéed jumble of ackee fruit, salt cod, peppers and spices, traditionally served at breakfast. But of course, Jamaica is most famous for
jerk
– where meat or fish is dry-rubbed or marinated in tongue-searing spices, and then smoked slowly on an outdoor fire over pimento wood.
Vegetarians and vegans are well catered to thanks to the Rastafarian
Ital diet
, which rejects salt, chemicals, meat and dairy. Many restaurants include Ital options on their menus, and popular dishes include aubergine curry, fried okra and sweet potato soups.
Tropical fruit is plentiful and you'll find the usual favourites such as coconut, papaya and mango wherever you go, though opting for some soursop, mamey fruit, ugli or stinking toe might deliver more excitement.
Jamaica's Blue Mountains produce some of the best, and most expensive,
coffee
in the world. Beans are hand-picked and hand-inspected and coffee is produced in much smaller quantities than in countries like Ethiopia or Colombia – hence its exclusive reputation.
All across Jamaica, in small stores and in roadside stalls you'll find
roots tonics
. Made from the roots of plants such as sarsaparilla and dandelion, they're said to have medicinal properties.

Surprisingly, Rastafarians make up only one percent of the total Jamaican population.

People & language
Jamaica's population is more diverse than you might expect – reflected in the national motto "Out of many one people." It's well known that many West Africans were brought here as slaves, but the country is also home to the descendants of Brits and Germans, along with Hispanic and Portuguese Jews and Lebanese as well as Chinese and Indians, who arrived as indentured workers following the end of slavery. Despite the official 'melting pot' line, there are evident hierarchies here. Those with lighter skin are more likely to be wealthier and have better jobs, and
skin bleaching
is widespread.
Although most people associate Jamaica with Rastafarianism, more than 80 percent of the population is Christian, and the Church has a powerful presence here. Jamaica's Jewish community is small, but it's one of the oldest in the Americas, with a long-standing synagogue in Kingston.
English is technically the official language, but Jamaican Patois is more widely spoken. A fusion of English and West African influences, it literally speaks of this region's long history of slavery and colonisation.
"Small up yuhself" – "Make some room".
"Mi soon come" – "I'll be right there".
"Inna di morrows" – Used when saying goodbye, meaning "see you later".
Gifts & shopping
You'll see intricate wood carvings sold across Jamaica, at craft markets, in boutiques and by the roadside. They usually represent aspects of Jamaican culture such as animals, Rasta symbols and influential people.

Coffee is an excellent gift to bring back, whether you opt for the expensive Blue Mountain Coffee, or Marley Coffee, owned by Bob's son Rohan and grown on a local farm. Rum fans can pick up some souvenirs at Appleton Estate, Jamaica's oldest sugar estate and distillery, or, for something considerably stronger, White Overproof Rum is a Jamaican institution, distilled there for almost 200 years.

In 1988, Jamaica was the first tropical country to send a bobsledding team to the Winter Olympics, inspiring the movie
Cool Runnings
.

How much does it cost?
Portion of jerk chicken in Boston Bay: £3
Bottle of 12-year-old rum: £15
Ticket (including a tour) to the Bob Marley Museum: £18