Where to go cycling in Jordan
The Roman columns of Jerash, 50km north of Amman, provide the perfect precursor to a cycling vacation in Jordan. Heading south towards Madaba allows cyclists to travel through the olive groves and villages of Jordan's Rift Valley whilst enjoying descents and climbs on good quality asphalt. Mount Nebo is just 12km to the northwest of Madaba and provides not only cracking views over the Jordan Valley and into Israel but also a 24km descent to the Dead Sea, which really does take some beating.
A highlight of any cycling tour of Jordan will be Petra and Wadi Rum and as you stop off at the Crusader castles of Kerak and follow the King's Highway south, this is where you start to click through the gears.
1. Jerash
The foothills and valleys surrounding Jerash make for some superb backdrops to a cycling tour and you'll discover a fertile landscape blessed with empty winding roads bordered by olive groves. The city itself holds one of the region's best preserved Roman towns (Gerasa) with near intact amphitheatres, colonnaded streets and temple ruins providing a glimpse of life when chariot racing was all the rage.
2. Kerak Castle
The Kings Highway offers an excellent surface for cyclists in Jordan with points of interest, such as the Crusader castle at Al Kerak, breaking up the journey and providing an impromptu history lesson. Aside from the obvious allure for history buffs Kerak also has some amazing views from its upper court as well as several secret passageways and underground rooms providing some most welcome shade.
3. Madaba
In between stocking up on baklava and heightening caffeine levels prior to a cycle journey to Mt Nebo, the mosaics of Madaba are definitely worth paying attention to. One of the city's most important mosaics is the 6th century map of the Holy Land which can be found on the floor of the Greek Orthodox church of Saint George and is one of the oldest known geographic floor mosaics in art history.
4. Mount Nebo
Mount Nebo is around 10km to the west of Madaba and the 7km ascent to the mosaics and tombs contained within the 4th century church at the top of the Siyagha peak are well worth the gradual climb. Westward views are extremely rewarding, with the Dead Sea providing a tantalising glimpse at where you're likely to be heading next and the West Bank reminding you of far more dangerous pursuits.
5. Petra
No trip to Jordan is complete without visiting the ancient sandstone citadel of
Petra
, and cycling to within walking distance of the Siq and the treasures which lie beyond is always an inevitable highlight. The facades and ornate carvings adorning the Treasury combine with the 800 or so steps to the Monastery and the High Place for Sacrifice to make truly memorable moments out of the saddle.
6. Wadi Rum
Of course you can't cycle on sand! However, there are numerous well-tramped tracks and flat tarmac highways to get you and your bike into the heart of Jordan's Wadi Rum. Stopping for tea with Bedouins, camping under a canvas of stars or simply enjoying the peace and quiet of the desert, cycling in Wadi Rum is bound to leave you breathless in many more ways than one.
Our Jordan cycling Vacations
If you'd like to chat about Jordan cycling or need help finding a vacation to suit you we're very happy to help.

Cycling in Jordan travel advice
Archaeology tips
Andrew Appleyard, qualified archaeologist as well as international sales manager for our supplier Exodus, shares his experiences of cycling in Jordan:

"For me one of the most fascinating sites in Jordan is Umm Qais, a town situated about 40km north of Jerash overlooking Israel and the Sea of Galilee. Aside from the panoramic views and a great restaurant, Umm Qais has extensive Greco-Roman ruins, including a stunning black basalt amphitheater, which really does deserve to be seen whilst on tour."
A place of pilgrimage
"One of my fondest memories of cycling in Jordan is my first ever trip which was led by Carlos who had cycled all the way from Beirut on an 8-speed bike. He'd made this pilgrimage with just a rucksack on his back and marked the journey by planting a tree in the freedom garden."
The problem with deserts…
"Finally, you can't cycle on sand. I tried it once, much to the bemusement of my local Bedouin guide who ended up shouldering my bike and climbing on his camel before we both headed back to base."
More about Jordan cycling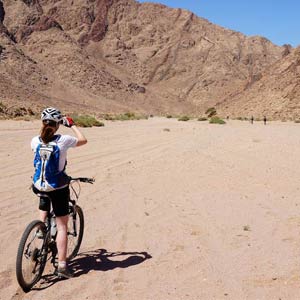 Our cycling vacations in Jordan travel guide explains the best time to go cycling in Jordan with a handy temperature & rainfall chart sitting rather neatly alongside a things to do on a Jordan cycle tour section to help cyclist make the most of their time away from home.