Cycling vacations in Jordan guide
---
2 MINUTE SUMMARY
Quiet backroads, astounding views and little need for wet weather gear; if you don't mind a bit of heat and the occasional desert wind then a cycling vacation in Jordan is simply thrilling and certainly not to be discounted by first-timers. Traveling with an organised team, you get the benefit of bypassing steep ascents if you wish (thanks to the support vehicle) and making the most of the downhills. However, if you're up for both, Jordan holds plenty of challenges alongside some superb scenery.
Historians and archaeologists will be in their absolute element with Jerash, Madaba and Petra presenting a tantalising array of ancient sites to tempt you from your saddle. Camping out in Wadi Rum and floating in the Dead Sea are pretty unique events too, and if you're hoping to combine cycling with some of the most iconic sites in the Middle East then Jordan provides every opportunity to do so.
Find out more in our cycling vacations in Jordan guide.
Best time to go cycling in Jordan
---
TEMPERATURE & RAINFALL
Things to do on a Jordan cycle tour
---
WHAT TO DO IN JORDAN & WHAT NOT TO
Things to do in Jordan
---
Float in the Dead Sea
. Those views of the Dead Sea experienced from Mount Nebo or Kerak Castle are put into finer perspective by actually venturing into the saline waters first-hand. In fact the descent from Mount Nebo to
the Dead Sea
is an absolute dream for freewheeling cyclists and there's nothing better than a float on the milky waters or a sulphurous mud bath to clear your crevices from the dust of the desert.
Cycle to Little Petra
. Around 9km north of Wadi Musa,
Siq al-Barid
, aka Little Petra, is a lesser visited 'suburb' of
Petra
and well worth a cycle if only for the all-encompassing valley views you'll be able to observe en-route. Upon arrival you'll find a shaded
siq
which opens to carved sandstone houses and stairways with several interior paintings and frescoes in excellent condition thanks to a build up of soot from cooking fires.
Cycle and camp in Wadi Rum. Cycling in Jordan as part of an organised team lets you get much further into the desert landscapes to be found in the south of the country, close to the northern shores of the Red Sea. Wadi Araba and Wadi Rum are two of the best locations for camping out over night and combining cycling with vehicle transfers allows you to experience life as a Bedouin before swapping your keffiyeh for cycle helmet as you return to the road.
Things not to do in Jordan
---
Dress to impress. Cycling in Jordan is going to leave you pretty exposed so bring your own helmet, gel saddle and elbow pads just as readily as you'd pack your shades and sun block. Although women, and men for that matter, should be able to wear what they like, within reason, whilst on a bike e.g. cycling shorts and tops, once you dismount it's always advisable to cover up as much as possible, especially when entering a town or city.
Photograph without permission. Traveling by bike through Jordan provides a much more interactive experience as you come into closer contact with the Bedouin communities, farm herders and local kids flicking stones at your spokes (perfectly harmless, they just like the sound it makes). Taking photographs of people without asking can be deeply offensive even on city streets and asking permission first is always a policy that's well worth adopting.
Stop for a cuddle. If you're cycling through Jordan with a partner, gay or straight, you might be tempted to have a cheeky cuddle once you've stowed your saddle bags and checked into the closest cafe. Love birds, stop! Cuddling, holding hands, walking arm in arm, arms around waists and kissing are all seen as bedroom antics and not fit for public consumption. Seriously, err on the side of 'no petting' allowed to avoid causing offence.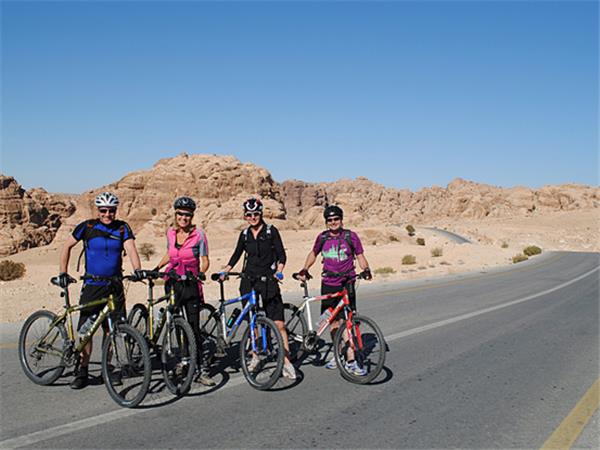 Cycling trip through stunning desert scenery
From
US $

1675
9 Days
ex flights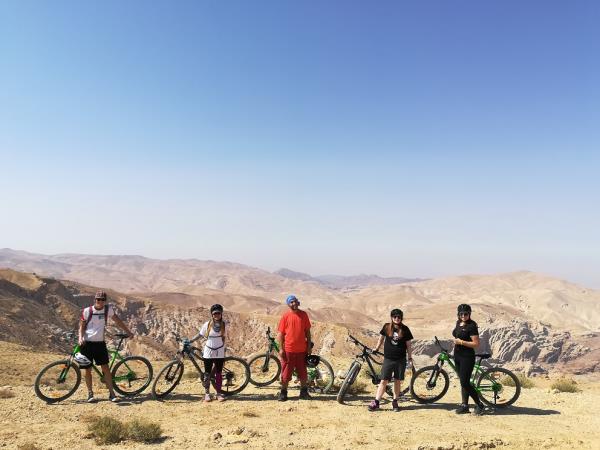 Ride through deserts, roads and mountains
From
US $

1336
9 Days
ex flights