BEST TIME TO VISIT KYRGYZSTAN

Summer is Kyrgyzstan's golden season: the landscape is colourful; the sun is hot on your back; and cool, shimmering lakes are a delight to dip in.

Where other Central Asian countries are about history and architecture, Kyrgyzstan is all about natural splendour: rough and rugged mountain scenery and wildflower meadows that roll endlessly, all underpinned by a fascinating, semi-nomadic shepherd culture. The best time to visit Kyrgyzstan is in summer, when hiking trails and roads are accessible and you can ride horses under a hot sun, stopping at glistening lakes, so the horses can drink and you can cool off with a swim. Winter is bitingly cold and best avoided, but late spring and autumn are temperate, revealing a lush landscape of gold, green and bronze.
THINGS TO DO IN KYRGYZSTAN
Things to do in Kyrgyzstan...
Saddle up. With a network of trails suiting every rider from novice to expert, and traversing everywhere from low-lying valleys, to steep hills and every rider's Shagri-la, the Tian Shan, or 'Mountains of Heaven', horse riding is the very lifeblood of Kyrgyzstan. Not only will you experience the landscape from a liberating perspective, but you'll see herds of horses gallop freely in the towards their shepherd masters – a privileged insight into a very traditional culture.
Understand local culture. Kyrgyzstan is still largely untouched and hugely undiscovered; centuries-old culture and tradition is still very much at its core, so much so that if Genghis Khan rode across its timeless landscape today, he'd feel utterly at home. The true adventure of the country is to be had when you seize the unexpected opportunities that come your way – the locals are known for their curiosity as much as for their hospitality, so if you're asked into a family yurt for some food, or to join a nomadic shepherd on a ride, say yes.
Travel with older children. Eschewing the 'are we nearly there yets?' and 'I feel sicks' that long-distance travel inevitably throws up (pardon the pun), Kyrgysztan is actually pretty family-friendly, and especially so for a 'Stan'. It is best explored on horse back, by trekking around huge, shimmering lakes, climbing lofty mountains and spending nights under the starts in yurts – all things that teens will love.
Things not to do in Kyrgyzstan…
Expect to dine on delicacies.There's no two ways about it, Central Asian food is pretty unpalatable for most Western travelers. The Kyrgyz national dish is called 'beshbarmak', which consists of horse meat (with the occasional bit of added mutton if you're lucky) boiled in its own broth for several hours and served over homemade noodles. Bar a sparse sprinkling of coriander, it is as bland you would imagine. The basics are all there: meat (read: sheep, or horse) and rice, but the fat to meat ratio is often difficult to digest. If you're a nomadic carnivore, brilliant, if you're a vegetarian, prepare for more bread than you've ever eaten and a shed load of tomatoes.
Try and do it all. The roads are uneven and potholed, distances are vast and mountains cause endless detours – it's highly unlikely you'll "do" all of Kyrgyzstan in a single trip. To enjoy the peace of this deeply traditional country, it's best not to rush from place to place and get stressed out in the back of a tour vehicle. If you can't explore all of Kyrgyzstan, though, you can still explore it deeply; make the most of wild swimming in lakes, trekking for days on horseback, and walking in the incredible Tian Shan 'Mountains of Heaven'. Kyrgyzstan is all about boundless wilderness with some culture thrown in, so save the rest of the Silk Road for another visit.
Our top Kyrgyzstan Vacation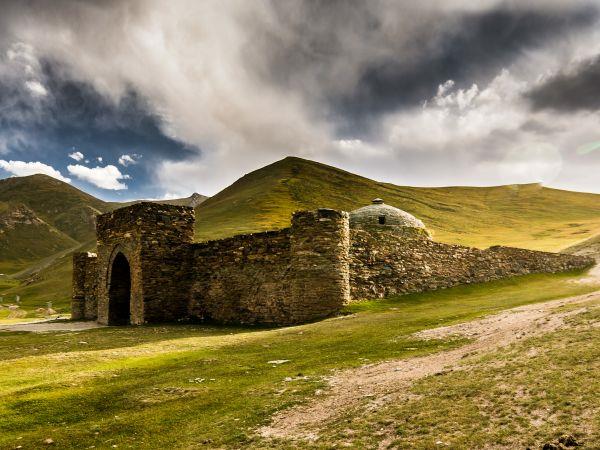 See spectacular mountain scenery on this Silk Road journey
From
US $

4269
16 days
ex flights
Small group travel:
2024: 15 Jun, 29 Jun, 13 Jul, 27 Jul, 31 Aug, 14 Sep
If you'd like to chat about Kyrgyzstan or need help finding a vacation to suit you we're very happy to help.

Things to do
Daniel Waters, from our supplier, Wild Frontiers, shares his Kyrgyzstan travel advice:

"Kyrgyzstan offers so much to those that travel there from hiking in the strikingly beautiful Mountains of Heaven, watching frantic games of buzkashi played by impossibly agile horseman, drinking glasses of kumis in toasty yurts overlooking crystal clear lakes, beguiling walks in dense walnut forests, marvelling at the history of the ancient but perfectly preserved caravanserai you're standing in. You can create an amazing trip in Kyrgyzstan based around whatever your interest is: hiking, riding, family trips, the Silk Road. The warmth of the people and diversity of scenery will humble and awe in equal measure."
Food tips
Linda Maguire from our supplier, Undiscovered Destinations, shares her advice on coping with the food:

"The food is best summed up as simple. There is a lot of grilled lamb, and stew with mixed vegetables is very traditional and is served everywhere. The food isn't stodgy, but there is very little variety and it's not the most exciting. We ate a lot of cucumbers, tomatoes and herbs and the ingredients are very fresh, so it does taste delicious, but I wouldn't say that vegetarians are well catered for as the rice that is available is often cooked in meat stock, so they could struggle after a few days surviving on salad and bread."
At Responsible Travel, we think the best people to advise our travelers are often... other travelers. They always return from our tours with packing tips, weather reports, ideas about what to do - and opinions about what not to.

We have selected some of the most useful Kyrgyzstan travel tips that our guests have provided over the years to help you make the very most of your vacation - and the space inside your suitcase.

Enjoy all the wonderful people you come across everywhere. A smile goes such a long way and gives so much in return!

"Be prepared for basic conditions in the yurt camps - no washing facilities (and don't mention the toilets). Take a head torch, plenty of wipes, and gloves for horse riding or trekking in Kyrgyzstan. You need to pack carefully for very cold and very hot conditions." – Joan Godman

"Some of the home stays were crowded (18 people) and facilities limited (1 loo, only washing facilities the local stream). You will see wonderful scenery, but there's a lot of traveling." – Peter Jackson

"It was very hot throughout, so take loose, cool clothing." – Gillian Urro

Be prepared for long days driving, often on very bumpy roads. However, nature's spectacles compensate for the traveling inconveniences.

"Travel as light as possible; keep an open mind in case something unforeseen happens; and enjoy all the wonderful people you come across everywhere. A smile goes such a long way and gives so much in return!" – Gunilla Westerlund

"Hopefully anyone booking this vacation will have some experience in remote locations so will be well prepared. I think everyone needs to be warned to be a bit more cautious about food and water/drink. We were much more cavalier about these things (I ate and drank everything put in front of me!) than I would be when somewhere like India." – Sue Noble

Be prepared for long days driving, often on very bumpy roads. However, nature's spectacles compensate for the traveling inconveniences. Sleeping in a yurt was a new adventure for me." - Jayne Hanlin