Silk Road travel guide
---
2 minute summary
The Silk Road is not a road, it is an entire history of trade and intrigue spread across a huge network of spidering tributaries linking China with Central Asia and continuing on to India, Persia and the Mediterranean. Those tributaries, once used by traders to peddle their wares to and from the East, can lead intrepid travelers to some of the most fascinating sites across Asia, but don't be overwhelmed, not many of us have six months spare for a full-on Istanbul-Beijing adventure and the route can be broken down into manageable chunks. Ancient archaeological sights where pink hollyhocks and purple mallow grow among the ruins; dazzling cities floodlit in technicolour; bustling bazaars heavy with the scent of spices; and swathes of desert so beautiful and evocative you will expect Genghis Khan himself to gallop across on horseback, you will see them all, no matter which path you choose.
Lose yourself in the twists and turns of ancient trading with this Silk Road travel guide.
What we rate & what we don't
---
Our best & worst of Silk Road vacations
Underrated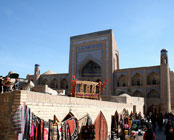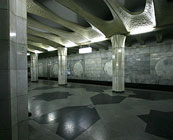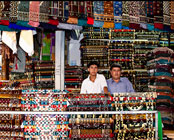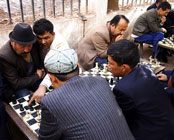 Khiva
Khiva stands out among the treasures of the Silk Road because, unlike it's equally historical counterparts Samarkand and Bukhara where life goes on, it's a city within which primal life has literally been stopped and preserved. To walk through the imposing gates of Ichan Qala, the old town, at night is to walk into an ancient and enchanting world lit only by flickering gas lamp.
Tashkent Subway
The bulk of Tashkent's beauty sits underground in the stations of its stunning subway system, which owe their sheer scale and grandeur to Russia, but their elegant flair and artistry to the local Muslim population. Each station is an original work of art designed to a theme and the interiors are rich in engraved metal, glass, granite, marble and smooth carved alabaster.
Kashgar Sunday Market
There are markets and then there's Kashgar Sunday Market, the former Silk Road meeting point where global empires still come to trade in their thousands. The barrage of personalities that sell there make it extraordinary, but most wonderful is the produce: food is sold in colourful heaps, meat in the form of live animals and a mound of manure is far more marketable than any sportswear brand.
Local hospitality
The kindness shown to westerners along the Silk Road route will win the heart of even the most seasoned traveler. Those sun-saturated old men with gold teeth playing chess do exist and they will offer you a game; the merchants are as mesmerising as the products they sell; and your tour guide will charm you regaling tales of myth and legend.
Rated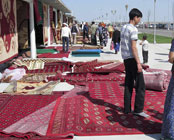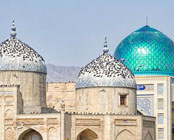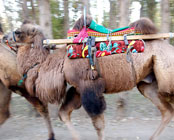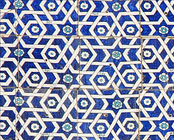 Carpets
Carpets are big business in Turkmenistan; there's even a museum devoted to them. Original Turkmen rugs have been hand-woven for centuries by nomadic tribes using locally gathered wool and natural dye – these days their wool and dye are a little more readily available but the quality of an authentic Turkmen is obvious. Well worth buying from a local trader and having shipped home.
Mosques
Between the 9th and 16th centuries it was common for even the smaller cities along the Silk Road route to house over two hundred mosques and to this day the skyline of almost everywhere you encounter will be punctuated by dozens of bright azure, onion-shaped domes. Prepare to be dazzled by some of the best-preserved examples of ancient Muslim architecture in the world.
Camel trekking
There is little more evocative than the image of camel caravans crossing the forbidden desert laden with precious cargo. A camel trek along the Silk Road not only gives you perspective on the sheer undertaking that trading along the route must have taken, but it's also a stress-free and ultimately fun way to travel while safe in the knowledge that you won't be pillaged for your bounty.
Hand-painted porcelain
A defining characteristic of Silk Road architecture is the use of glazed turquoise tiling in intricate geometric designs. It might be a little ambitious to recreate an entire mosque wall in your suburban semi, but you can pick up a gorgeous selection of porcelain from artisan tilemakers dotted around the route to add a little bit of Islamic flair to your own home.
Overrated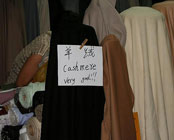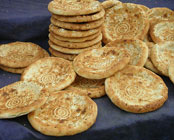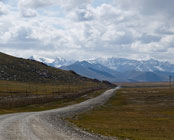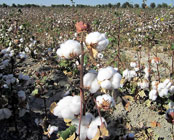 Cashmere
There are ethical issues regarding the production of cashmere with many farming methods tailored more to short-term profit than long-term sustainability and goats being treated badly in unsuitable conditions. It's probably best avoided, but if you do buy it make sure you're buying it from a responsible source that benefits local people directly.
Local food
If you're headed to western China and you like noodles, you're in luck, but generally the food in the Central Asian countries of the Silk Road is pretty abysmal. The basics are all there: meat (read: sheep) and rice, but the fat:meat ratio is often intolerable. If you're a nomadic carnivore, brilliant, if you're a vegetarian, prepare for some serious bread bloat and an awful lot of tomatoes.
Long distance road travel
Driving about within the region that you're touring is all well and good; your guide will doubtless be behind the wheel of a hardy tour bus – pretty much the only way to tackle the Silk Road's appalling roads. And they really are appalling: a sort of uneven tarmac with a sloping central spine and a sea of potholes lurking beneath. Explore one Silk Road region and save the rest for another visit.
Cotton
Poor agricultural practices combined with a massive over-production of cotton – a material that drinks water by the bucket load and is unsuited to Central Asia's arid climate – has led to land degradation and salination of a huge scale. Solutions are being worked on, but for now your money is better spent on a more sustainable local product.
Food, shopping & people
---
Discover the silk road like a local
Eating & drinking
---
As its name sadly suggests, 'plov', the Uzbek national dish of mutton, onion, carrot and, if you're lucky, rice, can be a little on the bland side.

Tea is the drink of choice in Uzbekistan, sometimes green tea, with kefir yoghurt drink served with breakfast. Stay clear of the vodka.

Don't expect cornflakes in Kashgar. A typical Uyghur breakfast is home-baked bread, hardened yoghurt and olives.

Gifts & shopping
---
The Artisan Development Centre in Bukhara is a hive of productivity where you can watch artisans create local handicrafts using traditional methods and pick up hand-sewn tapestries, miniature paintings and chess sets.

If you look at something on a stall at Kashgar's infamous Sunday bazaar, but you don't want to buy it, put your right hand on your heart and walk away so as not to cause offence.

There are tons of places to buy a silk souvenir along the Silk Road; the scarves are beautiful, but make sure what you buy is hand-painted.

A brief history of the Silk Road
---
The foundations for the Silk Road, the most important route for both trade and culture in history, were laid over 2,000 years ago and were born of China's curiosity about the people and the land beyond its borders.
Read more ▼