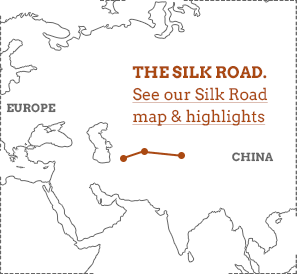 Traveling overland in a small group is the most enjoyable, most immersive way to explore the Silk Road – the vast network of ancient trade routes that linked Asia and the Middle East with Europe. Our Silk Road vacations take their time tracing the fascinating history of different routes through the 'Stans, China and Iran, past cities such as Samarkand, and through remote areas that rarely benefit from tourism, where local guides are an invaluable key to understanding the culture. Staying in a succession of small, family-owned accommodations throughout, you'll gain a deeper understanding of traditional ways of life in communities along the way.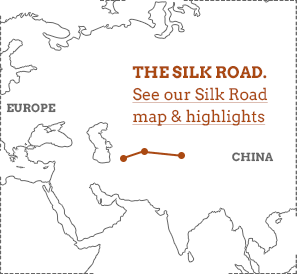 Our top Silk Road vacations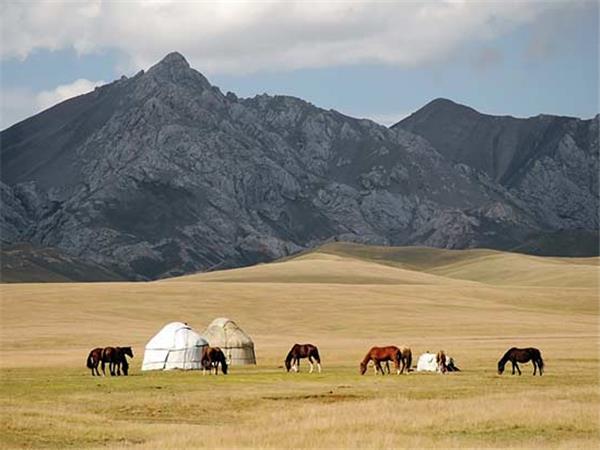 From
US $

3779

to

US $

4179
15 days
ex flights
Discover the Silk Road in Uzbekistan, Kyrgyzstan and China
Small group
2022: 8 Jun, 15 Jun, 22 Jun, 10 Aug, 24 Aug, 31 Aug, 7 Sep, 14 Sep, 21 Sep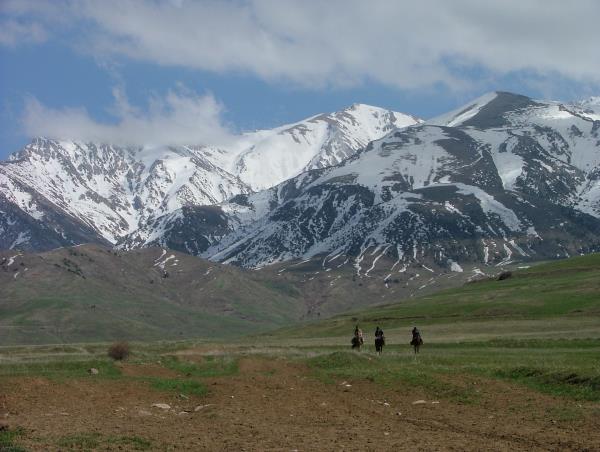 26 days
ex flights
An epic journey through the five 'stans' of Central Asia
Small group
2022: 3 Sep, 2023: 2 Sep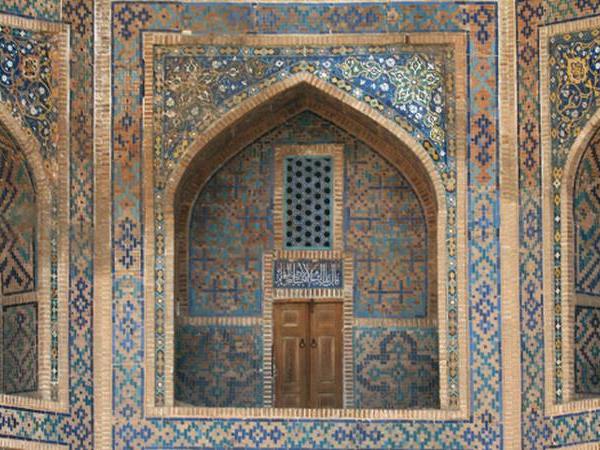 27 days
ex flights
Travel from China to Central Asia on this historic journey
Small group
2022: 26 Mar, 23 Apr, 20 Aug, 3 Sep, 8 Oct
Best time to go on a Silk Road vacation
The best time to visit the Silk Road can seem a complicated question, not least because the route traverses a variety of countries and climates. If you're heading to western China, don't go in January: it's freezing. The continental climate there benefits from a long summer, so August and September are glorious with warm days and delicious ripe fruits everywhere. If you're Central Asia bound, then March to June bring with them mild sunny days and little rain – perfect for sightseeing. Avoid high summer. Soaring heat and bustling bazaars do not a good match make.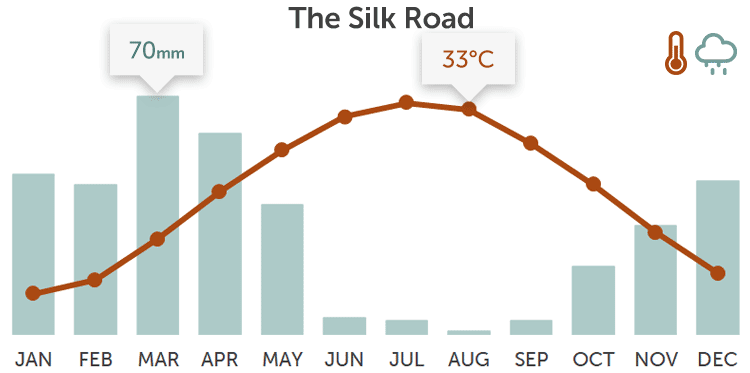 Map & highlights
Most Silk Road vacations involve some combination of short flights, sleeper trains and long, bumpy road journeys. But while routes vary, there are some key destinations – including Samarkand, home to some of the world's finest Islamic architecture. Uzbekistan is also home to 14th-century Khiva, with its atmospheric old town, and Bukhara, Central Asia's most complete medieval city. In secretive Turkmenistan you'll find Mary (or Merv), an immensely significant archaeological site composed of adjacent walled towns, and the ostentatious capital city Ashgabat. Meanwhile Kashgar, in western China, is renowned for its traditional crafts and frenetic Sunday market.
1. Ashgabat
As brilliant as it is bonkers, Ashgabat takes ostentatious to a new level. Its mainly marble architecture is big, brash and bright white, flanked only by massive gold statues or austere armed guards of whom it seems there are far more than civilians. The city is a fascinating insight into Turkmenistan's reinvented present and a stark contrast to its far more modest past.
2. Bukhara
The most complete example of a medieval city in Central Asia, Bukhara really is a living museum, but one that's very much alive today – the old city is packed full of ancient Islamic architecture, but families who have lived there for generations fill the atmospheric streets with gossip and energy. Sit and watch from the banks of the Lyabi-Hauz for a snapshot of quirky local life.
3. Kashgar
Kashgar is managing to ride the wave of modernity that's crashing through it and remains, at heart, a Muslim city with a traditional spirit. You will find Uyghur craftsmen sharpening knives; locals haggling over apricots, and donkey carts carrying men that look older than time. The incredible Sunday market, which draws business from near and far, is as frenetic as it is fascinating.
4. Mary
Mary, or Merv, is hugely significant historically and consists of a series of adjacent walled towns, each succeeded by one another throughout the course of history and each slightly different and unique in its architecture. Mary's chequered past is revealed at the brilliant Regional Museum, two floors of archaeology, taxidermy, rotating exhibits and traditional Turkmen art.
5. Samarkand
Samarkand screams grandeur; there is no city more synonymous with the Silk Road's former majesty and today's Samarkand has been smartened up accordingly. Once historic quarters have made way for modern, Soviet-style avenues and pristine green spaces, while the Registan, its enormous central square, gleams with polished architecture in gold, turquoise and blue.
6. Turkmenistan
Ruled by a frankly insane dictator until 2006 that renamed the months after his own family and banned opera, Turkmenistan was off the tourist radar for some time, but is an underappreciated land of great natural beauty. The Karakum Desert covers 70% of its land surface and is home to the breathtaking 'Door to Hell', a 230ft cavern of natural gas that has stood ablaze for over 40 years.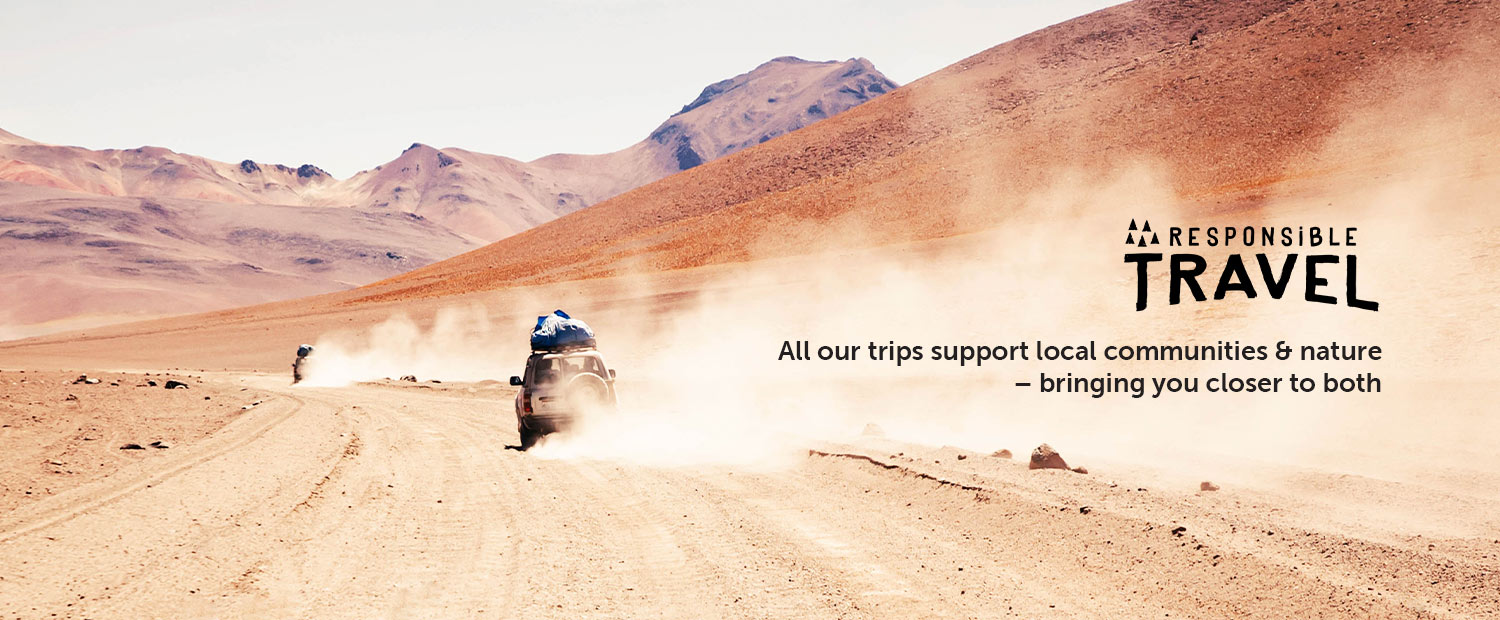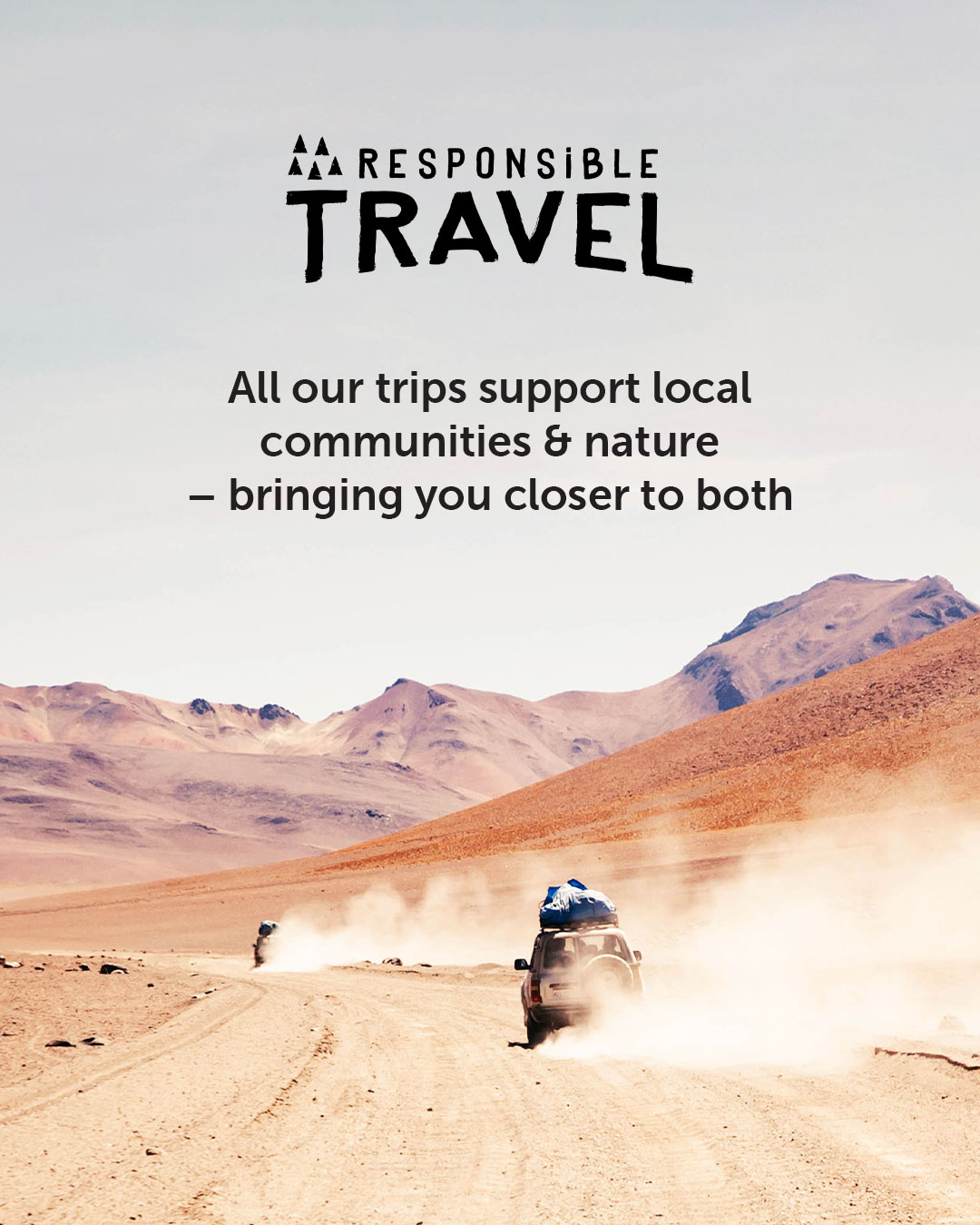 History
The
history of the Silk Road
dates back to around 114 BC, when China's Han dynasty began to expand its influence, opening up new trade routes that merchants were quick to seize upon. Along with tea, perfumes, paper and (of course) silk, new cultures, languages and architecture travelled from east to west. That went both ways – Marco Polo is known to have followed the Silk Road from Europe to China. The Han dynasty met the Roman Empire in Central Asia, allowing the cities along this spidering network of routes to flourish with even greater prosperity and cultural exchange.
Travel advice
Given the number of available routes for Silk Road vacations, and the sheer amount there is to see in cities from Tashkent to Almaty, and Samarkand to Bukhara, you'll find our
Silk Road travel advice
a veritable goldmine of useful tips. We've tapped our Silk Road vacation experts for their thoughts on things like how to cope with long road journeys pitted with potholes, what to pack, what to expect from the cuisine, and where to shop for the best traditional handicrafts. You'll also find handy Silk Road health and safety advice, and some first-hand knowledge from previous travelers.
Small group Silk Road vacations
In past centuries, merchants and traders on the Silk Road would wisely travel together for safety. While bandit raids are a thing of the past,
small group vacations
remain the best way to explore the Silk Road. You can travel classic routes knowing that all the logistics – from visas to accommodation – have been sorted out by professionals. Groups are accompanied throughout by local guides adept at introducing you to people and their culture along the way. You also have the social aspect. You'll bond quickly with like-minded travelers on a two- or three-week trip through the Stans.