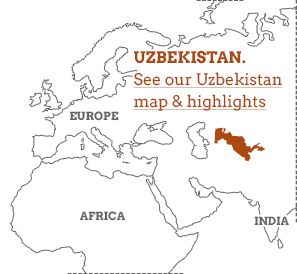 Our small group vacations that travel overland across the 'Stans are the most convenient and insightful way to discover the history behind the Silk Road, as well as the countries that it passed through. Our Uzbekistan vacations unfurl stories of Alexander the Great, ancient desert cities, nomadic tribes, and the Islamic treasures that make up this glittering jewel in the heart of central Asia. There are few better ways to appreciate the history and present-day culture of Uzbekistan than in the company of expert local guides, and staying in locally owned hotels.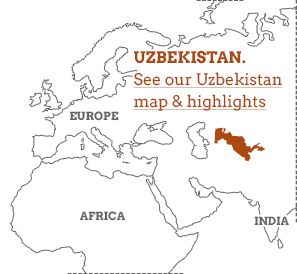 Our top Uzbekistan vacations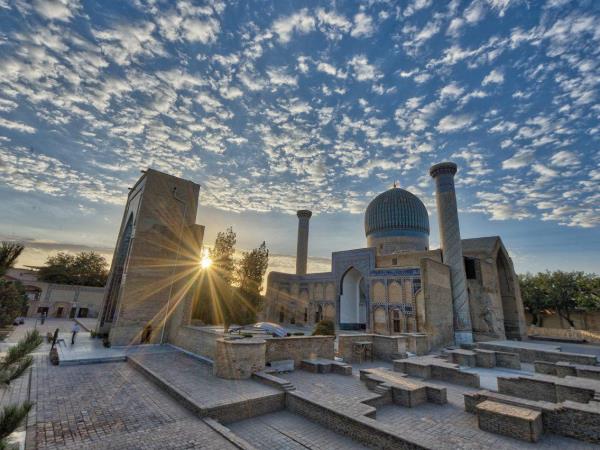 From
US $

1085

to

US $

1325
9 days
ex flights
A tour to the towns of the ancient Silk Road in Uzbekistan.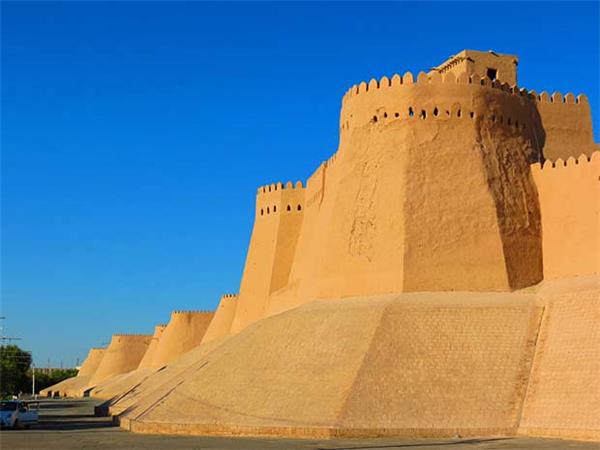 11 days
ex flights
Explore cities and landscapes of the ancient Silk Road
Small group
2023: 21 Apr, 19 May, 2 Jun, 25 Aug, 8 Sep, 15 Sep, 29 Sep, 6 Oct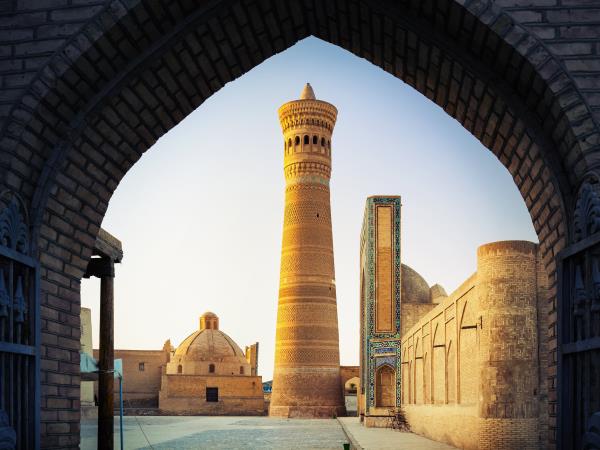 From
US $

7549

to

US $

7999
23 days
ex flights
Step into the pages of history on a silk road tour
Small group
2023: 10 Jun, 17 Jun, 1 Jul, 8 Jul, 29 Jul, 12 Aug, 19 Aug, 26 Aug, 16 Sep, 2024: 1 Jun, 8 Jun, 15 Jun, 22 Jun, 29 Jun, 6 Jul, 27 Jul, 10 Aug, 17 Aug, 24 Aug, 7 Sep, 14 Sep, 21 Sep
About our Uzbekistan vacations
Uzbekistan culture
Likely a legacy of the country's role on the Silk Road trade route, Uzbekistan's people are known for their welcoming attitude towards travelers. Invitations to tea or a meal are not at all unusual, though many households stick to traditions like not shaking hands, and men and women occupy separate rooms. As is so often the case, food and drink are integral to Uzbek hospitality, whether that's platters of plov, sharing freshly baked bread, or the ubiquitous teahouses (usually admitting men only, though). And since local guides accompany most trips, you have a useful conduit to Uzbek culture at your side throughout.
Islamic architecture
Uzbekistan's spectacular
Islamic architecture
is the jewel in its crown, and admiring it is the principal reason to visit the country. Standing in stark contrast to many of the grey and dreary Soviet buildings, the mosques, madrasas and minarets you'll see in cities such as Samarkand, Bukhara and Khiva are dizzying in colour and detail. Highlights include Itchan Kala – the walled old town of Khiva – and the vast Kalyan Minaret of Bukhara from which criminals and adulterers were thrown in past centuries. Samarkand is unmissable for its magnificent Bibi-Khanym Mosque and Registan Square, which comes flanked by towering madrasas on three sides.
The Silk Road
The
Silk Road
isn't simply geography. It is history: a sprawling network of trade routes across Central Asia and into Europe that inevitably spread culture, languages, architecture and cuisine alongside goods. While the Silk Road may have fallen largely into disuse by the mid-19th century, its story can be traced through the most significant cities and ruins along the way. In Uzbekistan, these include Samarkand and Bukhara, but you might also stay in a traditional yurt camp – as Silk Road merchants would have – or embark on an overland tour of this most iconic of journeys.
The Stans
The vast Central Asia region is made up of
the Stans
. If you're traveling to Uzbekistan, it makes sense to visit some or even all of the others in one go, to gain a greater appreciation for the similarities and contrasts between each. Uzbekistan is all about the Silk Road cities with their Islamic architecture; Turkmenistan is desert and weird dictator-chic; Tajikistan has the rugged mountains and Pamir Highway. Kyrgyzstan is remote, romantic and wonderful to explore on horseback, and Kazakhstan is just too huge to see in one go – most routes stick to the south and the Singing Dune.
Types of tours & vacations in Uzbekistan
Adventure vacations in Uzbekistan take many forms. You might embark on an epic overland journey through the 'Stans, following in the footsteps of Silk Road traders by staying in yurt camps and trekking on camels, or tackle a wider Asia tour through Turkey, Iran or Western China. Opting for one of many small group vacations allows you to explore key Silk Road landmarks in the company of local guides and like-minded travelers, with all the tricky logistics ironed out. And if you'd prefer to shape your Uzbekistan vacation around your own interests then tailor made trips let you do precisely that.