Uzbekistan map & highlights
---
make the most of your time
There's no two ways about it – Central Asian roads are a dreadful blend of uneven tarmac, pitfalls and potholes; a mixture that can only be conquered by embracing the spirit of travel and indulging in the fabulous scenes taking place by the roadside. Any tour of Uzbekistan will likely involve at least one short flight and a sleeper train, together with some lengthy travel by road – expect a few stints of four to five hours, but driving times are hard to estimate and speeds can be very slow. Fortunately, your guide and driver will get you where you need to be, so reward them with patience and flexibility. If you're combining countries, crossing borders takes time; they'll search your luggage, your rucksack and even your pocket for carpets, but it's all in good faith so keep your cool.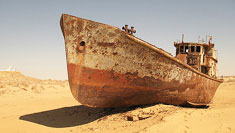 Aral Sea
Experience one of the worst environmental disasters in Central Asia, driving across a dried lake bed with its graveyards of ships, and wonder if the once vast lake can ever be restored. Its disappearance was caused by the diversion of the Amu-Darya River in order to irrigate intensively farmed cotton fields created by the Soviets. Visit Moynak, its once important port town, on what was the world's fourth largest saline lake.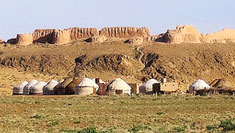 Ayaz Kala Fortress
You get three for the price of one here, where the towering, mud-brick walls of three fortresses rise out of the Kyzyl Kum Desert. Located in autonomous Karakalpakstan region, they are thought to date back to 4 BCE, as well as 2AD Kushan Empire, with visible remains of palaces and homes. Only rediscovered in 1940s, tourism is vital to ensure that they remain protected in this harsh environment.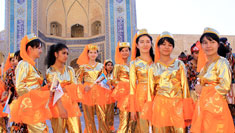 Bukhara
One of the best kept examples of a medieval city in Central Asia, Bukhara is truly a living museum, but one that bustles with life too. The old city is packed full of ancient Islamic architecture, lending a dusty, old-world feel, but the atmospheric streets buzz with the energy of families who have lived there for generations. Sit back and watch for a glorious snapshot of quirky local life.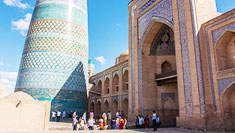 Khiva
Fascinating Khiva stands out among Uzbekistan's cities because, unlike its equally historical counterparts Samarkand and Bukhara where life goes on, it's a place where primal life has literally been stopped and preserved. To walk through the gates of Ichan Qala, the old town, is to explore twisting alleyways, cobbled street and an expansive array of mosques, mausoleums and minarets.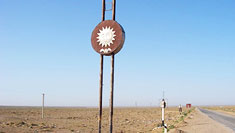 Kyzyl Kum desert (Yangikazgan)
Uzbekistan's desert expanse is a mesmerising stretch of sand that ripples its way towards the horizon as far as the eye can see. Here, you can overnight in yurts, living as the nomadic locals do; visit Lake Aydarkul to fish for your campfire-cooked dinner; learn to play traditional music; sing under the stars; and ride in a caravan of camels silhouetted against nothing but the golden sun.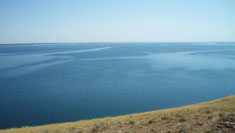 Lake Aydarkul
Aka Lake Aydar, this is a sea surrounded by the Kyzylkum desert formed when the Syr Darya River burst its banks in 1960s. Nearly 250km in length and just 50km from Nurata, it is very popular for fishing and swimming when temperatures soar. Given that its immediate environs are pretty much devoid of residents, staying in yurt camps is the thing to do here. That and birding – ofr pelicans, black storks and eagles.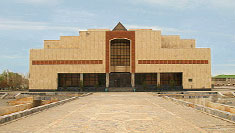 Nukus
This is the capital city of Karakalpakstan, an autonomous region within Uzbekistan, and although it is located on the site of an ancient city of Shurcha, its new incarnation was a Soviet one. We can thank its remote location, surrounded by three deserts, for the world renowned collection of Soviet avant-garde art at its Igor Savitsky Museum. It was just too far away to destroy, apparently. This is modern art 'Mecca' for many.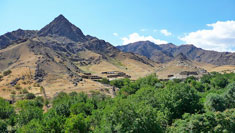 Nurata
Sitting at the base of the bucolic Nuratau Mountain range in the shadow of contrasting Samarkand, Nurata is a city that delivers you back to nature with a bang. Besides camel trekking, walking among the mountains, and wild swimming in the nearby Aydarkul Lake, the area is known for its fortress – a throwback to the time of Alexander the Great, and the Chasma Spring – a sacred site of pilgrimage.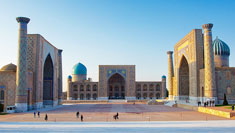 Samarkand
There is no city more synonymous with the Silk Road's former majesty than oh-so-grand Samarkand, and today's Samarkand has been smartened up accordingly. Former historic quarters have now made way for modern, Soviet-style avenues and delicate green spaces, while the enormous 'Registan' central square glints with polished architecture in gleaming gold, emerald and turquoise.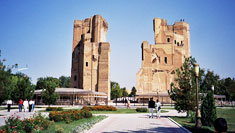 Shakhrisabz
One of oldest cities in Central Asia, known as Kesh in ancient times, it is most famous for being the birthplace and then ruling hub of 14th-century Turko-Mongol conqueror Timur, aka Tamerlane. It was also conquered by Alexander the Great so it goes way back. Visit the remains of Timur's Ak-Saray palace, UNESCO mosque Kok-Gumbaz as well as the Dorus-Saodat mausoleum complex. And do check out its local wine.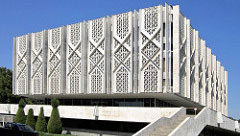 Tashkent
Uzbekistan's capital is an interesting, though not aesthetically arresting city; rebuilt by the Soviets after a 1966 earthquake that devastated much of its historical architectural ambience, it's now a bit of a jumble. The shiny new commercial HQs are an awkward juxtaposition with a maze of surviving mud-clad houses outside which traditional farmers trundle – but there are some great museums nonetheless.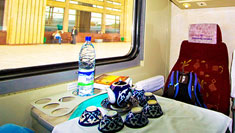 Tashkent to Tehran by rail
Public trains in Uzbekistan are wonderful, but to see all the cultural sites in style you may want to consider a 16-day luxury train journey that starts in Tashkent and stops in Samarkand and Bukhara, before entering Turkmenistan and finally Iran. A private charter train with nine compartments sleeping two or four travelers in each, this is definitely seeing the Silk Road the smooth way.


TRAVEL TIMES IN UZBEKISTAN
---
Tashkent – Samarkand: 2.5hrs by high speed train
Ayaz Qala – Khiva: 2-3hrs by car
Tashkent – Urgench (35km from Khiva): 16hrs by sleeper train
Urgench – Bukhara: 1hr by plane
Khiva – Bukhara: 9-10 hours by car
Bukhara – Nurata Nature Reserve: 3.5 hours by car
Itineraries
---
Cultural tour (8 days): Tashkent ► Samarkand ► Bukhara ► Night in traditional yurt camp ► Kyzyl Kum Desert ► Sleeper train journey ► Tashkent

Tailor made Uzbekistan (14 days): Tashkent ► Nukus ► Aral Sea ► Ayaz Kala ► Khiva ► Bukhara ► Nurata ► Samarkand ► Tashkent

Uzbekistan as part of 2 week Silk Road tour: Uzbekistan: Tashkent ► Samarkand ► Shakhrisabz ► Bukhara ► Turkmenistan: Margush ► Merv ► Ashgabat ► Darvaza ► Konya Urgench ► Dashoguz Uzbekistan again: Khiva ► Tashkent
Where to go in Uzbekistan
---
Responsible Travel's suppliers recommend
Jonny Bealby, founder of our supplier Wild Frontiers: "Registan, in the heart of Samarkand is truly an amazing architectural gem and a wonder of the world. There is also a great wine tasting tour in Samarkand. Bukhara is simply wonderful. The old town is so easy to get around with all the main sites within walking distance of each other, the open air restaurants by the various tanks – especially around the 'Labi Hauz', are a great place to sit and relax and the food is excellent. The Aral Sea – or what's left of it – is also an extraordinary thing to see and understand. "

Andrew Appleyard, from our supplier Exodus Travels:
"The most amazing place I ever went to was in Samarkand, a pottery factory that was in the Lonely Planet guide book. When we arrived the gates were open but there were no cars, and we went into the factory. All the kiln doors were open, all the pots were on the tables. We went upstairs and all the filing cabinets had people's records in there, and there were coffee mugs on the tables. The place had actually been abandoned five years before. It was almost nuclear, as if they had all just disappeared. There were still bicycles chained up outside. There are abandoned factories like this all over Uzbekistan, with lots of decaying Russian infrastructure, tractors or trucks everywhere."
"In Tashkent, you have all these huge Russian boulevards which were designed for driving tanks down. And so you have these massive, leafy spaces. Independence Square [previously Lenin Square] is vast, but a bit tragic. There are weeds and grass growing all over it. It's almost as if they don't want to look after it because although it is represents freedom, it is still seen as Russian, and so they don't want to. But the wide open spaces in Uzbekistan are incredible."