Things to do in Uzbekistan
Follow the Silk Road
The history of the Silk Road is a fascinating and multi-faceted tale which, as you begin to unravel it, will explain the mystery of the myth-laden road, and inspire yet more questions. Uzbekistan's artistic influences, architecture, and the stories of the cultures that put those there will grip history buffs and enchant those who never even knew they had an interest. Between the 9th and 16th centuries it was common for even the smaller cities along the Silk Road route to house over 200 mosques, and Uzbekistan's skylines are peppered with dozens of bright azure, onion-shaped domes.

Samarkand, for example, is synonymous with the Silk Road, and a UNESCO World Heritage city as a result. Its architecture dates back to the 7th century and captures its history as a crossroads of world cultures, becoming particularly prominent during the Timurid period of 14th and 15th centuries. Highlights here include Registan Mosque and Madrasas, Bibi-Khanum Mosque, the Shakhi-Zinda compound and the Gur-Emir ensemble, as well as Ulugh-Beg's Observatory. It is all gleamingly gorgeous, like the Taj Mahal on steroids.
Colossal architectural contrasts
As well as the impacts of the Silk Road, Uzbekistan's history of conquests, empires and Soviet rule has had a colossal impact on its architecture. Literally. Often it is the contrast of Soviet brutalism and exquisite Islamic finery that delights architectural aficionados here. The Tashkent metro is a great place to start. Constructed after the devastating earthquake of 1966, its 29 stations are gems of Soviet modern art mixed with Islamic glam and glitz. Similarly, the city has vast Soviet style boulevards, built to cater for tanks and processions, as well as a beautifully brutal Museum of History, the extraordinary Hotel Uzbekistan and many more.
In Samarkand there is a fair smattering of concrete constructions to fit in with Soviet style. Such as the state university, University Boulevard or random public sculptures and tower blocks that can be seen from the top of the Bibi-Khanym Mosque. In Bukhara, the Samanid Mausoleum was unearthed by Soviets in the 1930s, and although it was thankfully protected, it is surrounded by a typical Soviet style park. And then, of course, everywhere you go, you have Muslim culture juxtaposed with samovars and vodka.
Our top Uzbekistan Vacation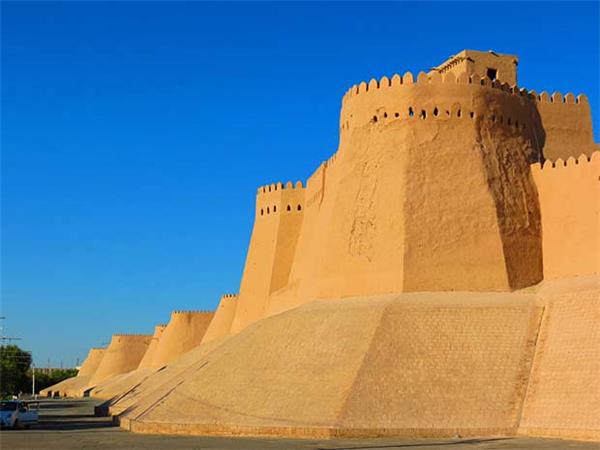 Explore cities and landscapes of the ancient Silk Road
From
US $

2349

to

US $

2799
11 days
ex flights
Small group travel:
2023: 25 Aug, 8 Sep, 15 Sep, 29 Sep, 6 Oct
2024: 29 Mar, 19 Apr, 3 May, 17 May, 31 May, 23 Aug, 6 Sep, 13 Sep, 27 Sep, 4 Oct
If you'd like to chat about Uzbekistan or need help finding a vacation to suit you we're very happy to help.


It felt almost macabre visiting the Aral Sea and former port city of Moynak. It is full of ghosts and life that has rusted over. And yet, to understand the future, macabre is a must sometimes.

Desert dreams
The cities are what so many people come for, but the desert is never far in Uzbekistan, given that over 80 percent of the country is claimed by it. Head northwest for desert terrain, treks on camels and overnight stays in traditional camel hair yurts. Or drive across the infamous Aral Sea – once water, now desert – where ghostly remains of ships and sea life still remain, all harsh reminders of environmental catastrophes wrought by the human race.

Maybe it is the history of caravans coming through here on the Silk Road, or maybe it is the Soviet influence. But trains are big here.

Take the train
Trains are efficient, prolific and in some cases very modern, such as the Spanish-designed high speed Afrosiyob train connecting Tashkent with Samarkand in under 2.5 hours. There are also lots of sleeper trains, including from Tashkent – Urgench (near Khiva) which takes 16 hours. And for something completely different, check out the luxury rail vacation from Tashkent to Tehran, with plenty of Uzbek stops along the way.