Silk Road map & itineraries
---
Make the most of your time
Crossing the border between Uzbekistan and Turkmenistan will take time; they'll search your luggage, your rucksack and even your pocket for carpets, but it's all in good faith so keep your cool. Any tour of the Silk Road will likely involve some short flights, sleeper trains and lengthy travel by road. Unfortunately, most roads are an interesting combination of enormous potholes and tarmac that seems to sort of pyramid in the middle. Driving times are notoriously hard to estimate and speeds are very slow, but fortunately you won't be taking your own car; your guide will get you where you need to be, so reward them with flexibility and patience.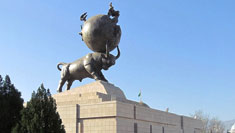 Ashgabat
As brilliant as it is bonkers, Ashgabat takes ostentatious to a new level. Its mainly marble architecture is big, brash and bright white, flanked only by massive gold statues or austere armed guards of whom it seems there are far more than civilians. The city is a fascinating insight into Turkmenistan's reinvented present and a stark contrast to its far more modest past.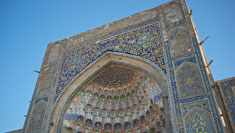 Bukhara
The most complete example of a medieval city in Central Asia, Bukhara really is a living museum, but one that's very much alive today – the old city is packed full of ancient Islam architecture, but families who have lived there for generation fill the atmospheric streets with gossip and energy. Sit and watch from the banks of the Lyabi-Hauz to take in a snapshot of quirky local life.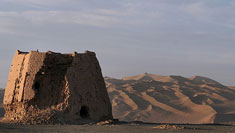 Dunhuang
The petrol station of Silk Road times, Dunhuang was once a pit stop for weary traders in need of food and water and impressive remnants of those days still exist in the magnificent Mogao cave temples that sit among towering sand dunes. The oasis town itself is still a worthy stop off for tired travelers with a touristy but tasteful selection of cafes, souvenir shops and markets.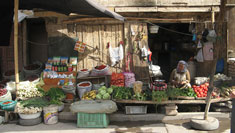 Kashgar
Kashgar is managing to ride the wave of modernity that's crashing through it and remains, at heart, a Muslim city with a traditional spirit. You will find Uyghur craftsmen sharpening knives; locals haggling over apricots, and donkey carts carrying men that look older than time. The incredible Sunday market, which draws business from near and far, is as frenetic as it is fascinating.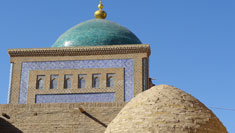 Khiva
Khiva is one of those fascinating places that grabs your imagination and doesn't let go. It's a 14th century heritage site, the ancient heart of which has been so well-preserved it's as if visitors are actors finding their way around a mud-walled stage set from which lead twisting alleyways, cobbled street and a sprawling array of mosques, mausoleums and minarets.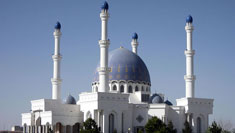 Mary
Mary, or Merv, is hugely significant historically and consists of a series of adjacent walled towns, each succeeded by one another throughout the course of history and each slightly different and unique in its architecture. Mary's chequered past is revealed at the brilliant Regional Museum, two floors of archaeology, taxidermy, rotating exhibits and traditional Turkmen art.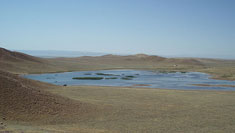 Nurata
Sat in the shadow of flashy Samarkand, Nurata, a city that lies at the base of the scenic Nurata Mountain range, brings you back to nature with a bang. Besides hiking in the mountains, camel trekking and swimming in the nearby Aydarkul Lake, the area is known for its fortress built by Alexander the Great and the Chasma Spring, a revered holy pilgrimage site.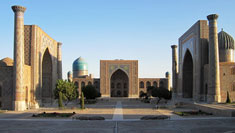 Samarkand
Samarkand screams grandeur; there is no city more synonymous with the Silk Road's former majesty and today's Samarkand has been smartened up accordingly. Once historic quarters have made way for modern, Soviet-style avenues and pristine green spaces, while the Registan, its enormous central square, gleams with polished architecture in gold, turquoise and blue.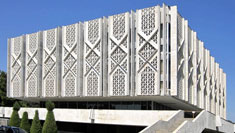 Tashkent
Uzbekistan's capital isn't immediately charming: Soviet rebuilding after a 1966 earthquake scrapped a lot of its authentic architectural ambience and it appears a bit of a jumble, its shiny new capital city HQs in an awkward juxtaposition with a maze of surviving mud-clad houses outside which traditional farmers trundle. Scratch beneath the surface and make the most of its museums.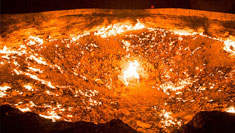 Turkmenistan
Ruled by a frankly insane dictator until 2006 that renamed the months after his own family and banned opera, Turkmenistan was off the tourist radar for some time, but is an underappreciated land of great natural beauty. The Karakum Desert covers 70% of its land surface and is home to the breathtaking 'Door to Hell', a 230ft cavern of natural gas that has stood ablaze for over 40 years.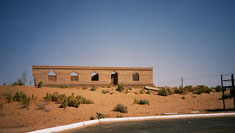 Urgench
Something of a has-been, Urgench's glory days sit way back in the 16th century and today the city is famed more for its transport links than its cultural value. Scratch the surface though and you'll find a whole host of interesting ancient remnants including the gates of a caravanserai, a mosque and a 60ft minaret – all testaments to incredible architecture and craftsmanship.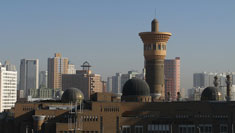 Urumqi
Urumqi is a bustling business hub of nearly 3 million people that sits in western China's lofty Bogda Peak. It holds the record for the remotest city in the world, some 2,500km from the nearest sea, and it's skyline, a modern puzzle of high-rise homes and skyscrapers, is testament to its position as a rapidly growing marketplace that does business with traders from Shanghai to Sheki.
Silk Road itineraries
---
Silk Road western China:

Urumqi ►Kashgar ► Lake Karakul ► Kashgar ► Turpan (sleeper train) ► Tian Sham Mountains ► Gaocheng ► Jiayuguan ► Dunhuang (sleeper train) ► Urumqi

Silk Road Uzbekistan:

Tashken ► Urgench/Khiva ► Bokhara ► Nurata ► Samarkand ► Tashkent


Silk Road Uzbekistan & Turkmenistan:

Tashkent ► Samarkand ► Shakhrisabz ► Bukhara ► Turkmenistan ► Mary ► Margush ► Mary ► Ashgabat ► Darvaza ► Urgench ► Dashoguz ► Khiva ► Tashkent

Travel times along the Silk Road
---
The following times give you a rough idea of the travel times between the main attractions along the Silk Road.
• Urumqi – Kashgar: 4hrs 50mins (flight)

• Kashgar – Dunhuang: 48hrs broken (by road, sleeper train, sleeper train)

• Tashkent – Khiva: 4hrs 40mins (flight)

• Khiva – Bukhara: 13hrs (by road, train)

• Bukhara – Samarkand: 4hrs (by road)

• Bukhara – Nurata: 7hr 15mins (train, by road)

• Mary – Ashgabat: 5hrs 30mins (by road)