The size of Western Europe, with a population of just 18 million people, Kazakhstan is a vast and largely unexplored nation, blanketed in landscapes with some of the bleakest sounding names: steppe, semi-desert, tundra, taiga. It stretches from the some of the lowest points on earth on the shores of the Caspian Sea, to the Tien Shan and Altai Mountains, peaking at over 7,000m. It is criss-crossed with ancient trading routes, traversed for centuries by Silk Road merchants, with ruined cities, fortresses and magnificent mausoleums lining these trails like chapters from an Asian fable.

If you have wanderlust in your soul, there is a country with your name on it. That country is Kazakhstan – whose name translates as the "land of wanderers."

Despite being conquered by the Mongols, and incorporated into the Soviet Union, Kazakhstan remains thoroughly untamed, and nomadic herders still wander remoter regions. As our Kazakhstan travel guide reveals, a vacation here is not about ticking off big sights; it is about forging your own, completely unique adventures in a land where few tourists set foot.
Kazakhstan is…
the world's largest landlocked country. Its navy is based on the Caspian Sea.
Kazakhstan isn't…
full of Borats.
Kazakhstan map & highlights
Most travelers flying into Kazakhstan will arrive into Almaty, which gives easy access to landscapes such as Altyn Emel National Park and Issyk Lake. Silk Road vacations may fly into the city from Tashkent in Uzbekistan, or take their time entering Kazakhstan from the southwestern desert, traveling overland to Almaty via the ancient cities of Turkestan and Sauran. Almaty is also a manageable drive from Bishkek, in Kyrgyzstan, so wider Central Asia tours will often enter or depart Kazakhstan traveling overland between these two cities. Within Kazakhstan, the southern region is usually explored overland – but those heading to the remote Altai Mountains and Lake Markakol will need to take an internal flight from Almaty to Ust-Kamenogorsk. From here, particularly intrepid overland voyages continue into Russia or across into Mongolia.
1. Almaty
Once the nation's capital, still the favoured city of many Kazakhs, thanks to its pleasant climate, snowcapped mountain backdrop and cosmopolitan vibe. Modern Almaty certainly displays Kazakhstan's wealth in its glitzy downtown streets, but more classic sights include the wooden Zhenkov Cathedral, built without nails. Take a daytrip to the Tamgaly petroglyphs – carved into the rock during the Bronze Age.
2. Altyn-Emel National Park
This national park protects around 4,600km² of bleak desert and rocky landscapes. It is known for its "singing dunes" which whistle when the wind blows. The sliver-like Charyn National Park sits just to the south, encompassing the 100m-deep Charyn Canyon. This has been compared to the Grand Canyon thanks to its dramatic and colourful rock formations, including the impressive "Valley of Castles."
3. Lake Issyk
An alpine lake sitting at an altitude of 1,760m, Lake Issyk was created quite suddenly when a landslide dammed a valley 8,000 years ago. Explore this stunning turquoise lake, surrounded by snow-dusted mountains, on daytrips from Almaty or en route to the neighbouring national park. Walk through wildflower filled meadows and dense forests, and visit nearby Turgen Gorge, with its high waterfalls.
Eastern Kazakhstan & Altai Mountains
4. Eastern Kazakhstan & Altai Mountains
If you're the kind of traveler who finds Kazakhstan a bit too "mainstream", head to the far east and the Altai Mountains for a real taste of wilderness. Take a cruise across one of the world's largest reservoirs, camp on the tranquil shores of Lake Markakol, drive over high mountain passes, and meet nomadic families and 'Old Believers' – who practice a 17th century version of Orthodox Christianity.
5. Silk Road
You won't find any "Silk Road" street signs in Kazakhstan; this near-mythical trail is more of a concept than a physical route, but as this massive country forms a vast obstacle between Europe and East Asia, it was crisscrossed for centuries by traders and merchants, as well as Mongol warriors. Modern travelers will find ruined cities, magnificent mausoleums and the remains of ancient fortresses.
6. Turkistan
A 1,500-year-old city emerging from the Kazakh Desert, Turkestan was a kind of oasis for Silk Road traders. Its massive, 14th century mausoleum complex is now a UNESCO site, as well as a place of pilgrimage for Soviet Muslims. Base yourself here for trips out to the ruins Sauran and Otrar, once great cities that survived Mongol invasions and which played important roles with Genghis Khan and Silk Road traders.
If you'd like to chat about Kazakhstan or need help finding a vacation to suit you we're very happy to help.

More Kazakhstan articles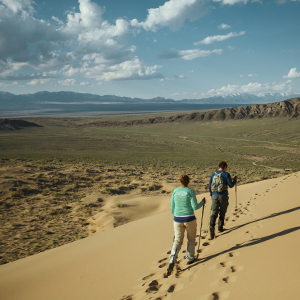 The best time to go to Kazakhstan is is spring or autumn, to avoid the baking summers and snowy winters.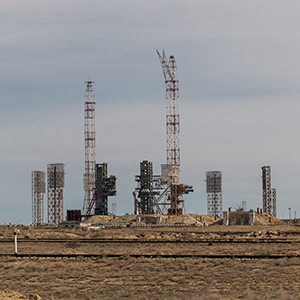 Starry-eyed for space travel? Want to take your Kazakhstan vacation into infinity and beyond?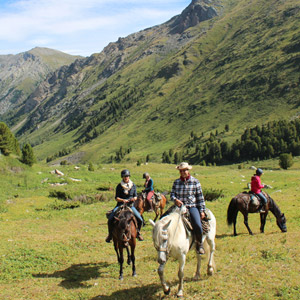 Riding the park ranger's horses and wild camping is about as low impact as you can get.