Baikonur Cosmodrome in Kazakhstan
Donít be fooled into thinking that vacations to Kazakhstan are all steppe towns, marathon train journeys and Silk Road cities. Formerly part of the USSR, this is a country thatís been in the vanguard of space travel since the 1950s. And it all goes down at Baikonur Cosmodrome Ė a launch pad and research center in the desert steppe east of the Aral Sea that doubles as the worldís first and busiest spaceport.

Space travel in Kazakhstan isnít as surprising as youíd think. This is a frontier country thatís spent centuries wondering whatís over the horizon Ė and then going there.

The Baikonur Cosmodrome started life as a top-secret missile test site in the 1950s, before furtively transforming into the HQ of Soviet Russiaís space programme. It was a shining star of space tech innovation and exploration, and home to one of the most successful space programmes on the planet. Itís like technology finally caught up with the Kazakh wanderlust, allowing them to explore that final frontier.

This is where Yuri Gagarin became the first person to blast into space. Itís where the first spacecraft got within whispering distance of the moon. Where the first woman, Valentine Tereshkova, shot into space and stardom. When Cold War tensions settled, it became the center of the International Space Station expeditions, launching the likes of Commander Chris Hadfield and Major Tim Peake into the ether.

Rumours on the space grapevine have it that the work-in-progress Russian spaceport Vostochny will adopt space missions from 2021. So the time to visit is right now, while Baikonur Cosmodrome is still the darling of international space travel. But how do you get to Baikonur Cosmodrome? And whatís there to see once youíve arrived? Read on to discover how to slot the space station into your Kazakhstan vacation.
Our top Kazakhstan Vacation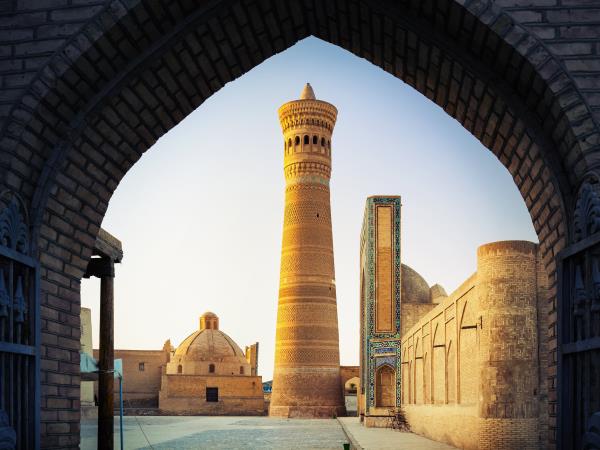 Step into the pages of history on a silk road tour
From
US $

6999
23 days
ex flights
Small group travel:
2024: 1 Jun, 8 Jun, 22 Jun, 27 Jul, 17 Aug, 24 Aug, 7 Sep, 14 Sep, 21 Sep
Top 3 things to see at Baikonur Cosmodrome
Once top secret, the Baikonur Cosmodrome is now open to curious visitors. The complex is about as big as the USSRís aspirations were, handing out nine launch complexes, 14 launch pads, 34 engineering complexes, three fuelling stations and two aerodromes across 90km of flat, dusty Kazakh steppe. On top of that, itís a working spaceport busy with scientists and engineers. This isnít a place you can just mosey around yourself; youíll have to hook up with a tour guide to help you explore this vast cosmodrome.
1. Gagarinís Start
April 12 1961 is a date for the history books Ė and it all started at Launch Pad No. 1 (AKA Gagarinís Start), where Yuri Gagarin became the first human to rocket into space and orbit Earth. You can peer into the 45m deep launch pad and pay your respects to a near-mythical site thatís due to be decommissioned in the 2020s.
2. Museum of Baikonur Cosmodrome History
The in-house museum is the best place to swot up on your space history. You can watch a presentation on a restored Buran space shuttle Ė which looks more like a giant jet plane than a slim line 21st-century space ship Ė and peruse a line-up of rocket engines and early computers. A complete gallery of signed crew photographs reveals the human faces behind the rocket launches, including gut-punch snapshots of astronauts who died while on mission.
3. Korolev & Gagarin cottages
Two unassuming cottages plant themselves opposite the museum. These are where lead rocket engineer Sergei Korolev and astronaut Yuri Gagarin stayed in the days leading up to the mission that would launch the first human into space. Theyíre surprisingly moving time capsules of Soviet-era Kazakhstan Ė retro mid-century tables and lamps included.
If you'd like to chat about Kazakhstan or need help finding a vacation to suit you we're very happy to help.

How to get to Baikonur Cosmodrome
Itís wisest to hop on a small group vacation to Kazakhstan that includes Baikonur Cosmodrome on the itinerary. That way, you can leave arranging the complicated transport options (itís all trains, planes and automobiles), passes and currency (since Baikonur Cosmodrome is still technically a pocket of Russian territory) up to the experts.

Organised trips are headed up by a specialist guide whoíll fill you in on Stalin, the steppe and the stars.

Most trips start in capital city Astana, where futuristic architecture warms you up for your voyage into space exploration. Youíll then set off for Baikonur Cosmodrome Ė a domestic flight south and 3.5-hour drive through the stark steppe. It all gives you just enough time to really appreciate the sheer size of Kazakhstan. Donít think youíre heading to Baikonur, either. The cosmodrome was named after the city 200km northeast to throw US spies off the scent. Youíll usually spend two days exploring Baikonur Cosmodrome before continuing your travels through Kazakhstan.
More about Kazakhstan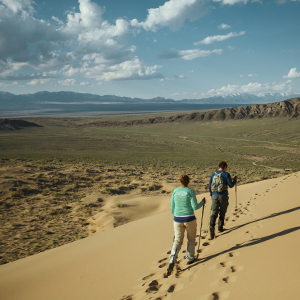 This landlocked nation is a land of extreme temperatures Ė the best time to go to Kazakhstan is is spring or autumn, to avoid the baking summers and snow-clad winters.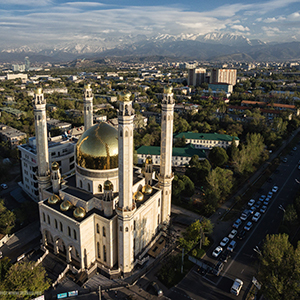 How a country the size of Western Europe could remain hidden for so long is something of a mystery, but Kazakhstan is beginning to make a name for itself amongst intrepid Central Asian explorers.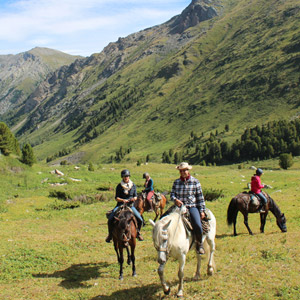 Riding the park rangerís horses and wild camping is about as low impact as you can get.