Horse riding vacations in Kazakhstan
Taking a photograph from the saddle of a cantering horse takes a bit of practice. Luckily, Jen Buttery, from our Kazakhstan riding specialists Zavkhan Trekking, has had plenty of time to hone her skills. "We're pretty good at it now," she laughs, "but you've got to be on the right horse."
When she leads
rides into the Katon Karagai National Park in Kazakhstan
, the right horse is easy to come by. "We rent horses from the park rangers," Jen says. The park, Kazakhstan's largest, is found in the country's mountainous eastern corner, near the town of Ust-Kamenogorsk and just a few kilometres from the Russian and Chinese borders.

With no inroads into its mountains, the rangers patrol the wilderness on horseback, going about their duties of planting trees, monitoring wildlife and looking for elk.

Compared to the semi-wild horses in nearby Mongolia, where Jen started these trips, the rangers' Kazakh horses are far more straightforward: "They're more used to being ridden. They're given to the park rangers, through government funding and used all year round for scouting." They don't get nervous if your rain jacket flies open and causes unexpected noise, and they are used to the terrain – this is their stomping ground.

Thanks to their relationship with the rangers, Jen's company are able to ride in the parklands for days and days. After high climbs uphill to mountain passes you can enjoy descending into wide valleys, where a sense of freedom might overtake you. "Expect some fast rides," Jen says, which is code for galloping with utter abandon – as long as your camera is safe, of course.
Kakakh culture
The few people who live here are appreciative of visitors. "They've been really receptive to our trips," says Jen, who's run tours here since 2015. "They're hospitable kind and connected – even though they've had a traumatic past." Thanks to Soviet-era mass movement, Kazakh culture is no longer as strong in the country as it once was and their traditional semi-nomadic life is on its way out.

In the 19th century, some Kazakhs were pushed east into western Mongolia by the advancing Russian Empire. On Zavkhan Trekking's tours, eager riders spend over two weeks riding, and camp using Kazakh equipment brought over from Mongolia. They also bring Amangul, a multitalented horsewoman and ethnic Kazakh from Mongolia who is the company's local operator. "She's an ambassador," says Jen, who sings her praises. "She is a world-class singer of traditional Kazakh songs. It's part of her charm. She plays dombra – a two stringed lute-like instrument. The locals in Kazakhstan love it."
You have to look beyond the surface Soviet styling to find traditional Kazakh objects in Kazakhstan. Rangers, for instance, ride using Russian riding equipment and camouflage jackets. "They have a lot of traditional culture in their homes," Jen explains. "Cabins look Russian but inside you'll find a Kazakh home." Kazakhs in Kazakhstan intersperse their speech with Russian words, which causes confusion at the campsites with the Mongolian Kazakhs, who do not. "It's really interesting seeing Mongolian Kazakhs and native Kazakhs speaking together," Jen says.

Kazakh saddles are worth so much money that they are family heirlooms. I've seen them in shops for thousands of dollars. People keep them in their homes, rather than using them for riding.

On the fringes of the park, you'll ride past wide fields of sunflowers and wheat, and follow herders with their cattle and their horses – the latter milked for kumis, a fermented milk drink. When the snow melts, opening up the mountain pastures, herders take their flocks to graze, camping for a month or two in solitude – until you encounter them.
Kazakhstan is not used to tourism, making these riding tours pioneering forms of cultural exchange. Jen was surprised about local attitudes on her first visit: "The rangers and locals officials leave rubbish around; it's sort of bizarre. They're totally not indoctrinated as we are in the west about littering." Over the process of a few visits, rangers and tour guides have slowly started to see eye to eye about how damaging discarded plastic can be.
Our top trip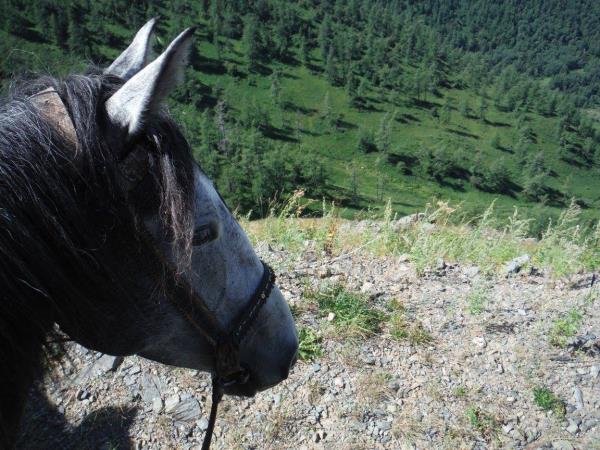 Explore eastern Kazakhstan's dramatic Altai range by horse
From
NZ $

4700
17 days
ex flights
Small group travel:

If you'd like to chat about Kazakhstan or need help finding a vacation to suit you we're very happy to help.

What does horse riding in
Kazakhstan entail?
Horse riding in Kazakhstan tends to be an intrepid horse trekking trip. There's plenty of galloping on the menu, so it's best suited to confident riders. It's a remote setting, so trips are usually over two weeks long, involving wild camping. If you go to the Katon Karagai National Park you'll find a lake and forest-rich region, with 4,000m-high mountains. There's no fixed itinerary to follow – spend time in valleys, gazing out from high passes, and riding in all weathers, using pack horses to carry essentials.
What is pack horsing?
Once you leave the roads and go into the park, you'll need to carry your camping equipment via horse. "We make a base camp with support vehicles, then we put our essential gear – wild camping tents, some kitchen gear – on two or three pack horses and head up into the mountains a little bit higher where there's no roads," Jen explains. This is 'pack horsing' – and it combines with wild camping to make horse riding here particularly intrepid.
Whilst the streams and rivers are clean enough to drink from, they need to be kept that way, which means washing clothes and dishes far away from the river to keep soap out of the natural environment. When you're done, gather close around the fire to share stories whilst your horses stand quiet in the darkness.
Getting around
The infrastructure in Kazakhstan is good. This is, after all, the richest country in central Asia and there are sealed roads and railways near the park. Among the roads around the national park is a steep switchback that can be ridden up. Known as the Austrian Road, it was built by Austrian prisoners of war and provides a jarring snapshot of recent history in the alpine surroundings.

Jen encourages visitors to take a few days after their riding to explore the rest of the country by train – they're in for a surprise. "Most of Kazakhstan is very flat and arid and different from where we ride," Jen says. There's a direct train from Ust-Kamenogorsk, near the park, to Almaty, the former capital in the south – though it takes 25 hours. Despite the vast distances, though, getting around is inexpensive.
When is the best time to go?
The best time to go horse riding in eastern Kazakhstan is in summer. The high altitude means that snow blocks some of the mountain passes well into spring, so trips run from June to August. Kazakhstan's plains are searing hot at this time of year, but up here in the eastern mountains, the climate is more hospitable, peaking at about 27°C.
More Kazakhstan articles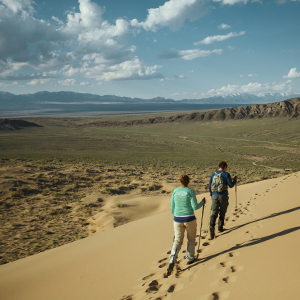 The best time to go to Kazakhstan is is spring or autumn, to avoid the baking summers and snowy winters.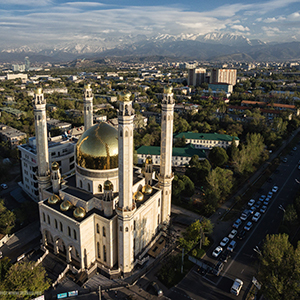 How a country the size of Western Europe could remain under-visited for so long is something of a mystery.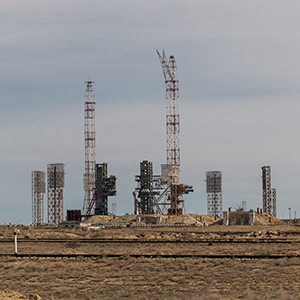 Starry-eyed for space travel? Want to take your Kazakhstan vacation into infinity and beyond?