Best time to go to Kazakhstan

Just about as landlocked as you can get, Kazakhstan has four very distinct seasons, although spring and autumn are particularly fleeting.

Summer and winter are extreme in Kazakhstan, with the most intense heat and cold found in the central steppe and around the capital, Astana. In Jun-Aug, temperatures can soar over 40°C, plunging to -20°C in Dec-Feb. The southern regions, around pleasant Almaty, are generally more hospitable, while the Altai Mountains receive the heaviest rainfall. The best time to go to Kazakhstan is in Apr-May or Sep-Oct, between scorching heat and heavy snow.
Things to do in Kazakhstan
Things to do in Kazakhstan…
Kazakhstan is criss-crossed by trade routes that for centuries carried merchants, silk and horses, as well as culture, ideas and politics, between Europe and the Far East. Originating around 500 BCE and used for around 2,000 years as Chinese, Roman, Persian, Mongolian, Muslim and Greek empires rose and fell, the Silk Road is lined with stunning cities – some ruined, some very much still alive – temples, bazaars, monuments and mosques. Follow the ancient trails in Kazakhstan alone – or on longer voyages through Uzbekistan, Kyrgyzstan and on into China.
The world's 9th largest country is also one of its least densely populated – leaving an awful lot of vast, empty steppe, mountain and tundra to lose yourself in. Gaze out the window on epic drives, trek ancient mountain paths, camp out under the stars – and make the most of the space and distant horizons – a literal breath of fresh air for most travelers.
It may be famed for its empty landscapes – but there are people in Kazakhstan, too; tucked between the mountain folds, herding livestock across the steppe, trading in bazaars much as they did centuries ago – and of course, living rather modern lives in the surprisingly cosmopolitan streets of Almaty. Tour leaders help break the ice as you meet Old Believers, or camp out near the tents of a nomadic Kazakh family in the Altai Mountains.
What not  to do in Kazakhstan…
Swig the mare's milk. Kumis may be a popular drink in Central Asia, but it's not particularly suited to Western palates. Try it, by all means, but sip rather than gulp – this fermented milk has a sickly, cheesy punch (as well as a small amount of alcohol) that might make you gag. They say that what doesn't kill you makes you stronger, though – and given this was the drink of choice of greats such as Genghis Khan and Attila the Hun, it might be worth persevering… Base your perceptions on Borat. Sacha Baron Cohen's unhinged creation put Kazakhstan on the map – but don't expect to find anything resembling Borat here. However, while the initial Kazakh reaction to the 2006 film was one of outrage, the country gradually came round to the comedy character who managed to put Kazakhstan on the map, and saw it as a rather good – if unconventional – PR opportunity. Leave your passport behind. You must carry it with you at all times – the original, not a copy. Snap away. Photography is prohibited in many places, including some official buildings, airports and shops, so be cautious with your camera and check with your tour leader before taking any photos in towns and cities. In rural areas, be sensitive to local culture. Many people still lead highly traditional lives, far from mass tourism – so never take photos without striking up a conversation first, then asking permission. Better still, put your camera away for a much more meaningful encounter for both parties.
Our top Kazakhstan Vacation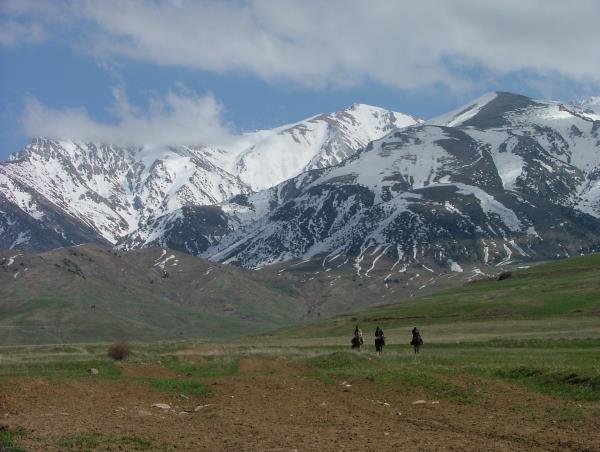 Cultural and natural heritage in a Central Asian secret
From
£

2049
10 days
ex flights
Small group travel:
2024: 18 May, 21 Sep
If you'd like to chat about Kazakhstan or need help finding a vacation to suit you we're very happy to help.

Jim O'Brien, from our leading Kazakhstan vacations supplier, Native Eye Travel, shares his top tips for traveling in Kazakhstan:
Meeting local people
"There are always plenty of opportunities to meet and interact with local people but the most 'authentic' experiences will be away from big cities like Almaty and Astana. There are still villages of 'Old Believers' in Kazakhstan which is an opportunity to see quite a traditional way of life, and in some parts nomadic families live, although these tend to be fairly remote."
Keeping an open mind
"Don't expect everything to go as planned. It doesn't have the infrastructure or experience with tourism as somewhere like Uzbekistan. This can throw up a few surprises and frustrations, so be patient, flexible and adaptable. It's a great destination for adventurous sorts who like the outdoors and great scenery, don't expect luxury, and are looking to explore perhaps the least known 'stan'."
Landscapes & launch sites
"There's a lot to surprise people about Kazakhstan, from the stark and desolate beauty of the Ust Urt plateau in the west to the Altai Mountains in the north east – it's not all endless steppe. The Cosmodrome at Baikonur is fairly unique - a fully functional space launch site…"
More about Kazakhstan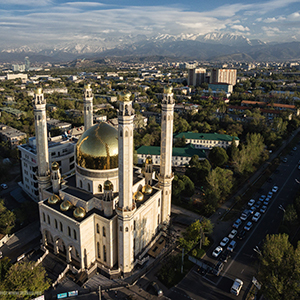 How a country the size of Western Europe could remain hidden for so long is something of a mystery, but Kazakhstan is beginning to make a name for itself amongst intrepid Central Asian explorers.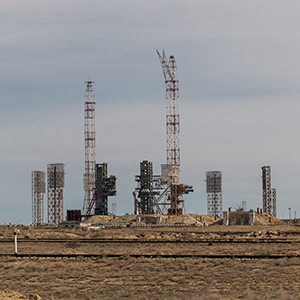 Starry-eyed for space travel? Want to take your Kazakhstan vacation into infinity and beyond? (Groan.) Then visit the frontline of the Soviet Space Race at Baikonur Cosmodrome.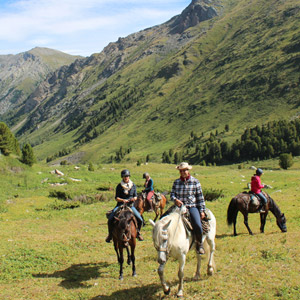 Riding the park ranger's horses and wild camping is about as low impact as you can get.