"Rewilding and conservation, as an industry, has become quite militarised in recent years, protecting parks no matter the cost to people in and around them. The Gorongosa project on the other hand is taking a much more nuanced, progressive and carefully managed approach, bringing local people with them all the way."

Tom Clode, founder of our partner Pictus Safaris, is optimistic about the future of Gorongosa National Park, which up until the early 2000s was near-empty, its once-renowned wildlife populations decimated by years of civil war and widespread poaching.

Saving Gorongosa means nothing if local communities don't materially benefit too.

The philanthropic Carr Foundation co-manages Gorongosa alongside the Mozambican government. It places a strong emphasis not only on allowing nature to restore itself, but on providing education, healthcare and better life opportunities for people living around the park.
"We're a model of this combined concept in Mozambique" says Larissa Sousa, creator of Gorongosa's empowering Girls' Clubs. "It all means nothing if local communities don't materially benefit too."
Located in central Mozambique, the park spans over 4,000 square kilometres, and some 200,000 people live around it in traditional communities. 
Wildlife safaris
– by jeep, by boat, canoe or on foot – take you through grasslands, wetlands and forest in search of animals from elephants to lions, leopards, buffalo and painted wolves. Much more remains to be done, but the achievements so far are little short of spectacular. As our guide explains, Gorongosa once again tops the list for the adventurous safari-goer.
The Gorongosa National Park Restoration Project
Begun in 2008, the 
Gorongosa National Park Restoration Project
is an ambitious program to take an abandoned, war torn and almost-forgotten park, with vastly depleted wildlife populations, and encourage nature to restore itself to its former glory. Eventually, Gorongosa will reclaim its status as one of the pre-eminent safari destinations in Africa.
The project has brought international scientists and researchers to work alongside Mozambicans. Millions of trees have been planted to revitalise ecosystems and provide habitat. Some 27,000 deadly traps and snares have been removed. War-scarred visitor facilities have been fixed up. Gorongosa's elephant study indicates that their numbers have risen to 800, and painted wolves (African wild dogs) are doing well too. Tracking lion recovery in Gorongosa reveals there are now as many as 150 of them in the park. And in 2019 Gorongosa welcomed the release of nearly 30 pangolins – the most trafficked animal in the world – rescued from their fate as ingredients for Chinese medicine.
"From having about five percent of the animal numbers we had before the war we've gone to 95 percent. We do regular aerial counts and we can see these big differences – we counted something like 100,000 big animals in the most recent survey," says Larissa Sousa.
Community development around Gorongosa
There's nothing new about combining community engagement with conservation. Indeed, any rewilding project and especially one involving large mammals and predators will need to have local people on-side if it's going to be a success.
What's unusual about the Gorongosa National Park Restoration Project is the lengths it has gone to; a very clear recognition that this is an opportunity to make improvements to the lives of people living around the park.
Many villages in the buffer zone around the park lack electricity and clean water. People have difficulty getting to schools and hospitals, and there is a great deal of poverty. As elsewhere in Mozambique (and many other parts of the world of course) it is common for girls to leave education early and marry young, giving them few prospects outside the home.
The Carr Foundation funds a wide range of 
outreach initiatives
that span everything from education to health, preparation for employment, to environmental awareness. These projects – which are locally led, supporting homegrown talent – have already demonstrably made tangible differences to the lives of thousands of people and, as many of those who have benefitted from them return as teachers, leaders and ambassadors, should continue to do so for generations to come.
The initiatives include teacher clubs, which provide educators with tools and training – generations of civil war has left classroom teachers sometimes unable to read or write themselves. Conservation clubs help children identify animals and learn about topics such as recycling. Youth clubs tackle the problem of low employability by showing young people how they can use their talents. One of these, in the town of Gorongosa, supports a Saturday radio show in the chi-Duma language which is at risk of dying out and which is now being studied thanks to park funding. All of these clubs are underpinned by lessons in literacy and numeracy.
On a 
safari vacation
you will be offered the chance to visit one of these community programmes and see for yourself the inspiring work being done.
Gorongosa Girls' Clubs and Female Empowerment
Only 
11 percent of girls in Mozambique
stay in education as far as secondary school, and nearly half are married before their 18th birthdays. Poverty is the cause: school children can't contribute to the family's income, and brides bring dowries.
Larissa Sousa founded Gorongosa National Park's Girls Clubs, which are ringing the changes. She started in 2017 with 17 clubs, each with around 40 girls who were seen as vulnerable to early marriage. In return for staying in school they were given additional programs in literacy, numeracy, life skills and menstrual hygiene. They were provided with uniforms and educational materials, taken on excursions and given career coaching from women.
Some girls from these clubs have now finished high school, gone to university, and become nurses, engineers and accountants. They have returned to their communities to show others – especially fathers – the value of girls continuing their education.
Today there are some 90 Girls' Clubs in Gorongosa communities, with about 3,500 girls in attendance. There are now
more women than men enrolled in its scientific programmes
.
Coffee & conservation
One of the more complex conservation problems to solve has been convincing small-scale farmers on Gorongosa Mountain to drop their traditional slash-and-burn practices, which park and government officials felt were leading to worrying levels of deforestation. It's been estimated that around 40 percent of the mountain's original forest cover, home to pygmy chameleons among other rare species, has been lost since 1970 with much of the timber
making its way to foreign markets
.
Gorongosa Mountain, where the rivers that irrigate the national park originate, was incorporated into the park's boundaries in 2010. Though it made sense from a conservation standpoint, it was a move that was not without controversy. Many Mozambicans were forcibly dispossessed of their land during the Portuguese colonial era (from the 16th to the 20th century) and there was a great deal of mistrust about the park's motivations. Some residents felt that concerns about deforestation were being exaggerated, and that their ancestral land rights, bound up with mountain spirits called
mhondoro
, were at risk from outsiders. The fact that rebel fighters camped on the mountain slopes as recently as 2016 was another complication.
However coffee has proved to be a sweetener. Coffee provides the mountain farmers with a sustainable, long-term income and it also requires shade, encouraging the planting of native trees and an end to slash-and-burn. As people's incomes improve through the growing of this crop, so does the mountain's ecosystem.
Visitors can now buy Gorongosa coffee in local communities around the park, as well as online and in many supermarkets around the world. The park continues to build trust with those who still harbour concerns.
Making coexistence possible
While the regrowth of safari tourism brings with it employment opportunities and income, the return of elephants and lions to Gorongosa has not been universally welcomed by people in surrounding communities. The park is unfenced, and the animals have a habit of wandering. The project has been working with communities to manage the risk, which is seen as essential for long-term human – animal coexistence.

Elephants are fitted with GPS collars so that they can be scared away from maize fields. Reflective sheets of zinc are strung up and chilli-tinged repellents spread around to discourage lions from getting too close to villages.

And, in a further example of forward thinking, local people can benefit financially from some of the schemes devised to minimise risk from wildlife incursions. One example: stringing beehives along routes that elephants are known to frequent. Elephants don't like bees, and villagers can sell the honey to the park, which then processes it and sells it on to visitors, reinvesting the profits into its work.
If you'd like to chat about Mozambique or need help finding a vacation to suit you we're very happy to help.

What do Gorongosa tours involve?

The people who are out there 'doing the doings' – releasing leopards, hyenas and trafficked pangolins, collaring elephants – are always happy to answer questions.

Visiting Gorongosa National Park, still very much a work-in-progress as far as restoration goes, you get a sense of what once was, and what the future may hold.

Wildlife is thriving – and fewer animals than estimated have had to be reintroduced. Herds of waterbuck tread warily around the floodplains, alert to the growing threat of lions; vervet monkeys and baboons swing in the trees, and warthogs snuffle happily in the forest while the headline attractions: elephants, big cats and painted wolves are there in good numbers too.

"Painted wolves top a lot of sightings wish-lists and much of that is due to the social pack element," says Tom Clode, who is passionate about this most charismatic of African predators. "They're very active, playful animals. They take care of their sick and injured, bringing them food, and they're both intelligent and ruthless. In fact they're some of Africa's most effective hunters, with a kill rate of around 80 percent, compared to say 15 percent for cheetahs. So they're very exciting to watch and be around."

You won't find all of the Big Five in Gorongosa yet, as rhinos are yet to be reintroduced, but the guides accompanying you on game drives are adept at seeking out lions, leopards and buffalo too. And neither will you find swathes of luxury lodges here. They'll come in time, but for now most Gorongosa National Park accommodation (while still very comfortable) is not quite at modern industry standards. Which, to be honest, is actually a plus. Safaris here feel wild and authentic.

Game drives minimise off-road driving to reduce damage to habitats, and they are complimented by boat safaris on Lake Urema, and canoeing on the Pungué River. Add walking safaris, where guides show you how to track animals by their prints and dung, and show you wildlife at the micro level, and you get a fantastic variety of perspectives on how Gorongosa has come back to life.

And much more is planned. Ambitious projects ahead include the return of rhinos, as well as smaller cats, more leopards and hyenas. "One of the big differences in Gorongosa is that the people who are out there 'doing the doings' – releasing leopards and hyenas, and trafficked pangolins, collaring elephants – are always around. We can stop and talk to them, they'll answer questions. They're very open about the work being done," says Tom Chode.

The game viewing area in Gorongosa is quite small, as there's a limited road network. But here at the very end of Rift Valley there is an incredible tapestry of landscapes. "Even if there are no animals around it's still spectacular," adds Tom. "You're going from Kruger scenery to Maasai Mara to Okavango Delta in a short space of time."

Community development is integral to the conservation work in Gorongosa, and your wildlife-viewing will be complemented by the opportunity to visit one or two of the many projects going on in the area. On the mountain, for example, you can visit the coffee plantations and the villages around them, then follow the production process back down the mountain to the factory and meet the people there, learning how the coffee industry benefits the park.

"Gorongosa is head and shoulders above anywhere else in terms of accessibility to community projects," says Tom.

You see them up on the roof, like they're choosing from the menu.

Kings of the castle: the Lion House in Gorongosa National Park
The 
Lion House
has always been one of the most popular wildlife-watching locations in Gorongosa National Park. This old safari lodge was built on a flood plain and abandoned not long afterwards because... it was built on a flood plain. Within a few years the building had been taken over by a pride of lions that use it to shelter from the rains, as a safe haven to raise their cubs, and to spy on nearby grazing herds from the roof – "like they're choosing from the menu," says Larissa Sousa.
Other notable areas around the park include the Songwe viewpoint, where you can enjoy sundowners while admiring hippos, pelicans and antelopes; the Paradise Pan, which rarely dries up entirely even at the height of the dry season and is a good elephant-viewing spot; the Peninsula, where hippos and crocodiles share the water, and Baobab Hill, a beautiful landscape where antelopes graze peacefully.
Best time to visit Gorongosa National Park
The best time to visit Gorongosa National Park – indeed the only time – is between April and early December, the dry season. From mid February until the end of March the park is closed, as roads become impassable during the rainy season.

Safaris are often timed to coincide with the activities of particular animals. "We go in August and September as that is the end of denning season for painted wolves," says Tom Clode. "That gives us an excellent chance of seeing puppies and witnessing a range of behaviours."
History of Gorongosa National Park: hunting, tourism, war & peace

This an amazing story, of Gorongosa emerging from the ashes.

Gorongosa began life as a hunting reserve in the 1920s. Officers from British battleships moored off the Mozambique coast would form shooting parties. Tourism took off from the 1940s and with officials becoming aware that the wildlife could be worth more alive than dead, Gorongosa became a national park in 1960. The park was for a long period one of the most biodiverse areas in all of Africa, with huge concentrations of wildlife, and was one of the continent's most revered safari destinations.
Gorongosa's 'Golden Times' weren't golden for everyone though. During the Portuguese colonial era local people were displaced to create the park, and many were victims of forced labour to build infrastructure – a continuation of almost 500 years of slavery, theft of land and resources, and oppression. During the 1960s the park was a popular vacation destination for the wealthy, and black Mozambicans were rarely welcome unless they were working there. (Today, Mozambicans can enter Gorongosa for just one US dollar, while educators and school children pay nothing).
Not long after Mozambique gained independence from Portugal in 1975, civil war broke out. In 1981, it reached the park. Gorongosa became a battleground as the socialist government fought rebel factions backed by Rhodesia (later Zimbabwe) and South Africa. Tourism revenue disappeared and the park was closed down in 1983.
By the time the war ended in 1992, wildlife populations had been
utterly decimated
. Thousands of elephants had been found in aerial surveys in the late 1970s. After the war just a handful remained and they were terrified of humans and vehicles. The rest had been shot for their ivory, which was sold and used to buy weaponry. Large mammal numbers shrunk catastrophically by as much as 95 percent as they were shot for food. Carnivores such as spotted hyenas and leopards were driven locally extinct while lions only barely survived and those that did were often maimed.
An initial rehabilitation project, sponsored by the European Union and the International Union for the Conservation of Nature (IUCN) had some success and many of the staff it hired were former soldiers. Then in the early 2000s the Carr Foundation, created by the American philanthropist Gregory Carr, partnered with the Mozambique government on a hugely ambitious, 20-year restoration project that has been so successful that in 2018 it was announced that it would continue for another 25 years.
What makes the Gorongosa National Park Restoration Project so impressive is not simply the thriving animal populations that now throng its forests, floodplains, rivers and grasslands. It is the long-term, progressive and holistic vision that community development and conservation go hand-in-hand. Today, the people who live around Gorongosa aren't simply welcome – their happiness is recognised as key to the park's future.
"People should be aware that this is still a deeply damaged ecosystem and it will take time to recover. Many species are still missing or struggling so it's not mission accomplished yet," says Tom Clode. "But for me this is an amazing story, of Gorongosa emerging from the ashes."
More about Mozambique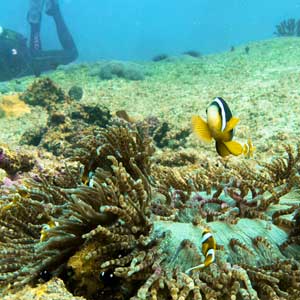 The best time to visit Mozambique is during the drier months of April to September, when temperatures are also ever so slightly cooler - though still unlikely to dip below the high 20s. For humpback whale sightings, the best time to visit Mozambique is between July and October.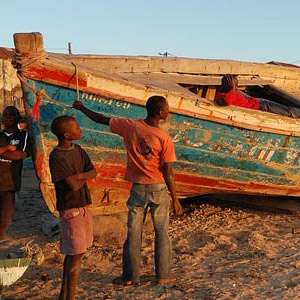 Bob Dylan sang that he'd "like to spend some time in Mozambique, the sunny sky is aqua blue.