Nicaragua is on fire right now. For many years it was considered a poor man's Costa Rica, but it is now firing on all cylinders in terms of tourism, as investment in infrastructure, from hotels to homestays, islands to national parks, make their own unique mark on the Central American map of adventure travel. A fiery country by nature, given its 19 active volcanoes from Masaya to Mombacho, guided hikes of these sizzling peaks by day and night are highlights of any Nicaraguan vacation. And although Nicaragua has a fiery history, these days it's more about revelations than revolutions.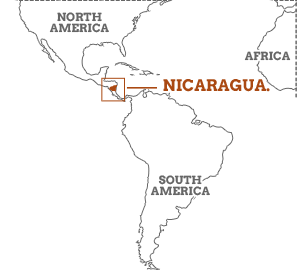 To sum up Nicaragua, think luscious, lava and littoral and you got it. And loving too – because Nicaraguans have warm, open hearts, homes and boy do they love to party.

Lake Nicaragua has over 300 islands. You can surf off the Pacific coast. It has paradise Pacific Islands called the Corn Islands. And the food? Nicaraguans bring out the banquets for any occasion. And the music, and the rum, Flor de Caña – the best way to toast and taste real Nicaraguan fieriness. Read on in our Nicaragua travel guide.
Nicaragua is...
a relative tourism newbie. But it has made a big, colourful entrance.
Nicaragua is/isn't...
a cheap Costa Rica or a budget Belize. It oozes its own special eco cool.
Our top Nicaragua Vacation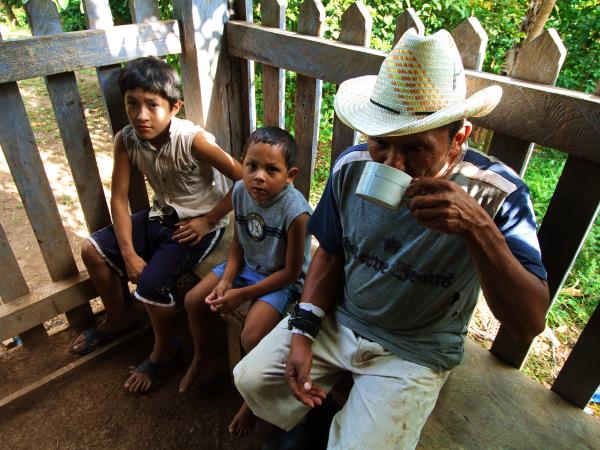 Colonial cities, Volcanoes, Homestays and Caribbean Islands
From
£

1595
10 days
ex flights
Tailor made:
Everything is tweak-able, giving you the freedom to build a unique and personal trip for your chosen date. Upgrade your accommodation for all - or just part - of your trip, slow down the pace with few extra nights here and there or add a few more active adventures along the way.
If you'd like to chat about Nicaragua or need help finding a vacation to suit you we're very happy to help.

Nicaragua map & highlights
Nicaragua is natural. Still untouched by tourism, the donkeys and carts in Granada aren't just for us, they're for real life. The food, such as in La Plazita de Monimbó market in Masaya, is homegrown and homemade, and banquets are spread out with any excuse for a party. Their love of kids comes naturally too and so, if you are traveling with children, it feels as if you have a constant support system of strangers. Their natural heritage is only now becoming known to the world too, from the eco-eclectic islands of Lake Nicaragua, to the cloud forests of Mombacho. Nicaragua doesn't need branding. It needs to not go changing.
1. Apoyo Lagoon
A crystalline caldera lake with tropical environs. A tropical dry ecosystem packed with flora including black rosewood, mahogany and orchids. Sounds of howler monkeys and hummingbirds fill the air, just a few of the species spotted on guided naturalist hikes. Don't miss out on a paddle off the black sand beaches, be it swimming or kayaking. Do wear eco-friendly sun cream in these rightly protected waters.
2. Granada
Like its Spanish namesake, this is an elegant city, Nicaragua's oldest colonial one, where shabby chic adds to its charm. The sound of donkeys and carts traipsing over cobblestones is everywhere. The smell of mangoes is too. And the aesthetics are ever teasing to the eye, with multicoloured buildings such as its fine yellow cathedral, blue skies touched by the cloud forested Volcán Mombacho in the distance.
3. Lake Nicaragua & islands
Aka Cocibolca, this is the largest freshwater lake in Central America. It also has over 300 islands, created by volcanic activity. From tiny ones such as the Solentiname to the vast Ometepe (276km2) meaning "between two hills" as it was formed by two volcanoes. Five hours from shore, it's another world of wonders, with howler monkeys in the rainforest and freshwater sharks basking around its shores.
4. Leon
León is a charming fellow. With colonial architectural prowess; the fiery personality of its overseer, Cerro Negro volcano; artistic, with two of the country's finest galleries; and adventurous. Be it sandboarding down the volcano, cycling around the city, or swimming in the Pacific, just 30 minutes away. He has spiritual moments too, with churches everywhere, including Central America's largest cathedral.
5. Los Pueblos Blancos
These 'white villages', characterised by white limestone homes, are scattered in the hills surrounding Masaya. Villagers are known for their artisan skills, so take your time walking through them to admire and buy the work of ceramicists, potters and wood carvers. One village, Niquinohomo, is famous for being the birthplace of revolutionary leader, national hero and icon of freedom Augusto Cesar Sandino.
6. Masaya National Park
The jewel in the park's crown is the glittering, gurgling Masaya Volcano, with smaller Volcán Nindiri like a backup generator. The most recent explosion was 2001, but on a normal day you can view the caldera Cruz de Bobadilla viewing platform. If you want to experience active Masaya, head to the eponymous nearby town for the lively El Mercado Viejo market and indigenous food area at La Plazita de Monimbó.
More about Nicaragua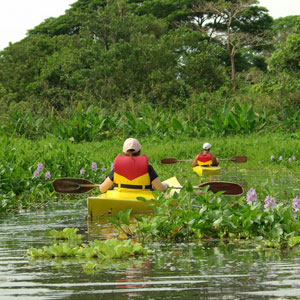 The best time to visit Nicaragua is during the dry months of November to April - which also provide a welcome escape from the northern winter. But there's nothing to stop you exploring in the quieter, rainier months - the Pacific is a little drier than the Caribbean. The landscapes and nature here are astounding, but don't overlook Nica culture - with many indigenous and Creole communities ready to share their food, folklore and fabulous music.