Okavango Delta travel guide
---
2 MINUTE SUMMARY
Africa's vastest oasis radiates across sand and swamps, forming forested islands and winding channels across 22,000km2 of otherwise desert landscape. A waterhole on an epic scale, the Okavango Delta supports Africa's largest herds of elephants – just one of 122 mammal species that thrive on its lush vegetation and reed-filtered waters. Lions stalk buffalo through the papyrus, antelope rear tottering calves, and over 440 species of birds fly here to fish, nest and breed; this remarkable region is up there with the Serengeti, Ngorongoro Crater and the Masai Mara when it comes to game viewing – while remaining just that bit off the beaten track.
Unusually, bush walks, off-road safaris and night time game drives are permitted across much of the delta. So, too, are mokoro canoe rides – a unique opportunity to experience the ecosystem at water level, eye to eye with hippos and herons. This is also a wonderful way to engage with the BaTawana who live on the edges of the Delta; chat to your guide as he poles you through the swamps to learn about life in one of Africa's last great wildernesses.
Read more in our Okavango Delta travel guide.
Okavango Delta map & highlights
---
MAKE THE MOST OF YOUR TIME
Maun is the gateway to the Okavango – fly in via South Africa before driving several hours to your safari camp or lodge – or taking a scenic flight in a light aircraft. In the delta, safari vehicles, mokoro canoes and bushwalks are the only way of getting around – with longer boat journeys common along the deep Panhandle. Most tours then follow migration routes out across the Linyanti floodplains to the magnificent Chobe NP – famed for its enormous elephant herds and luxurious lodges. Flying is the most common way to travel, but overland adventures – setting up bush camps along the way – offer lower prices and bigger adventures. Click the blue map pins on our Okavango Delta map for more information.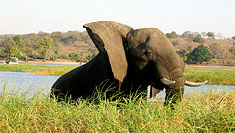 Chobe National Park
Up to 50,000 elephants live in Chobe – Botswana's first national park. An enormous transfrontier park spanning five nations enables the migration of these huge herds, and gives Chobe one of the greatest concentrations of game in Africa. Rivers, marshland, savannah and hardwood forests all offer different ecosystems, supporting leopard, hippo, hyena, giraffe and zebra, amongst others.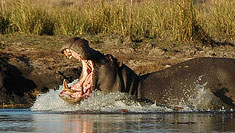 Kasane
Tucked into the border with Zambia, Zimbabwe and Namibia, Kasane is the gateway to both Chobe National Park – and Victoria Falls. You're an easy drive from the wilderness and wildlife of Chobe here, but the town itself is no wilderness; however, an abundance of hotels, lodges and campsites make it appealing to travelers on a budget, and happy to take day trips into the park. There are also a number of banks and ATMs.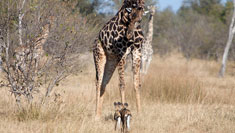 Moremi Game Reserve
Moremi protects a tapestry of islands, swamps, forests, grasslands and channels – an unspoiled ecosystem providing a glimpse of the African wilderness at its best. It was the first reserve in Botswana to be established by locals, who fought back against expanding farms and uncontrolled hunting. The Big Five can be seen here, along with 400 bird species – look out for lions stalking buffalo in the reeds.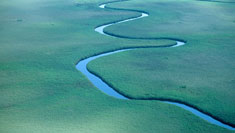 Panhandle
The Panhandle is a deep, wide river stretching 75km south from Mohembo, which channels the vast quantities of water into the Delta's floodplains. The Panhandle is a fishing mecca, with tiger fish being the most popular catch – but the birdlife is equally as abundant, including rare skimmers plus egrets and kingfishers.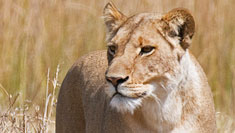 Savuti & Linyanti
Between the delta and Chobe NP, the Savuti Marsh is famed for its large predators. Big cats are especially bold here; lions have been observed hunting adult elephants – a thrilling sight. Huge herds of wildebeest and zebra migrate here during the annual flooding of the Savuti River, along with 450 species of birds. The remote Linyanti Reserve is less visited, and remains one of northern Botswana's wildest landscapes.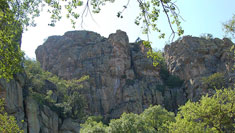 Tsodilo Hills
The sacred Tsodilo Hills, now a UNESCO site, offers a rare slice of ancient Kalahari culture. Huge rocks stand sentry over the surrounding flat landscape, containing some 4,000 examples of rock art; many are thousands of years old, preserved by the parched desert air. Standard itineraries rarely reach this remote spot, but it can be requested as an add-on – a guided tour reveals the rocks' spiritual secrets.