Oman vacations travel guide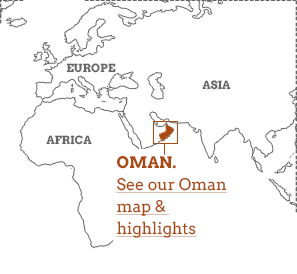 You couldnít get two more contrasting neighbours. While Dubai is like walking into Disneyland in the desert, Oman is like waking up in an Arabian Arcadia. Infinitesimal desert dunes, sandstone forts that segue seamlessly into surrounding blonde sands, wadis filled with turquoise water that feel like stolen sanctuaries when you dive into them, and three seas to choose from for coastal escapism.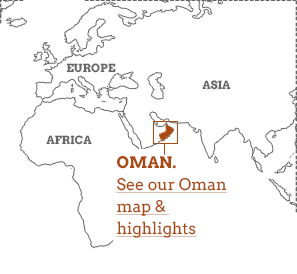 I love that itís called Oman, because when you trek its canyons or stand in the middle of the sweeping desert, thatís all you can say. Oh man.

If you like big spaces and big ideals, Oman is an eye opening and exhilarating place to visit. The people are peace loving, loyal and respectful, they adore their Sultan, and you will rarely hear a bad word spoken in Oman. It is just not part of their culture to criticise, which just adds to the utopian otherworldliness of it all really. So those ever present smiles arenít Disney like either. This Omani pride and joy is totally real. Find out more in our Oman travel guide.
Oman is...
authentic Arabia and so totally alluring
Oman isnít...
just a flop and drop by the pool vacation
What we rate & what we don't
Diving
Both north and south, you will find a panoply of sites on a
diving vacation in Oman
, with 40 off the coast of Muscat alone. These include the Daymaniyat Islands, Banda Khairan and Fahal Islands. You will see deep drop offs, wrecks, coral and reef fish here, as well as off the Salalah Coast in the south. Marine life includes dolphins, turtles, reef sharks, stingrays, whale sharks and barracuda.
Ras Al Jinz Turtle Reserve
Committed to the protection of the beautiful green sea turtle (chelonia mydas), Ras Al Jinz Turtle Reserve and Scientific Centre is an exemplary conservation center. With accommodation on site or a nearby campsite, you have ease of access to see the turtles at dawn or dusk with expert rangers. Come from late May to September to see turtles nesting and hatching.
Salalah
In the southern Dhofar region, Salalah is where Omanis go during the monsoon or khareef season, to welcome the rain. This is not something Europeans usually do, but in arid Oman the downpour is a treat and you can watch the valleys turn from arid to luscious within days. Even without the monsoon, Salalah is a fascinating port town and gateway to some gorgeous Indian Ocean beaches.
Contemporary culture
As well as its ancient heritage, the Sultan of Oman has invested hugely in contemporary arts. In Muscat, there is a Royal Opera House, an international arts festival and a highly regarded symphony orchestra made up completely of Omani nationals. A
cultural vacation in Oman
will introduce to both old and new. The Muscat Festival runs throughout January.
Muscat
A truly magnificent capital city which awakens all the senses, not only with its magical souks but also its marine influences and elegant waterfront location. The architectural highlights are the Sultanís Palace, the jewel bedecked Grand Mosque and state of the art Royal Opera House. Take in the backdrop of blue skies, mountains and sandstone cliffs as well as views out across turquoise bays.
The wonder of wadis
These dramatically beautiful valleys can be experienced in two ways, depending on the season: flooded or arid, by hiking or swimming. Wadi Shab has secret emerald green caves and waterfalls all year round, and Wadi Bani Awf has traditional houses built into its slope. Wadis are always wonderful, unless there is a flash flood, in which case you want to be anywhere else but.
Al Hajar Mountains
This mountain range is where hikers and
mountain bikers
feel like they have died and gone to heaven. Omanís highest peak, Jebel Shams, stands at an ethereal 3,000m and its name aptly means Mountain of the Sun. Discover canyons plunging to depths of 1,000m in this region known as the Grand Canyon of Oman. Always go with an expert guide as some areas are military zones.
Adventure vacations
If itís adrenaline you are after Ė weíve got this. Jump into a wadi full of turquoise blue water after a canyon trek. Go mountain biking up through ancient villages, navigating plateaus that feel like you are in a video game. Camp out under the stars in a traditional Bedouin camp one day and scuba dive to see reef sharks the next.
Liberal laissez faire
Oman is touted as being a very liberal country, especially in Muscat, so visitors often fall into the trap of ignoring local customs. However, there are still very strict codes of conduct and laws to adhere to here, the most important being for women, in particular, to cover up properly. Read our
responsible tourism page
for more guidance on cultural faux pas in Oman.
Omnipresent luxury
Omani developers made a conscious decision to go very high end when it came to building tourism infrastructure with
luxury
boasting a very large capital L. Consequently, there is a lack of authentic, warm places to stay where visitors can see, touch, smell and taste Omani culture at every turn. So you have to make sure you get out there and experience it when you can. Read more about
accommodation in Oman
.
Human rights issues
Although Oman is a very peaceful country and more liberal than many, international human rights organisations still highlight many issues. These include the prevention of freedom of speech, sex trafficking, homosexuality being illegal and serious contravention of labour rights for domestic workers. Read more of
Amnesty Internationalís thoughts
.
Plastic water bottles
They love their bottled water in Oman, but a 2017 UN report declared that drinking water here is among the worldís best, with 97 percent of water free from contamination. All residents, restaurants and accommodation have access to drinking water, so bring your refillable bottles or hydration backpacks and get your fill of the fresh stuff.
Eating & drinking in Oman
Kahwa is Omani coffee, with a hint of cardamom. Itís often served with delicious sweet halwa.

You will never be short of a date in Oman.

Shawarma ismeat cooked on a spit, wrapped in pitta bread.

Sewyah is a pudding made from sweet noodles.

Seafood is everywhere, such as mashuai Ė a whole, spit-roasted kingfish. Avoid hammour fish, though, which is endangered due to overfishing.

You shouldnít overstay your welcome by having more than three cups of coffee. It is so strong, you will probably need to excuse yourself anyway.

If you'd like to chat about Oman or need help finding a vacation to suit you we're very happy to help.

People & language
A big part of Omani culture is that they do not like to offend, so criticism and being rude are just not part of the agenda. Arabic is, of course, the national language, but many Omanis speak good English. There are also various other indigenous languages such as Jabbali in the Dhofar region. There is a big Indian immigrant population, so you will also hear a lot of Hindi spoken.
The most common greeting is Salam alaykum, or ĎPeace be upon youí
The most common reply is Wa alaykum as-salam, meaning ĎAnd upon you be peaceí
Gifts & shopping
Oman is THE place to buy Frankincense. Itís like buying lavender in Provence.

Seek out local honey, especially the wild one from bees hiding in high mountain caves.

You wonít want to buy a goat in Nizwa market. But you will want the rose water.

Bring a favourite pair of trousers and have a second pair made by a tailor in Muscat.

Omani silverware is famous, but you have to sift through the Indian imports if you want the real thing.

Omanís population has doubled in the last decade. Weird correlation, families keeping growing, just as the oil is all going.

Punnet of apples from market stall: £1.50

Bottle of beer/wine in a hotel: £5/£20-30

Chicken Shawarma in small restaurant: £1.50

Lunch in local restaurant: £4.50

Full tank of petrol in 4X4: £8
A brief history of Oman
Omanís history as a tourist destination is very new. The current Sultan Qaboos bin Said has pulled his country out of the poverty that it endured until the 1970s, driven mainly by lack of food and tribal warfare, by putting it on the map as a destination for classy, high end tourism. Although it may be one of the newest to tourism, Oman is actually the oldest independent Arab country. It still has a proud independent feel, probably driven by the fact that it was very isolated for almost a century.
Read more