Best time to visit Orkney
---
TEMPERATURE & RAINFALL
Things to do in Orkney
---
WHAT TO DO IN THE ORKNEY & WHAT NOT TO
Things to do in Orkney...
---
Pack your walking boots because this is archipelagic heaven when it comes to hiking|. On The Mainland there are vast, remote beaches and remote elevated grasslands, but you also have some of the most magnificent cliff top walks on Hoy, as well as its highest peak at Ward Hill. If you can make it out to walk along the west coast of Westray to the lighthouse at Noup Head you will really have had an Orcadian odyssey to remember.
If ancient archaeology, stone circles and prehistoric ruins rock your boat, then get on that boat. The oldest known settlement is at Knap of Howar and is a Neolithic farmstead on Papa Westray island, dating back to 3500 BCE. Orphir, on The Mainland, has Scotland's only remaining Viking round church. The highlight for many visitors is Skara Brae, part of the Heart of Neolithic Orkney UNESCO World Heritage Site on The Mainland, which also includes the Standing Stones of Stenness, Maeshowe passage grave, and the Ring of Brodgar.
Food in Orkney is all about freshly caught fish and seafood and there are plenty of places to tuck in to these and other island treats. And with two local breweries, Orkney and Swannay, as well as two superb whisky distilleries, and even a craft gin distillery now, there is no shortage of places to raise a glass either. Or to buy superb gifts.
Things not to do in Orkney...
---
Giant cruise ships
with thousands of passengers are now berthing at Kirkwall, the capital, Hatston and Stromness. Although cruise ships have often favoured Orkney as part of northern itineraries, the numbers have gone through the roof of late, with passengers sometimes outnumbering the archipelago population sixfold. Controversial in terms of their benefits, we are
not fans
of giant cruise ships at Responsible Travel. Walking and staying locally, yes. Giant, floating, all inclusive hotels, not so much.
Call the archipelago the Orkneys. Just as you wouldn't say the New Zealands or the Irelands, it is quite simply, Orkney. Singular or plural, as it comes from the Old Norse word Orkneyjar meaning 'Seal Islands'. Go there in October when the famous 'selkies' are giving birth; you will see, and hear, why.
Go on about clans and tartans. The heritage in Orkney is Norse, who settled here in the 8th century. Gaelic isn't even spoken here and place names are mostly from Old Norse. Orkney was, in fact, part of the Scandinavian kingdom until 1468. They have summer solstice festivals and an arts festival called Magnus, and there is an annual Norwegian Constitution Day in May to celebrate close ties with the main event at Magnus Cathedral. And check out the Orkney flag: a blue and yellow Nordic cross on a red background.
Orkney travel advice
---
TIPS FROM OUR FRIENDS IN ORKNEY

Robert Kidd from our leading Orkney supplier, McKinlay Kidd:
Itinerary tips
---
"What's special about Orkney is the concentration of fascinating history across the eras within such a small area….and the accessibility of the sites (compared to other parts of Britain). Here you can get up close and touch the standing stones at Ring of Brodgar and crawl inside ancient tombs." "As well as the Orkney "Mainland" do take the chance to visit one of the outlying islands, such as Westray, Rousay and Hoy. They are quieter and full of historical interest, wildlife and beaches. And there's that Old Man sea stack just off Hoy too."
Avoiding large cruise ships tips
---
"While it is now receiving a larger number of visits in the summer from some large cruise ships, they tend to visit major sites on their itineraries from mid morning to mid afternoon, so head to Skara Brae and Maes Howe early or late, and do remember that lots of the best places to visit are missed by the cruise ships completely. You can also check the schedule of cruise visits at the Tourist Office in Kirkwall and then plan around it."
Cultural heritage tips
---
"Orkney is famous for Neolithic and Bronze Age sites but also boasts fantastic Viking history - the runes within the chambered cairn at Maes Howe proving that graffiti is by no means a modern invention! Reading the Orkneyinga Saga during your trip will bring this era to life."
Shopping tips
---
"Orkney has a wealth of fine crafts on offer, especially jewellery – Sheila Fleet amongst the most well-known – with designs inspired by the landscape and culture."
When to go
---
"My personal favourite time of year is May, for the abundant puffins on cliff top sites. "
Packing tips
---
"Pack for all weathers!"
Tips from our travelers
---
ADVICE FROM THOSE WHO HAVE BEEN THERE
At Responsible Travel, we think the best people to advise our travelers are often... other travelers. They always return from our tours with packing tips, weather reports, ideas about what to do - and opinions about what not to.

We have selected some of the most useful Orkney travel tips that our guests have provided over the years to help you make the very most of your vacation – and the space inside your suitcase.
A tip from one of our travelers
---
Moira Parker, who travelled on on our Orkney and Shetland self drive vacation: "For the time of year we went, which was mid October, make sure you have got warm, thermal clothing. If you are wanting to see the puffins, dolphins etc., go before September. It was fantastic to see the contrast in both isles and to see the nature, unspoiled beauty. The wealth of wildlife and to see them in a nature environment. The wealth of history and to see how the areas have evolved throughout the years. Also the possibility of seeing the Northern Lights."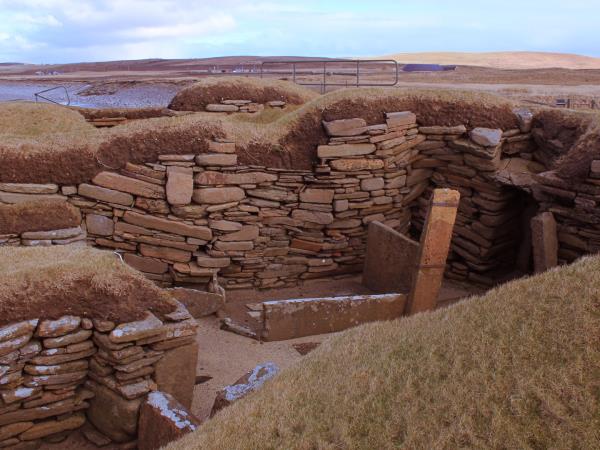 Self-drive island-hopping through the Northern Isles
From
£

845
7 Days
ex flights