Bird watching in Papua New Guinea

Papua New Guinea's deep forests hop with birds whose names are as pretty as they are – honeyeaters and berrypeckers, jewel babblers and fairywrens.

As birding destinations go, Papua New Guinea is one of the most intriguing and exotic. Thanks to a lack of predatory animals and PNG's diverse habitats, the country is home to 780 bird species (including 76 endemics), some living in the fertile and inaccessible highlands, others on its scattered tropical islands.
The stars of PNG's birdlife show are its incomparably exotic and entrancing birds of paradise. There are 34 species here, almost all of which are endemic. This is the most diverse, bizarre and beautiful of all bird families, with extravagant plumes and feathers that could rival neon signs for brilliance. Males prance, call and shape-shift to attract mates during elaborate courtship displays. The extraordinary black sicklebill bird of paradise, for instance, lifts up his short tufted wings to create an almost UFO shape, hardly like a bird at all. No wonder these wonderful birds are one of Sir David Attenborough's lifelong passions.
You'll need a bit of luck to see birds of paradise, since they are solitary and can be elusive, but their avian supporting cast does not disappoint. Many are dashingly colourful, with names such as blue-faced parrotfinch and golden monarch describing their vibrant plumage, and for every birdie bombshell, there are lots of fascinating raptors, seabirds and river birds, complementing the brilliance.
What does bird watching in Papua New Guinea entail?
It's not really possible to come birding in Papua New Guinea without joining an organised small group tour – the country's remoteness and lack of tourist infrastructure see to that. Instead, join a trip meticulously planned by a specialist travel company, which includes on the ground travel, English speaking local guides and all accommodation. Groups are deliberately kept small, to minimise their impact on the environment and villages visited, so that means no more than 12 people.

You don't have to join a dedicated birding tour to enjoy Papua New Guinea's avian residents. Birds are such a brilliant big deal in PNG that even cultural tours will include some birding sessions so, unless you're a fanatical twitcher, it makes sense to join a more rounded tour. PNG is remote and it's not a budget destination. Coming here is generally classed as adventurous travel, more an expedition than a vacation, so maximise your time here by joining a trip that explores the country's unique culture and people, as well as its feathered friends. If you're a passionate birder, look out for tours that include a specialised birding programme with customised excursions, so you're guaranteed more dedicated time bird watching.

Specialist small ship expedition cruises to Melanesia are a great way to see Papua New Guinea's birdlife, exploring some of its more remote islands, and taking in the Solomon Islands, too. On such expeditions, an ornithologist guide will accompany the trip and local guides will also come along on some birding outings. A driver and 4x4 will be waiting at port to take the birding party to the avian hotspots; drives that might take a few hours, for example on long and skinny New Ireland. The ship is your home on a cruise, of course, but on land based small group tours, you'll be staying in lodges, hotels and even family run village homestays.
Our top Papua New Guinea Vacation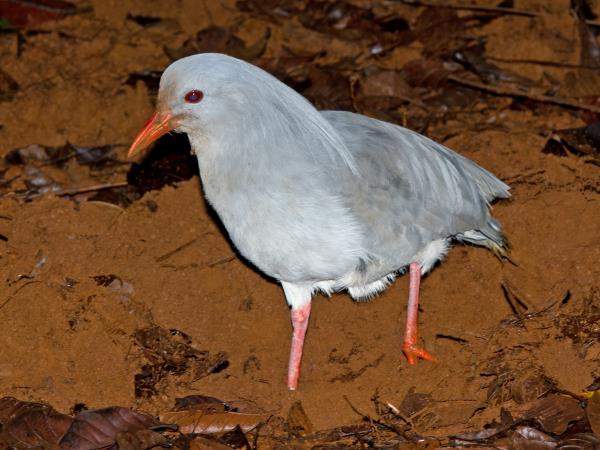 World renowned west pacific birding voyage + Bonin Islands
From
US $

12495
4 weeks
ex flights
Small group travel:
2024: 21 Mar
If you'd like to chat about Papua New Guinea or need help finding a vacation to suit you we're very happy to help.

Papua New Guinea birding highlights
Highlands region
The fertile highlands of PNG are densely forested and hard to reach. You can take a flight to Mount Hagen, then head out in search of the birds of paradise found that exist in spectacular diversity here. Other avian beauties include varieties of dove, cuckoo and fairywren and elusive New Guinea endemics such as the mottled berryhunter and MacGregor's bowerbird.
Madang region
Drive just half an hour or so out of Madang town to discover secondary forest and steep karst ridges that shelter many of the 780 species of birds which have been identified in PNG – the most sought after being its birds of paradise. Early morning birding excursions yield the best sightings. Look out for the region's colourful residents, including sulphur-crested cockatoo, rufous-bellied kookaburras, orange-bellied fruit dove, golden myna and red-capped flowerpecker.
Manus Island
Little known Manus Island is rarely visited but, because it has been biologically isolated, it's home to eight endemic species. For birders, it's a highlight of any trip to PNG. Manus cicadabird, Manus friarbird and Manus monarch are fairly easy to spot, but you'll need some luck to catch one of Manus' celebrated but extremely rare endemics, the superb pitta.
Mussau Island
Mussau Island is very remote, and boasts three of its own endemic birds, including the strikingly monochrome white breasted monarch and the Mussau fantail, which have been seen by very few birders ever. You might also spot Meek's pygmy parrot, whimbrel, island leaf warblers and blue-faced parrotfinches.
New Britain
New Britain has a rich history, with the port of Rabaul the capital of German New Guinea in the late 19th century and the island an important and impregnable base for the Japanese during WWII. It is home to beautiful birdlife, and you'll most likely see red-chinned lorikeets and purple-bellied lories flying overhead, and the ever present Brahminy kites which circle lazily on the thermals. Endemics include New Britain friarbird, blue-eyed cockatoo and ashy myzomela.
New Ireland
Birders should make straight for the highlands of the Lelet Plateau to see the best avian activity. Listen out for red-chinned, red-flanked and coconut lorikeets screeching overhead, spot white-necked coucals and see golden monarchs glowing in the canopy. The island has nine endemics including the ribbon-tailed or paradise drongo and the inky black Bismarck crow with its pale blue eyes.
Sepik River
The Sepik River is the longest river in Papua New Guinea, meandering 1,200km from the West Papuan border to the Bismarck Sea, west of Madang. Some tours include exploring the river by Zodiac or motorised canoe, following tributaries and channels in search of local birdlife. You'll certainly see egrets, herons and kites, along with more exotic birds like hornbills. Little, whiskered and common terns can be seen feeding along the river and you'll spot a huge array of parrots, cockatoos, pigeons, doves and lorikeets.
Best time to go bird watching in Papua New Guinea
Papua New Guinea's bird life isn't migratory, so you can see it any time of the year, but April to October are the driest months here, with the most comfortable conditions and best visibility, so this is the best time for birding. You should come prepared for showers, though, and pack waterproofs. Small group trips that include birding and cultural highlights typically run in late June/July, August or September, while small ship cruises tend to run right at the end of the drier season, in October. Remember that PNG is not a mainstream destination, for birding or otherwise, and specialist vacation companies will generally only offer one trip a year, so book well in advance to secure your place.
More about Papua New Guinea