Goroka Show, Papua New Guinea
Goroka Show, Goroka Festival, Eastern Highlands Cultural Show – whatever you call it, there's no getting around the fact that this knees-up is the most anticipated event in Papua New Guinea. For one weekend in September the usually snoozing highlands town of Goroka erupts into a carnival of song and dance.

And it's not just for larks. This is a chance for up to 100 wide-ranging tribes to get together. It's also a battle of the dances. While not technically a competition, there's definitely a livewire of rivalry as communities dress up in their finest for a sing-sing that shows off their community's most impressive dances and songs.

The dances reveal battle victories, songs of healing and feasting, and a candid love for their community. Never has wearing your heart on your sleeve been so energetic.

What you'll see depends on which tribes decide to rock up that year. Storytelling dances and songs are performed by tribespeople dressed up like they're either going to war or a wedding. Woven rainbow headdresses are family heirlooms; bird-of-paradise feathers decorate skirts. And you'll know the tribal leaders by the size of their conch shells. The enthusiasm of the participants and onlookers is earth-shaking – we dare you not to get up and dance.
But which dialect is that? Why do the Asaro tribespeople coat themselves in pale mud? And is that a spell or a victory song? To get a true understanding of what's going on, you'll need to travel with a Papua New Guinea vacation specialist who'll match you up with an expert guide. Read on to see what to expect on a trip to the Goroka Show.
Our Papua New Guinea Vacations
Things to see at the Goroka Show

The sing-sing is a crescendo of kundu drumming, drone singing and pounding dancing. And the atmosphere is like nothing else on earth.

The Goroka Show lasts for three days straight, peaking at the sing-sing: a get-together where tribes share songs and dances. Some of these tribes only meet once a year, so it's real privilege to witness the excited interactions and friendly, thinly veiled rivalries. The sing-sing represents communication and community building, all at once – a shared language in a country where there are over 400 dialects.
When you consider how many thousands of years aboriginal islanders spent battling each other, followed by a few centuries of culture-crushing colonialism, you'll realise that it's a real privilege to see so many disparate tribes standing shoulder to shoulder. And they don't do it by halves. Men, women and children spend hours getting dolled up, with many of the outfits designed to ward off intruders. Expect forest moss suits and pig's tusk facial jewellery.

The seemingly ancient tradition of a sing-sing was in fact a construct from the 1950s, invented to diffuse intertribal tensions.

A marketplace pops up, too. Some tribes arrive loaded with their island's wares: banana, breadfruit, yam, taro, sugar cane. Food stalls then proceed to get busy cooking it, so you could wind up munching on barbecued pork or bamboo-steamed vegetables. Elsewhere, craftspeople peddle geometric palm-woven baskets and bright string bags.
Our top Papua New Guinea Vacation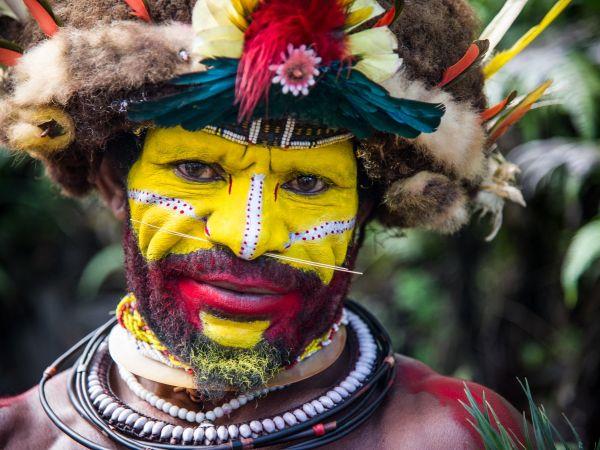 Stay with tribes and visit a festival in Papua New Guinea
From
US $

13744
16 days
ex flights
Small group travel:
2024: 28 Jun, 7 Aug, 4 Sep
If you'd like to chat about Papua New Guinea or need help finding a vacation to suit you we're very happy to help.

Tips for visiting the Goroka Show
Most trips to the Goroka Show are part of a small group vacation. Travel with a Papua New Guinea adventure specialist, and they'll hunt down accommodation on what's the busiest day in the PNG calendar and source tickets for the show itself, so you'll avoid long queues on the day. You'll also be paired up with a guide worth their weight in yams (more valuable than gold on some islands). Plus, you'll travel on to see the rest of Papua New Guinea over the course of a week or two – perhaps the remote festivals of the Bismarch Mountains or Independence Day celebrations in Port Moresby.
Papua New Guinea swelters under classic equatorial weather, so bring a hat and sun lotion for the sunshine and a light raincoat for the inevitable showers.
While it's true that the purpose of the Goroka Show is for tribes to show off their costumes and customs, it's also vital that visitors don't treat it purely as entertainment. Every swirl of body paint and skywards jump holds deep meaning. However, many tribespeople do indeed love posing for a photo – just remember to ask permission first and share the photo if possible. Respect the people behind the costume; it shouldn't need to be said, but touching generations-old headdresses is an absolute no.
More about Papua New Guinea