Things to see & do in Cuzco
Thanks, in part, to Cuzco's proximity to the Inca Trail – it's coined a 'gateway city' although it's still 72km to Ollantaytambo and the classic trailhead – travelers and tourists flock here from all sides. However, despite the backpacker buzz, Cuzco has managed to retain its authentically peaceful Andean ambience against a quite literally breathtaking high altitude environment.

There are plenty of public parks, pedestrianised plazas and reasonably priced food markets to keep budget travelers more than happy as well as an extremely affordable public transportation system offering next to nothing excuses to get out of the city and explore.

Acclimatising to life at 3,400m deserves more than a cursory couple of hours in Cuzco, even if you're only on Mission Machu Picchu, so rest, relax and stroll around the winding stone streets, meeting Quechua people for whom customs have changed little since their indigenous Inca predecessors.

Read on for some top budget travel tips for keeping costs down in Cuzco.
Keeping costs down in Cuzco
Although most of the major churches and monasteries in Cuzco charge tourists an entry fee there are still numerous things to do that won't cost the earth. For instance, you can stroll around the charming winding streets of the San Blas neighbourhood and seek out the Mercado de San Blas where fresh fruit juices, and 'Machu Picchu' sandwiches – chicken, tomato, egg, cheese, herbs, and avocado – will set you back around 5 soles (just over £1). San Blas also boasts one of Cuzco's best views from the Mirador de San Blas – well worth the series of steps to take you up to the top.
Mercado Central de San Pedro is another authentic and affordable Cuzco highlight to check out on a budget tour. You can sit alongside local Peruvians at a lomo saltado (cured beef) stall or just browse around a vast selection of souvenirs, smoothies, spices and hand-woven fabrics and clothes.
Cuzco's plazas are people watching paradise. The Plaza de Armas is the papa of them all and can get quite busy. A much quieter place to take it all in or simply pause for thought over a coffee and copy of Who Killed Palomino Molero? – the preceding book to Death in the Andes, written by Peruvian novelist Mario Vargas Llosa – is Plaza Regocijo, just a block over.
Day tripping from Cuzco
If you have a free day or two in Cuzco there are lots of interesting sites on the outskirts of the city that can be reached within 30 minutes by bus. For instance, Cristo Blanco (like a mini version of Rio's Christ the Redeemer) was a present from the people of Palestine who sought refuge in Cuzco during World War II. The views from the statue alone are well worth the bus fare. The Inca ruins of Tambomachay are also easy to get to. Tambomachay provides an example of life in ancient Inca times. The aqueducts, canals and stone baths have led archaeologists to believe it may have been some kind of exclusive spa resort.

The citadel of Sacsaywamán, the Puka Pukara fortress and the sacrificial site of the Q'inqu rock formations are all within 10km of Cuzco and easily accessible for day trippers by public bus. Public transport in Cuzco is very cost effective, with journeys often costing as little as one or two soles. Moovit is a really great app to help you work out which bus to take to where, and when.
Sustainably soft souvenirs in Cuzco
You can pretty much stumble onto a market every block or so in Cuzco. Some of the most popular souvenirs are the jumpers, coats, hats and colourful tapestries made from alpaca wool. The most sought after is 'baby alpaca', which just means it's the wool from the first time the animal is shorn and considered to be the softest, and the most valuable.

You do have to be careful where you shop, as some markets may be selling imitations that aren't made from alpaca and haven't even been made in Peru – be sure you're buying an authentic 'baby alpaca' garment rather than a 'maybe alpaca' imposter.

A recommended locally-owned store selling affordable adult alpaca wool products from Peru is Artesanías Asunta. You can pick up an authentic alpaca jumper for around 25 soles (about £7). Just head to Cuzco's famous 12-cornered Inca stone and the store is around the corner – well, one of them.
How to spot authentic Alpaca from synthetic alternatives
A genuine alpaca product is going to cost more than a synthetic or blended version. Authentic alpaca products are slightly heavier and won't have any holes within the weave. Synthetics tend to be lighter and loosely woven so you can sometimes see through them. An alpaca product will be soft on the outside as well as the inside. Synthetics are sometimes soft on the outside because they've been brushed or treated – check the inside to see if the same applies. Alpaca wool tends to be cold to the touch whereas synthetics will get warmer in the sun. Synthetics often feature really bright almost neon colours – alpaca garments are naturally dyed or consist of muted or natural wool colours.
In general, old alpaca wool or synthetic blends are going to cost about 25-50 soles (£6-£12). Just check labels or ask about authenticity first before you buy. A baby alpaca wool garment can cost hundreds of pounds. Don't be fooled into having the wool pulled over your eyes.
Our top trip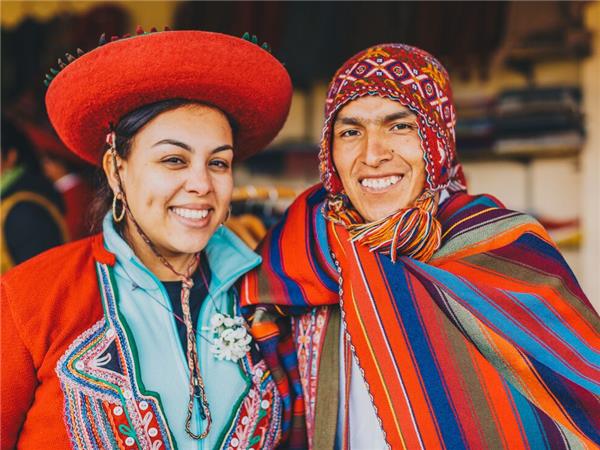 Discover Cuzco and the Sacred Valley on this Incan adventure
From
US $

1148

to

US $

1815
7 days
ex flights
Small group travel:
Several departures each week
If you'd like to chat about Peru budget or need help finding a vacation to suit you we're very happy to help.

Most small group tours take in Cuzco, including one or two nights there, either side of a five day Inca Trail trek. Some small group tours use private transport or make use of the tourist buses that run in Peru. These buses are comfortable, affordable and safe.
A domestic flight will carry you like a condor over the mountains to deliver you to Cuzco in a fraction of the time. Shorter tours will often include a domestic flight to ensure travelers have more time within the country's key locations.
We highly recommend taking your time in Peru both to acclimatise and to truly immerse yourself in the country's cultural and natural heritage. Budgeting your time as well as your money is an essential ingredient of responsible travel so if you're joining a seven day Inca trail hiking tour, for instance, consider tagging on a few extra days in Cuzco at either end.
Acclimatisation to altitude is also another important element of traveling in Peru with overland travel allowing for a more gradual approach to acclimatisation whereas flights can take you to 3,400m (Cuzco) from 154m (Lima) with barely a moment's notice.
Cuzco travel times
Tourist bus from Lima to Cuzco via Puno (Lake Titicaca) - 23hrs
Tourist bus from Puno to Cuzco - 10hrs (7am – 5pm)
Flight from Lima to Cuzco - 1hr 30mins
Flight from Puerto Maldonado (Amazon rainforest) to Cuzco - 1hr
More Peru budget articles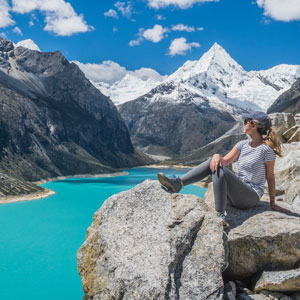 That's right, it's possible to trek the Inca Trail and make the most of Machu Picchu without breaking the bank.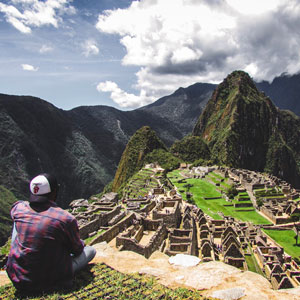 Discover destinations in Peru that work extremely well for travelers on a budget.