Peru family vacations guide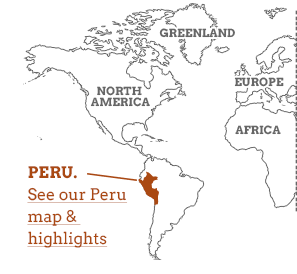 A family vacation in Peru is a once-in-a-lifetime trip, so itís important to go when your children are old enough to appreciate the experience. The last thing you want to do is chase a two-year-old around all the time. Visiting Machu Picchu, for example, is a very well-organised activity. Kids canít just clamber about over everything. Take younger children to the Inca sites of Pisac or Tibon, however, and they can play hide-and-seek and be Inca adventurers all day long without the crowds.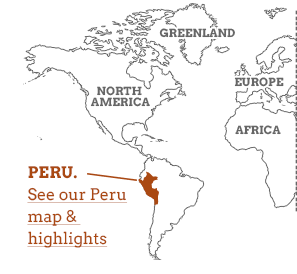 Peruvians love kids and are very welcoming to families; children are welcomed as part of everyday life. Thereís also masses of things for kids to do in Peru Ė and loads of Peruvian children to make friends with.

Youíll need to manage kidsí animal expectations before staying at an ecolodge in the Amazon. Itís not like a David Attenborough documentary. You will see monkeys, capybaras, caiman and colourful birds like toucans, macaws and parrots, as well as hummingbirds and butterflies. Just donít go thinking that youíre going to see a jaguar. You might, but donít count on it. Itís the ecosystems, plant life and sounds of the jungle Ė not just the animals Ė that make this experience such an education.
Keep reading our guide to family vacations in Peru for more.
Our Peru family Vacations
Best time to go on a family
vacation to Peru

Whatever time of year youíre visiting Peru, you need to be aware that the sun can be very strong at altitude. Hats, long sleeves, sunblock and plenty of water are essential kit when trekking in the Andes.

The school vacations in March-April is one of the best times to go on a family vacation in Peru. Itís just after the rainy season, when everything is looking gloriously green. April-October are generally considered the dry season in Peru. Thatís why the school vacations in July and August are another great time to visit Peru as a family. Itís the Peruvian winter, so expect warm blue-sky days followed by chilly and clear star-filled nights. December, January and February are the wettest months in Peru, especially in the highlands. This is also the worst time of year for mosquitoes.
Our top Peru family Vacation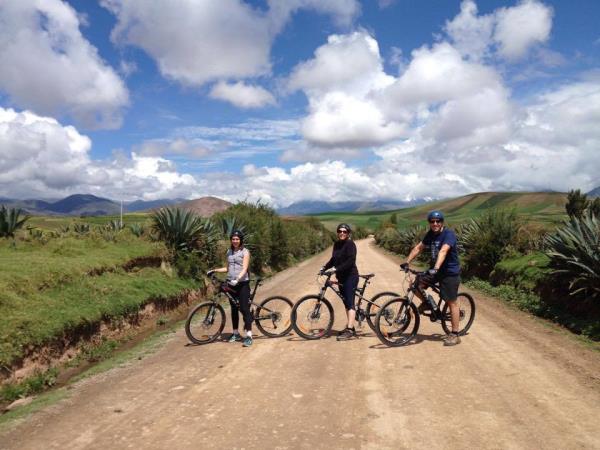 Peru Family Adventure activity vacation
From US $3112 8 days ex flights
Small group travel:
2023: 3 Jun, 10 Jun, 17 Jun, 24 Jun, 1 Jul, 8 Jul, 15 Jul, 22 Jul, 29 Jul, 5 Aug, 12 Aug, 19 Aug, 26 Aug, 2 Sep, 9 Sep, 16 Sep, 23 Sep, 30 Sep, 7 Oct, 14 Oct, 21 Oct, 28 Oct
If you'd like to chat about Peru family or need help finding a vacation to suit you we're very happy to help.

Things to do on a family vacation in Peru
Trekking in the Andes
Trekking in Peru can be orientated around which members of your family can do what. You can hike for 4-6km a day and spend the night in a tent. Or you can trek greater distances while the kids sit on the back of a horse. Itís all about hanging out with the guides and making connections with people from other cultures. Just make sure you take every precaution to avoid altitude sickness and sunburn.
Stay in the Amazon
The Amazon lodges we work with are crucial for helping to protect the surrounding rainforests. They also provide work for local people and encourage a better understanding of conservation. This type of accommodation is ideal for families visiting Peru. There are loads of child-friendly activities and play areas, as well as opportunities for kids and adults to go off and do their own thing.
Manage expectations
Itís easy to get carried away when preparing for a trip to Peru. However, managing your childrenís expectations when it comes to wildlife watching in the Amazon is an important part of appreciating the experience. You will see plenty of monkeys, turtles, and maybe tapirs, giant otters and capybaras; just donít expect to see many jaguars. Guided night hikes are best for listening to croaking frogs and spotting insects and spiders, including tarantulas.
Things not to do on a family vacation in Peru
Worry about safety
Health clinics and doctor services are very good in Peru. In fact, as a whole, the countryís infrastructure is excellent. Itís very easy to get around, particularly by local transport. Also, activity guides all speak English and are excellent with kids. They instantly make you feel like youíre part of a big family. All the activity equipment used for rafting, for example, adheres to high safety standards Ė however, the only way you can guarantee this level of safety is to visit Peru with one of our reputable activity specialists.
Worry about the food
Thereís plenty of kid-friendly food to eat in Peru. For fussier eaters you can find chicken, chips and pizza without too much trouble. Thereís also loads of fruit and vegetables grown over here. Peru covers several eco zones so thereís a variety of produce grown practically all year round, including over 150 different types of potato. The lodges provide some lovely food and youíll be served three-course meals on the treks, with a choice of things to eat. In fact, the local guides and camp cooks take real pride in serving excellent meals to trekkers.
Avoid the local markets
Markets, such as the one at Pisac, are amazing places and not to be missed. This is where youíll see guinea pigs and Peruvian handmade products for sale, as well as chickens running around everywhere. Just be prepared to answer potentially awkward conversations about why the guinea pigs are there. Peruvian children are always hanging out at the market; itís the essence of South American street life. Markets are colourful, loud and fascinating places to visit as a family. You can pick up plenty of delicious food, too, like fresh fruit or sugar-covered churros to dip in thick hot chocolate.
More about Peru family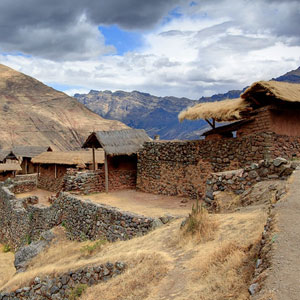 Although Machu Picchu is an inevitable highlight, it may not always be appreciated by kids who just want to run around and explore. Check out the best places to go on a Peru family vacation below, plus read some travel tips from our experts.