Peru has one of the most varied climates on the planet, thanks to its wild, diverse geography

The climate varies by altitude, so even places which are beside each other on a map may be vastly different in temperature or rainfall - so these climate charts are very rough guides only. The seasons are loosely divided into wet and dry - with May-September being drier and clearer in the highlands, and much better for trekking. It's also the best time to visit Peru's Amazon basin, as wildlife congregates around the shrinking rivers, and mosquitos are fewer. The arid coast is also pleasantly cooler at this time. Just be prepared for how cold it can get at night in the mountains, and pack appropriately.
Cuzco & the Highlands Weather Chart
When to visit Peru & when not to
In a nutshell: Peru is wet from November to March and dry for the rest of the year. The coast - especially in the south - tends to be drier, but the Amazon is always hot and wet. It is the world's largest rainforest, after all... January is one of the wettest months in the highlands of Peru and the Inca Trail tends to close for cleaning and maintenance at the end of the month and throughout February. Machu Picchu is still open at this time, though, for hikers following other routes, and those arriving by train. A few other national parks in Peru also close in February. However, the beaches are always open and this is the best time of year for heat on the coast. March and April are still wet within the highlands. However, you'll find few other travelers on the trails and permits won't book out so far in advance. This is probably the best time of year to visit Arequipa, in the southwest, as temperatures are pleasant and rainfall is low. Amazon areas, such as Puerto Maldonado, are hot and humid all year round although there will be a little less rain from May through to September. Heading along the coast south of Lima in June will introduce you to the drizzle and thick fog caused by the dry garúa winds. If you're searching for sunshine at this time, then head north to Trujillo for conditions more akin to spring. July and August are peak times to visit Machu Picchu; you will need to book at least six months in advance to secure a permit. If you'd rather visit after the biggest crowds have dispersed, then September and October could be the best months to get on the Inca Trail. November and December find the rains returning to the highlands and Cuzco, as well as Amazon areas in and around Puerto Maldonado. A mini high season towards the end of the year pushes prices up as travelers head to the beach over the vacations.
Our top Peru Vacation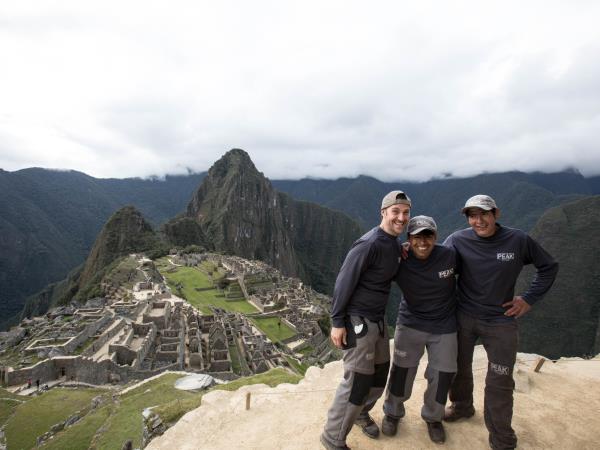 Taste Peru's diverse landscapes and fascinating culture
From US $3679 to US $4249 15 days ex flights
Small group travel:
2022: 15 Apr, 20 May, 3 Jun, 24 Jun, 22 Jul, 12 Aug, 26 Aug, 9 Sep, 14 Oct
2023: 14 Apr, 5 May, 19 May, 2 Jun, 23 Jun, 21 Jul, 11 Aug, 25 Aug, 8 Sep, 13 Oct
If you'd like to chat about Peru or need help finding a vacation to suit you we're very happy to help.

Elena Larkin is a Latin America specialist at our supplier, Natural World Safaris. Originally from Lima, she tells us which is her best time to visit Peru's highlands, and why:
"For me personally, the best time to go and see the mountains is mid to late April, because it's after the rainy season and everything is green. But it's the end of summer, so it's still a bit warmer. My least favourite time is in July and August when it's filled with local families as well as tourists - it's just too crowded, and very cold. Also, if you arrive in Lima during April, it's just finishing summer - so it doesn't have the grey skies you can expect to find there for the rest of the year."
Festivals & events in Peru
February: Pisco Sour Day
The first Saturday of February is set aside to honour Peru's national drink: the Pisco Sour. It's also a great opportunity to discover Peru's fantastic food, as well as its traditional music and dance.
February: Virgen de la Candelaria
This 18-day folk festival takes place in Puno, beginning on 2nd February each year. The virgin is paraded through the streets, followed by hundreds of colourfully clad musicians and dancers, in a wonderful blend of Catholic and indigenous traditions and beliefs.
Carnival in Peru
Rio's not the only place to celebrate Carnival in South America. Throughout February you are likely to get drenched - as Peruvians indulge in traditional water fights. To mark the end of carnival, a symbolic tree - called a yunsa - is adorned with gifts. Couples compete to fell it with an axe, releasing the gifts. Cajamarca and Puno have some of the biggest carnivals.