Kathy Jarvis is the owner of our supplier, Andean Trails. She has hiked the Inca Trail many times, and has just updated Bradt's Peru Trekking guide. Here's her Peru travel tip for hikers:
"Make sure you acclimatise as much as possible. The more acclimatised you are, the more you'll enjoy it. You can suffer a lot if you try and force your body too high, too soon - as well as it being dangerous. So allow as much time as possible as you can before trekking. And then it's a case of having the right clothes - good kit, jackets, waterproofs, warm gloves, hats."
Adam Walker, from our supplier Saddle Skedaddle, shares his top Peru travel tip:
"The thing I would stress most about the Inca Trail is how important it is that people get their act together. There's only 500 permits a day and around 300 of those are for guides and porters, so people don't realise quite how far in advance they have to book it. Five or six months is on the safe side. If people call us three months before the high season, it's probably too late."
Inca Trail permits
Inca Trail permits for each season's trekking are released the previous October. So For the 2020 trekking season, which begins in March, it is expected that permits will go on sale in October 2019. As with all permits, these can only be obtained via a licenced tour operator. There are a maximum of 500 permits per day for the Inca Trail, but as 300 of these are used by porters and guides, they sell out very quickly - especially for the peak trekking months of June, July and August, when it's recommended to book at least six months in advance. December, January and March tend to sell out slowest, as these are the wettest months (the trail closes for maintenance each February).

If you miss out on a permit, you can always trek one of the alternative routes to Machu Picchu, such as Lares or Salkantay. No permits are required for these.
Tom Brown and Elena Larkin are Latin America specialists for our supplier Natural World Safaris. Elena is originally from Lima - they shared some tips about her home city:
"Lima is changing - and it's all due to the gastronomy boom of the last few years. The city itself has a lot to offer: the center is still very colonial, there are lots of museums and we have ruins about an hour away. It's been understated for so many years - people just stayed there for a night before heading to Cuzco - but nowadays people are starting to stay for two or three nights.
It's the capital and it's where you'll get the best food, so if part of your travel is about the culinary experience, then you really need to spend some time there. They even offer tours where you go shopping for ingredients on the markets, then come back to a restaurant and learn to cook your own ceviche with a professional chef. It's a really good cultural experience as you get to enjoy the market - and then hopefully you can recreate it when you get back home!"
Our top Peru Vacation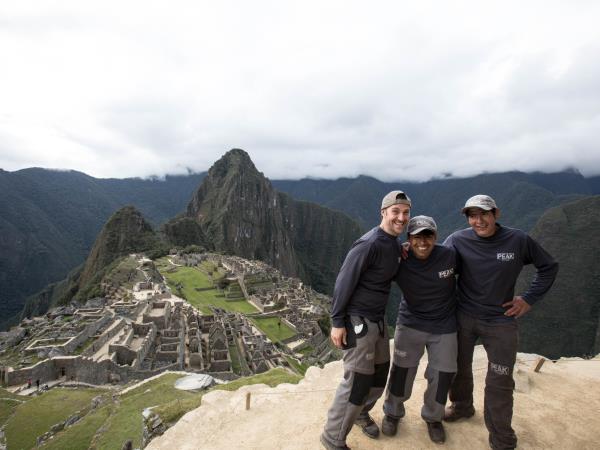 Taste Peru's diverse landscapes and fascinating culture
From
US $

4249
15 days
ex flights
Small group travel:
2023: 23 Jun, 21 Jul, 11 Aug, 25 Aug, 8 Sep, 13 Oct
If you'd like to chat about Peru or need help finding a vacation to suit you we're very happy to help.

HEALTH
Treat altitude with respect. It does not matter how fit you are, or how many times you've been at high altitudes before - the symptoms are unpredictable, and the only real cure is descending. Dehydration also makes altitude sickness worse - you need to drink much more at high altitudes. Pay particular attention when traveling with kids in Peru - those aged under three should not travel to high altitudes.
Spend as many days as you can acclimatising in Cuzco before hiking the Inca Trail - you'll really appreciate it. Be sure you travel with a responsible guide who can recognise the symptoms of altitude sickness and respond in an appropriate way.
It may be cold in the mountains, but the sun is especially fierce up there - and you're still near the equator. Always wear sunscreen and a hat, and ensure kids are well protected.
The Amazon is not an ideal destination for young children as they will need a Yellow Fever vaccination and antimalarial medication. There are also a lot of mosquitos - long sleeves and trousers as well as strong insect repellent and mosquito nets are essential.
Lima has good quality medical facilities open 24 hours. Cuzco is good but not as well equipped. Ensure your travel insurance covers medical/emergency repatriation.
Street food is a wonderful travelers' treat - but be extremely careful with what young children eat as diarrhoea is especially dangerous for them. Avoid washed salads, unpeeled fruit and juices made with unpurified water or ice cubes - although most hotels and good restaurants should be fine.
If you're sampling ceviche, order it by lunchtime. The fish is freshly caught each morning, so by dinnertime it won't be at its best - or safest.
Consult your doctor or travel clinic before travel - they may be able to prescribe antibiotics and antidiarrhoeal medication to take with you, as well as recommending other items such as antihistamines, rehydration salts and medication for altitude sickness which you can take with you.
Consult the latest health advice for Peru.
SAFETY
Thefts are not uncommon in Peru - particularly in the cities, and during local festivals, when crowds make it hard to keep an eye on bags and pockets. Remember: around half of the population lives below the poverty line, so don't walk around carelessly displaying valuables.
Scams include someone bumping into you, fighting kids or someone spilling something on your clothes - all to provide a distraction for a pickpocket.
Avoid camping alone in remote areas.
Public transport can be dangerous, especially minibuses which are often overfilled and can drive recklessly fast along mountain switchbacks.
Do not enter the poorer districts of Lima, they are not safe for tourists.
Tourism police ("Poltur") are employed in the main cities and towns. Thanks to Peru's dependence on tourism, they are pretty efficient.
Consult the latest safety advice for Peru.
Peru travel tips from our travelers
At Responsible Travel, we think the best people to advise our travelers are often... other travelers. They always return from our tours with packing tips, weather reports, ideas about what to do - and opinions about what not to.

We have selected some of the most useful Peru travel tips that our guests have provided over the years to help you make the very most of your vacation - and the space inside your suitcase.
"Peru and Bolivia are developing countries and hygiene and timekeeping are rather different there. Remember to respect locals and their way of life too!" - Kristiina Puusaari-Sheahan

"Take warm clothes - as we rose higher the nights were very cold and my thermals were not enough - ended up with hoodie, fleece, scarf and gloves not to mention two pairs of socks. My huge heavy-duty poncho was invaluable as it did rain a lot (supposed to be the dry season)." - Christine Ingham

"You can never have too many changes of clothes for the jungle..." - Claire Wood

"The most important thing to pack on a trip like this is your sense of HUMOUR! With that even the most difficult situation will not be stressful." - Roxanne Glaud

make sure you are fit for the trek - it is hard going; good shoes are essential



"Make sure your camera has a huge memory card... and take a good lip balm because the altitude makes your lips dry!!" - Jo Curry

"Get as many 1 and 2 sol coins as possible - tipping is constant and people don't like exchanging 100 sol notes." - Jane Bolomey

"If you enjoy shopping for bargains then Pisac market is great." - Susan Gough

"Take plenty of bug spray for the Amazon!" - Leigh Hitzeroth

"Take some gifts for the kids. We chose crayons and paper and were amazed at how appreciative they were." - Matthew Smith

Pack clothes in waterproof bags. Despite the porters' efforts to keep everything dry, when it rained on the last day many of our clothes got wet in the duffle bags.