Legend has it that the son of the Incan Sun God, Inti, rose out of the inky depths of Lake Titicaca to found the Peruvian Incan civilisation. This vast sea-like lake is still now breathing life into the sweeping desert of the Altiplano; sustaining tiny adobe farming and fishing villages on its islands and fertile shores and maintaining ways of life that have changed little over the last century.
Vistas across Lake Titicaca – at a literally breathtaking 3,800m – are in a word, spectacular. Vibrantly-coloured woven textiles are abundant on the floating islands made by hand from totora reeds. Stand on sacred Isla del Sol and you'll look out across the indigo water to the snow-tipped mountains of Bolivia's Cordillera Real. From Isla Taquile the view of the lake is unending, a high-altitude sea straddling the border between Peru and Bolivia.
Lake Titicaca – a geography lesson
With sea-like views stretching out to the horizon it can be easy to forget just how high you are at Lake Titicaca. Perched in the Altiplano at 3,800m above sea level the highest navigable lake in the world is neatly divided in two by the border of Peru and Bolivia, with Peru taking just over the lion's share.

Formed over 60 million years ago when massive earthquakes split apart the Andes mountains, creating a deep basin which flooded with glacial meltwater, Lake Titicaca has been a cradle for Peru's ancient civilisations since pre-Incan times. Underwater temples found here have been attributed to the mysterious Tiwanaku civilisation which thrived across the Altiplano for hundreds of years before the Incan Empire rose to power.

In addition to its cultural wealth and its Incan significance, Lake Titicaca has also been designated a RAMSAR site, supporting large populations of water birds, including some endemic and threatened species.
Isla Taquile
Famous for their textiles and clothing, the Quechua-speaking islanders on Taquile still live a peaceful, traditional life rooted in community collectivism and an Incan moral code which translates as do not steal, do not lie, and do not be lazy. Handicrafts here are considered to be some of the highest quality in Peru, with knitting an exclusively male pursuit that is learned in early boyhood. Taquile's women spin the wool, and weave the ubiquitous, brightly coloured chumpi belts worn by all.
The floating islands
Women in colourful skirts and bowler hats dance a welcome to tourists who make the journey from Puno, Peru to their family island, which has been carefully built from abundant totora reeds. Visits to the Aymara-speaking Uros Islands are undoubtedly a highlight of any trip to Lake Titicaca, and while tourism is helping conserve this unique culture here, the experience can feel a bit touristy; more living museum than real, everyday life. The more remote Titinos Islands are much less visited and offer a much more authentic insight to floating life.
Isla del Sol
Accessed from Copacabana, Bolivia, sacred Isla del Sol is rocky, steep and wild, offering spectacular views across to the Cordillera Real, beautiful short hikes and an insight into traditional life on the lake, where a handful of tiny communities exist without paved roads or motor vehicles. This is a place steeped in spirituality and myth, with Incan ruins, and legends, littering the island.
Copacabana
While Puno, Peru offers an instantly forgettable urban sprawl, Copacabana, Bolivia's gateway to Lake Titicaca is a charming lakeside village, with Isla del Sol, the Peruvian border and Bolivia's capital La Paz all easily accessible. Climb neighbouring Cerro Calvario for spectacular views over the village's whitewashed streets. Or if you're lucky you might catch an Aymara-Catholic ceremony complete with incense and beer at the striking 16th century basilica.
Community homestays
Travel to the tiny peninsula community of Llachón, or Isla del Sol, Taquile or Amantani and you'll find Spanish and Quechua-speaking families who welcome you into their houses, offering a basic, but comfortable bedroom, home-cooked food – often some kind of quinoa and vegetable soup, grilled meat or fried cheese – and the chance to get dressed up in traditional layers of brightly coloured skirts, woven waistcoats and hats.
Titicaca culture
Lake Titicaca is awash with traditional culture, from the Aymara-speaking Uros Indians to the communally living Quechua villagers on Taquile or Amantani Islands. Multicoloured woven textiles are the backdrop for daily life, which is still shaped by the beliefs of the Incas, with rituals and offerings to Pachamama or Mother Earth an essential part of each day. For even more ancient history, visit the pre-Incan chullpas or burial towers at Sillustani.
Our top Peru Vacation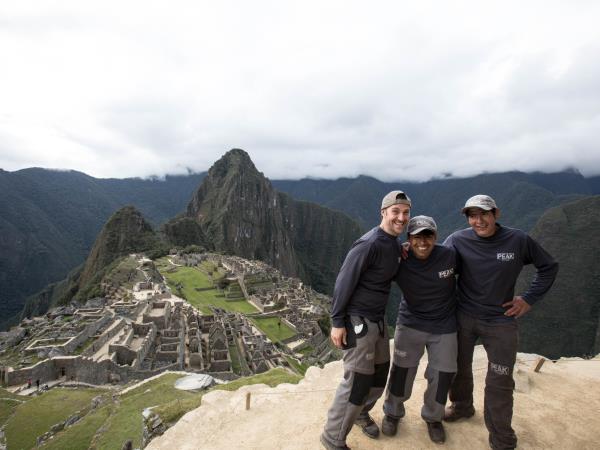 Taste Peru's diverse landscapes and fascinating culture
From
US $

3999

to

US $

4249
15 days
ex flights
Small group travel:
2022: 26 Aug, 9 Sep, 14 Oct
2023: 14 Apr, 5 May, 19 May, 2 Jun, 23 Jun, 21 Jul, 11 Aug, 25 Aug, 8 Sep, 13 Oct
If you'd like to chat about Peru or need help finding a vacation to suit you we're very happy to help.

How to visit Lake Titicaca
Perched high in both the Peruvian and Bolivian Altiplano, and with convenient links to major towns in both countries, Lake Titicaca is an ideal – and easy – place to cross the border on a vacation which combines Peru and Bolivia. However, even if your trip keeps you firmly on one side of the border or the other, there's still plenty to see and do around each country's watery share.

Just four hour's drive across the Altiplano from La Paz, sleepy Copacabana (whose beach gave its name to Rio's more famous stretch of sand) is Bolivia's gateway to the lake. Your journey will take you across the narrowest section of the lake, the pretty Strait of Tiquina, where you'll hop aboard a small motorboat for the short crossing, while your vehicle floats across on a wooden barge. From Copacabana, Islas del Sol and de la Luna (the islands of the sun and the moon) are a two-hour boat ride away. The Peruvian border is just up the road.

You'll start any adventures to the Uros floating reed islands, or to Islas Taquile or Amantani from Puno in Peru. Puno takes two hours to reach from Copacabana, around six hours from Cusco or five hours from Arequipa. While most tours will cover the distance by road, somewhat surprisingly for South America, it is possible to travel between Cusco and Puno by train. The journey time is almost twice as long, and is as much about the elegant experience and beautiful views, as it is about the destination.
Small group tours which visit Lake Titicaca will usually spend a couple of days exploring the lake as part of a longer tour through Peru – perhaps after an Inca Trail hike to Machu Picchu – with most including visits to the Uros floating islands, a homestay with one of the lake's small communities and Isla del Sol. While your daily itinerary is set, you will usually have plenty of free time to enjoy some hiking, to visit Incan ruins or to shop for locally made handicrafts.
South America specialists offering bespoke tours around Peru and Bolivia will be able to craft a vacation itinerary giving you as much time as you want at the lake, with a bias towards cultural community homestays, hikes or Incan history as you prefer.
While you are likely to have already acclimatised if you're traveling to Lake Titicaca from Cusco or La Paz, you'll still want to take it easy during your visit. It's sea-like vistas belie its altitude, and climbing the steps up from Yumani port to the village on Isla del Sol, for example, can be hard going as you hit 4,000m above sea level.

The altitude also means that while the days can be clear, sunny and warm, evening and night times can be chilly. You'll want to make sure you have warm jumpers, a waterproof jacket and a hat with you whatever time you travel. Extra layers are easy to pick up at the lake – knitted alpaca and sheep's wool handicrafts are a speciality of the communities here.

You should also bring some sturdy walking shoes or trainers with you if visiting Isla del Sol, Isla Taquile or Amantani, or the smaller communities around the lake shore. Paved roads are rare, and hikes to the various viewpoints and Incan temples will be over rocky, uneven terrain.
Best time to visit Lake Titicaca
Arguably May to October is the best time to visit Lake Titicaca, when the dry weather brings clear air, and endless blue skies and spectacular lake sunsets are the backdrop to boat rides and Quechua homestays.

As your trip is likely to combine a few days at Lake Titicaca with other areas of Peru and Bolivia, this time of year gives you the most options. Treks in the Peruvian and Bolivian mountains are drier at this time of year, with clearer views, and September and October can be excellent months to trek the Inca Trail and visit Machu Picchu after the biggest crowds have dispersed. If you're planning to also head into Peru's Amazon basin, this is also the time when wildlife congregates around the shrinking rivers and mosquitoes are fewer.