Traveling in Peru with kids

The land of the Inca, of the Sun God, Mother Earth, soaring condors and unexplained glyphs, turns us all into little Indiana Joneses

Peru's mysterious past inspires a childlike fascination in all travelers, regardless of age, and children from seven or eight upwards - old enough to appreciate the history and the myth - will be fascinated by its ruins, folklore and gory stories. Machu Picchu is open to all, as trains allow families to bypass the hikes, and the Andean dry season coincides with school summer vacations for European and North American visitors, making traveling in Peru with kids even easier. There are also brilliant hikes, easy biking and adventurous kayaking to keep less culturally minded kids busy. The Latino fondness for children means they tend to be welcomed everywhere, and a community tour or homestay will leave a lasting impression on young minds.
If you want to visit the Amazon, do consult your GP or travel clinic well in advance to find out which treatment will be necessary - or feasible - for young children.
Our Peru family Vacations
Activities for families in Peru
Cycling
Even little ones can get much further on a bike than on foot - and the mountains and valleys surrounding Cuzco offer fabulous cycling for all ages and abilities. Gentle rides across valley floors, past fascinating, flat salt pans and around Inca ruins will keep kids occupied - physically and mentally - and there are plenty of brilliant, specialist guides to help you tailor your route.
Alpacas
Sweet-faced alpacas are one of the Andes' most iconic species, and they're particularly important for local livelihoods. The mountains are dotted with alpaca farms, and nowadays many open their doors to tourists to supplement their income. Kids can feed the alpacas and learn about them and their domestication, before watching demonstrations of the spinning, dyeing and weaving of their fine wool.
Homestays
Tim Winkworth, from our supplier Intrepid Travel:
"Lone adults can sometimes find homestays slightly uncomfortable - you don't know how you should behave. But if you go with kids, they're an instant icebreaker. They see a football or a toy and they grab it. All of a sudden this potentially tricky situation turns to laughter. Then they'll all run off together with the local kids. For families, homestays are superb."
Our top Peru family Vacation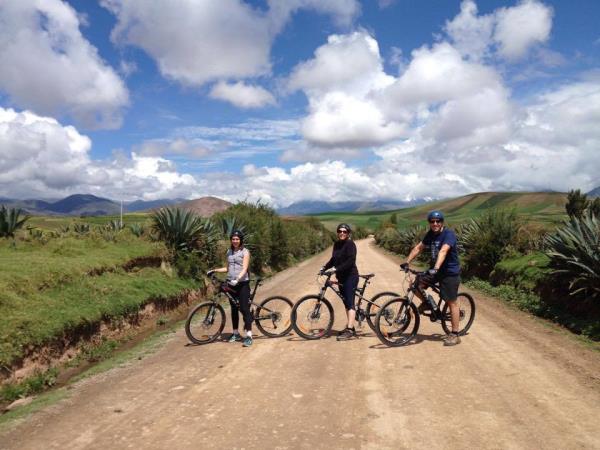 Peru Family Adventure activity vacation
From
US $

3112
8 days
ex flights
Small group travel:
2023: 10 Jun, 17 Jun, 24 Jun, 1 Jul, 8 Jul, 15 Jul, 22 Jul, 29 Jul, 5 Aug, 12 Aug, 19 Aug, 26 Aug, 2 Sep, 9 Sep, 16 Sep, 23 Sep, 30 Sep, 7 Oct, 14 Oct, 21 Oct, 28 Oct
If you'd like to chat about Peru or need help finding a vacation to suit you we're very happy to help.

Travel advice for families in Peru
Elena Larkin is a Latin America Specialist. She is originally from Lima and has travelled in Peru with her young daughter. Here's her tips on traveling in Peru with kids:
"You have to be very flexible with the activities you choose. Different things will interest different kids. I took my nine-year-old daughter to Machu Picchu and she was bored! But in the Sacred Valley the local community showed her how they dyed their wool - and she was really excited about that. So you have to choose a combination of activities."
Tim Winkworth is a Family Travel Specialist, from our supplier Intrepid Travel, and the father of three young boys, who he travels with regularly:
"I think Peru is ideal for children aged seven or eight upwards. Earlier than that, the cultural significance and civilisation is lost. Seven and eight year olds start to study things like Egypt at school - so they're primed, they're ready and interested. Around every corner in Peru there's a story to be told, and that's what makes it so great for families. It's just so mysterious and different to the world that they live in, and that mystery is probably the key to why it's a great place - it just puts skin onto the bones of 'boring' historical facts."
Tom Brown, from our supplier Natural World Safaris, shares advice on traveling in Peru with kids:
"The Amazon is exciting for kids, they get to see birds and monkeys - but to get to the decent lodges you are traveling in a small boat for upwards of two hours. So for younger kids that might be difficult."