Andes travel guide
---
2 minute summary
The Andes are South America's solid spine, a daunting mountain range over 7,000km long. It stretches from the iciest reaches of Patagonia in the far south, almost as far as the Caribbean in the north, and widens out to 700km in places.
Its highest peaks soar well over 6,000m, but while these are reserved for dedicated climbers, any trekking here will involve crossing passes, plateaus and surreal páramo ecosystems, comfortably above 4,000m. This is a land of crater lakes, extinct volcanoes, calving glaciers and soaring condors, but it is a land, too, with a phenomenally rich culture. In the Andes, the Incas have their most famous ruins, at Machu Picchu, but their culture lives on through their Quechua ancestors. In Bolivia, the Aymara people roam the plateaus at altitudes that leave most breathless. For a more contemporary twist, three of the four highest capital cities in the world are tucked into the Andes, with buildings seemly tumbling down precipitous mountainsides.
The Andes are...
the
world's longest continental mountain range
, spanning seven countries.
The Andes aren't...
all the same
. They incorporate barren deserts, lush cloud forest, thriving capital cities and ancient glaciers.
Andes map & highlights
---
make the most of your time
Choosing which part of this 7,000km range to visit may seem like a daunting prospect, but most of our Andes vacations focus on the easily accessible regions in
Ecuador
,
Bolivia
and – above all –
Peru
. This was the former Inca heartland, so their history and archaeology features highly on any Andes itinerary, but so too do their modern day descendants, the Quechua (or Quichua in Ecuador), whose vibrant markets, fertile mountainside terraces, traditional food and rather beautiful music and dance bring life to these mountains. Bolivia has easily-crossed land borders with Chile and Peru, while explorations into Ecuador or in the Andes' southern reaches of
Patagonia
will require a flight.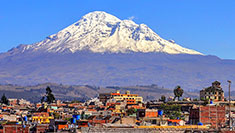 Avenue of the Volcanoes
Ecuador's
Avenue of the Volcanoes runs for over 300km, taking in the iconic peaks of Cotopaxi and Chimborazo, as well as the smoking summit of Tungurahua, looming over the town of Baños. Hike the Quilotoa Loop, through Quichua villages, windswept farmland and around the turquoise Quilotoa crater lake. And visit the thriving Saquisilí and Latacunga markets, just as wonderful for people watching as for produce.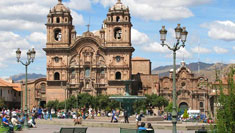 Cuzco
Cuzco is not a city to race around – and not just because of its 3,400m altitude. This UNESCO site is a fascinating introduction to all things Inca, having been the capital of their empire for over two centuries. There are excellent museums showcasing pre Colombian artefacts, traditional textiles and contemporary art, as well as gorgeous colonial churches and convents. Don't miss the nearby ruins at Sacsayhuaman.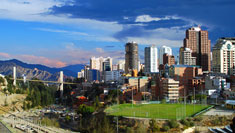 La Paz
While most South American capitals are rapidly modernising metropolises, La Paz remains chaotic and confusing, ringed by mountains with buildings clinging to mind-bogglingly vertiginous slopes. The city pulses with Aymara culture, all llama wool, handwoven rainbow textiles, long black braids and witches' markets. Forget about schedules and order; just throw yourself into the merry muddle and enjoy it.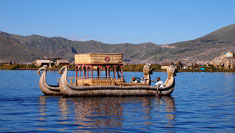 Lake Titicaca
There's something quite magical about this sacred lake, which straddles the border of Bolivia and Peru, and is vast enough that it appears to be an ocean. It could be the golden light, which gives an ethereal glow at this high altitude. It could be the floating islands, home to Aymara communities. Or perhaps the nightly thunderstorms that you can watch on a distant shore, while tucking into fresh, grilled trout from the lake.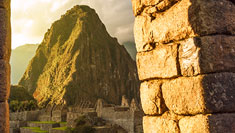 Machu Picchu & Inca Trail
South America's most iconic sight, the Inca capital of Machu Picchu sits atop a steep, green mountain and is just as breathtaking today as it was on its rediscovery over a century ago. Hike here via the four-day Inca Trail, emerging though the Sun Gate to see the site in all its glory, and exploring other ancient sites along the way. Or take a train from Cuzco through the Andes, with panoramic views.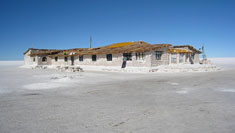 Uyuni salt flats
This blinding expanse of
salty desert
warps all perspective, and has become the backdrop of thousands of surreal photos of tiny people standing on each others' shoulders and being eaten by toy dinosaurs. Stop off at the cactus-clad island of Incahuasi, spend the night in a salt hotel and experience the strange sensation of being surrounded by nothing except flat whiteness – for more than 10,000 square kilometres.