Best time visit the Philippines

This tropical archipelago is hot and humid all year round, with most rain falling between June and October – our vacations keep this in mind.

The best time to go to the Philippines is from December to February, when temperatures are at their coolest and the rain generally stays away. Things hot up from March to May, making sightseeing unpleasant, particularly with the high humidity. Aim to spend plenty of time in the water – or head for higher ground, such as the Banaue rice terraces. The rains can cause disruption for planes, cars and boats from June to October and there is a risk of cyclones; small group vacations typically don't run during this period, but you can book a tailor made vacation at any time of year.
Banaue rice terraces Weather Chart
When to go to The Philippines, month by month guide
Habagat is the wet, southwest monsoon season which occurs from May to October. It's not consistently soggy, however, and there are still blue sky days at this time. Rain commonly falls in short, sharp showers in the evenings, and July and August are the wettest months. Some remoter regions can be difficult to access during habagat as flights are cancelled and roads churn into mud. Boat excursions can be choppy and underwater visibility reduces with runoff from the rivers. Cyclones can occur at any time, but are most likely to hit the Philippines from June to September, with the occasional tropical typhoon, which can cause widespread disruption. The eastern islands are the most exposed to these, but you will always get plenty of warning. Palawan and the southern Visayas are less likely to experience typhoons. November to April is the dry season in the Philippines, characterised by the northeast monsoon known as amihan. December, January and February are popular months as they are drier and cooler – making hiking and city tours much more pleasant. These months can get busy though and prices will rise. March, April and May are gloriously sunny – but this brings the worst of the heat. Expect temperatures in the mid 30°Cs. The shoulder months of May and October are a great idea for lower prices, fewer tourists and still-pleasant weather as you experience just the start or end of the rains. October is cooler than May. The Philippines is a predominantly Catholic country, so Easter is a big deal here. Expect processions and ceremonies throughout Holy Week leading up to Easter Sunday, in March or April.
Things to do in the Philippines
Things to do in the Philippines...
The Philippines is within the Coral Triangle – a hyper biodiverse marine region supporting over 600 species of coral, 2,000 species of reef fish, and six species of sea turtles. It's not surprising, therefore, that most tours do their best to get you out swimming, snorkelling and occasionally scuba diving with this incredible wealth of marine life. Snorkel safari vacations are dedicated trips that take you out on the water most days, to sites shallow enough to be viewed from the surface. Sadly, overfishing, climate change and marine pollution are taking their toll; responsible tours can support more sustainable livelihoods for local people and generate funds for conservation.
Filipino culture is rather hard to pin down, scattered as it is across thousands of islands. There are some 175 ethnic groups here, each with their own language and customs, in additions to the various communities from China, Japan, India and beyond. For an insight into Ifugao culture, head to the 2,000-year-old, UNESCO-listed rice terraces of northern Luzon, where traditional lifestyles prevail. Take lunch in a farming village and learn how and why the Ifagao wrap the bones of their ancestors in colourful handmade blankets. Nearby, in Sagada, the Kankanaey people 'bury' their dead in coffins hung from the steep rock faces of Echo Valley. In Tinglayan, meet the Kalinga people, whose women are renowned for their arm and chest tattoos created with age-old tools: a thorn, soot and a bamboo hammer.
Things not  to do in the Philippines...
Expect typical Asian food. Those accustomed to green curries, pho and sushi will be in for a shock in the Philippines. Longganisa (a chorizo-style sausage), lechón (spit roast suckling pig), cocido (a meat, sausage and veg stew) and leche flan dessert wouldn't look out of place on a Spanish dining table, and while the de facto national dish of chicken or pork adobo does use soy sauce, the key flavours are garlic and vinegar. Rice is ubiquitous though and you'll come across noodles, spring rolls and pineapple-sweetened pork, and lots of street food deep fried in batter. You might want to give the balut a miss however – it's a boiled egg with a duck or chicken embryo inside. Avoid the towns and cities. Manila may not have the loveliest reputation, but guided tours reveal the walled historic center, food markets, street art, contemporary galleries and excellent museums, and give a great insight into modern Filipino life. In Taal Heritage Town, you'll find the largest church in Southeast Asia, plus beautifully preserved 'ancestral houses' dating back to the 19th century. Within the majestic rooms you'll find Art Nouveau wallpaper, hand pressed tin ceiling tiles and intricately carved four poster beds. In Palawan, meanwhile, Puerto Princesa is said to be the Philippines' cleanest and greenest city. Its museum reveals the history and culture of Palawan and the Cuyonon people. The Philippines is renowned for its stunning coastlines, but don't spend all your time languishing on the powder-soft sand. The archipelago's rural interiors offer the chance to meet small farming communities, and hike across rice terraces, the rewards for the steep hike being the stunning views of surrounding peaks thanks to the natural 'amphitheatre' created by the terraces.
If you'd like to chat about Philippines or need help finding a vacation to suit you we're very happy to help.

Philippines travel advice
Linda Maguire, from our supplier Undiscovered Destinations, shares her top Philippines travel advice:
Misconceptions about the Philippines
"I think people imagine the Philippines to be very dangerous with a great deal of crime. While Manila does have its problems it is not worse than many other large cities around the world, and once away from there the likelihood of falling victim is small – I have never experienced any problems. The islands of the Philippines are very diverse and home to a variety of cultures; they are strikingly beautiful and the people are extremely welcoming. You will encounter very few tourists outside the few main areas which means that people are curious and want to engage with you. There is a Spanish feel to much of the country and some lovely colonial architecture in many of the cities."
Why join an organised tour?
"If people want to visit the most popular areas and spend time on a beach it is quite easy to get around on public transport but it is very time consuming. However, if you wish to get off the beaten track a pre booked guided tour is definitely the best option. Private transport is used and this certainly maximises the time you have available, and in addition you can physically reach places that are not served by public transport. A key element of a guided tour is the actual guide; while this service can be arranged locally you will not really know anything about him or her until you meet them. On an organised tour the guide will be booked some time ahead of the tour, and this also increases your chances of enjoying the services of the best, as arranging one while you are there often leaves you with the least experienced. A good guide can help you mingle with the local people as they will often know them, and bring the places you visit to life. You will gain an insight into local culture and history and find the best places to eat and socialise."
Beautiful Banaue
"Do try to see more of the country than just Manila and the popular beaches and definitely go to Banaue. I think the rice terraces of Banaue are the real star of the islands; they are beautifully constructed with ancient hand crafted stone walls, and when the rice is growing they are a lush green. They are really very striking and I cannot recommend highly enough that people visit them. Try to engage with the locals as they are among the nicest people you will meet."
Philippines tips from our
vacation reviews
At Responsible Travel, we think the best people to advise our travelers are often... other travelers. They always return from our tours with packing tips, weather reports, ideas about what to do, and opinions about what not to.

We have selected some of the most useful Philippines travel tips that our guests have provided over the years to help you make the very most of your vacation, and the space inside your suitcase.

Clarify your motives and be prepared for thrilling, intense days where you get involved in everyday life both at the center, in the sea and on land.

"The most memorable part? My own personal development both in terms of marine inverts and coral types but also the confidence and competency I gained with my diving skills despite having dived for 25 years. Clarify your motives and be prepared for thrilling, intense days where you get involved in everyday life both at the center, in the sea and on land… Working with the community and in schools was the part I was least excited about being such a marine lover. However when there it was heartwarming and humbling. It's not a vacation and therefore it suited my expectations. Dom and Lucy were fantastic and safety is paramount. Having a condition which puts me at risk they were simply amazing. I rate it extremely highly. Thank you." – Jenny Harding on a conservation diving vacation

"The most exciting parts were 1. Hiking in the Cordillera rice terraces – fabulous scenery. 2. The people – so polite and happy. 3. Lack of tourists in rural areas – it's all very new to the locals. 4. It's dirt cheap, but don't expect luxury! 1. Go with an open mind and just do it! 2. It's not for the faint hearted, it's very basic outside of tourist areas. 3. Food very sweet and fatty - they eat what ever is available including dogs. 4. Accommodation even at the high end – basic. Fantastic experience – it's a destination that's new for many westerners – go before it gets spoilt!!!" – Rosie Morgan on a small group adventure vacation
More Philippines articles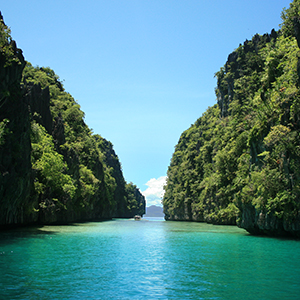 Our Philippines travel guide picks out the key highlights to help you plan a perfect island escape.
The best Philippines small group tours are those that avoid foreign-owned resorts and touristy Boracay.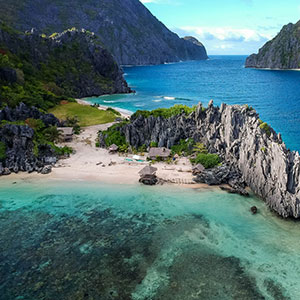 Discover the best snorkelling sites, and when to go, with our guide to snorkel safaris in the Philippines.