Small group vacations to the Philippines
"I'm a bit biased," says Rey Ballesca, laughing, "but I think we're some of the most personable people in the world!" Rey grew up in the Philippines, working in hotel management, then for a bamboo bike tour start-up, and now as a guide for our small group adventure vacation specialists Explore. So he knows his stuff when he says that it's the people, not just the views, that travelers on small group vacations in the Philippines remember.
Chris Ellis, who manages the Southeast Asia trips from the Hampshire HQ of Explore, agrees: "The Filipino people are very engaging people: their disposition; their culture; their innate friendliness. English is incredibly widely spoken, so you can have genuinely full conversations with people in the street much easier than you can anywhere else in Southeast Asia."
The best
small group vacations
to the Philippines are shaped by the Filipino guides who live, sleep and breathe this island nation. They don't want you to see the dishevelled beaches and sexual exploitation in Boracay. (In case you didn't catch the headlines, that's the paradisal island that mass tourism turned into what Philippine President Rodrigo Duterte called "
a cesspool
".) Instead, local guides like Rey will show you the Philippines that they love – perhaps by way of a hike of the 2,000-year-old Banaue Rice Terraces or an
empanada
pie dinner al fresco on the cobbles of Vigan.
Our Philippines Vacations
Bye, Boracay; hi, Luzon
Some of the best small group tours set out to Luzon, the largest island in the Philippines. It's a little snapshot of the country in one manageable bite, setting cobbled Spanish colonial towns and pale beaches against 2,000-year-old rice terraces and volcano lakes. It's also where you'll find the mega city Manila. Just about every facet of life in the Philippines is represented on Luzon – but thanks to the guides on the ground, the best trips veer towards the lesser-visited side.

"I think that when most people think of the Philippines they think of the beaches," says Chris. "If you look at tourist numbers, the biggest intake of visitors to the Philippines is to Boracay and Palawan, which are the biggest beach resorts by some way. But that's not what we wanted to do in the Philippines. We wanted to make it more about the people, culture and heritage that the Philippines has. We chose to focus on Luzon, which not many people will really get to see."
You'll criss-cross crater lakes Pandin and Yambo on a bamboo raft, stopping to eat a banana leaf picnic among the tropical coconut palms. Another crater lake fills prehistoric Taal Volano, one of the smallest volcanoes in the world; you can take a boat to Crater Lake Island and trek to the crater for archipelago-wide views in around three hours. La Paz sand dunes are a Mars-scape for hikers. And in Sagada (Echo Valley), coffins hang like picture frames along the cliffs – a blend of indigenous Kankanaey and Spanish Christian traditions.
Chris has a couple of highlights from his travels in the Philippines: "I've seen a few rice terraces, and the Banaue Rice Terraces are out of this world by comparison. The size, the scale, and the complexity of the engineering, that dates back 2,000 years, are amazing. And Vigan is really interesting. It's not particularly on the main tourist trail: you've got cobbled streets, kalesa (horse drawn carts) going up and down the streets, and all these shuttered windows. You have to blink twice, because you can't believe you're in Asia. It feels like you're in a sleepy Mexican village."
Our top Philippines Vacation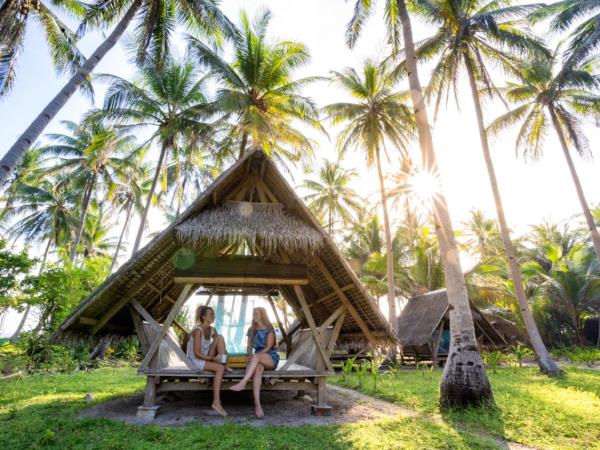 12 days of adventure in tropical paradise
From
£

1499

to

£

1649
13 days
ex flights
Small group travel:
2023: 6 Jun, 9 Jun, 15 Jun, 11 Sep, 17 Sep, 24 Sep, 27 Sep, 1 Oct, 6 Oct, 13 Oct, 16 Oct, 19 Oct, 26 Oct, 1 Nov, 4 Nov, 8 Nov, 14 Nov, 19 Nov, 23 Nov, 26 Nov, 2 Dec, 7 Dec, 10 Dec
2024: 4 Jan, 7 Jan, 11 Jan, 17 Jan, 23 Jan, 26 Jan, 30 Jan, 5 Feb, 8 Feb, 11 Feb, 14 Feb, 18 Feb, 22 Feb, 26 Feb, 2 Mar, 4 Mar, 8 Mar, 11 Mar, 15 Mar, 20 Mar, 23 Mar, 27 Mar, 30 Mar, 3 Apr, 8 Apr, 11 Apr, 15 Apr, 18 Apr, 22 Apr, 27 Apr, 1 May ...
If you'd like to chat about Philippines or need help finding a vacation to suit you we're very happy to help.

Positive footprints
While you benefit from the knowledge and kindness of local guides, local guides also benefit from your vacation. In fact, the best small group vacations are designed to impact the Philippines positively. You'll only be traveling with 10-20 people, for starters.

"Traveling as a small group is more personal and low impact for the environment," says Rey. "Every time we do trips, I tell guests what to do and what not to do in the villages. I really like to be more personal to the guests or passengers we have – to know what they like and what they don't like. To give them answers to their questions, if ever they need them."

You'll also be visiting smaller communities that can't be touched (thankfully) by mass tourism. Rey adds: "Tourism helps a lot because we employ local people. When we go to the villages, we get guides from the village, so it helps them to earn something and get jobs. One of the programmes of our government is to boost tourism and empower people living in the communities. It helps people to stay, rather than leaving the Philippines for jobs."
Rural tourism on Luzon is a far cry from the beach resorts of Boracay. "Tourism isn't a big corporate machine, where you've got five-star hotels that are owned outside the Philippines," says Chris. "You're staying in locally run accommodation and eating in locally run restaurants, in areas that aren't quite so wealthy. The tourist dollar really does go straight into the local economy, and they benefit quite directly from it."
Sleeping outside the resorts means that you'll also eat well. Small group vacations often include breakfast and the occasional picnic lunch or dinner, so you have the freedom to try Filipino menus that are a crossover of the 100-plus ethno-linguistic groups that live in the Philippines.
"The Philippines doesn't have the same sort of street food culture as Thailand might have," says Chris. "There aren't little pop-up stands. But it does have quite an al fresco dining culture, given the climate. I think that one of the nicest meals I had was in Vigan. Restaurants line the cobbled streets, much like you'll see in Spanish countries, and you have food out there late at night. It's wonderful."
But there's one dish that epitomises the Philippines: adobo. "Because the Philippines is such a mix of cultures – Asian, American, Spanish – that's quite well reflected in the food," says Chris. "They say that basically salt, spice and sweet are the three main bases for a lot of Filipino dishes, and there's probably no better example of that than adobo. It's basically seasoned meat with spices and a generous amount of salt, which is quite a surprise to Westerners at first, but you grow to love it. It's very strong flavours in general, and that is probably something that you'll have an awful lot of, and it's really, really good."
Thoughts from our travelers
"The guide and driver (Rey and Mat) made the vacation memorable with their knowledge and experience of the Philippines. I enjoyed walking along the rice terraces, where I fell into one of them and was rescued by Rey. I also enjoyed walking up two volcanoes, experiencing the effects of earth tremors, swimming from a log raft, attending a wedding, and enjoying the different food. The other vacationmakers were also great fun and well-travelled adventurers, which enhanced the vacation." – Maggie Lawlor travelled with Rey on a Philippines small group tour
More about Philippines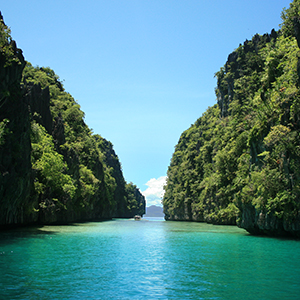 The Philippines has long been overlooked by tourists, but its turquoise waters, well preserved colonial towns, thriving reefs and indigenous culture rival that of any other country in Southeast Asia.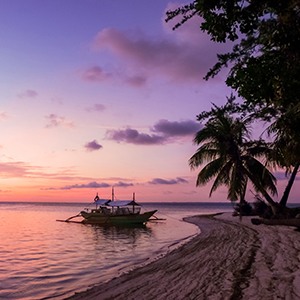 Read our month by month guide to discover the best time to go to the Philippines, whether you're after clear seas for diving, dry trails for hiking, or cooler temperatures for sightseeing.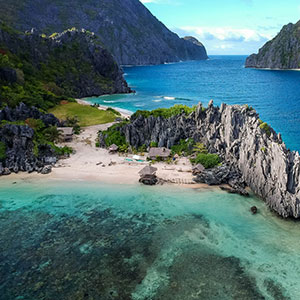 Find out how snorkel safaris in the Philippines unveil the underwater treasures of the Coral Triangle as you discover the best snorkelling sites, responsible travel advice and the best time to go.