Farmhouse accommodation in Tuscany
"At the heart of what we do on this farm is inclusion," says Claudia Pietrini of Molino le Gualchiere, one of our rural accommodations in Tuscany. "Every day we have several disabled people from a nearby charity gardening in the grounds, doing the same work as everyone else. But a lot of our guests choose to get involved too, even on their vacations! Kids especially love to help out collecting olives for instance, or fruit from the trees that we use in our taverna."
Molino le Gualchiere has been collaborating with
Arkadia Onlus
since around 2012, and all profit from the accommodation goes to support the charity's work. About 20 people in total, many with Down's syndrome, work on the vineyard and olive groves in the grounds on different days, and also assist when schools visit for educational workshops which often focus on the farm's olive oil production. Anyone that wants to pitch in for a while is warmly welcomed but it's completely optional.
You'll be staying a short distance from the medieval village of Loro Ciuffenna, where you won't find many shops selling touristy trinkets, rather lots of family-run shops and bars, classic Italian coffee and ice-cream, and a weekly market. "Many of our guests drive over for a wander," says Claudia, "you've got lots of walking trails around, and the oldest working water mill in Tuscany is another attraction. Oh, and a great bakery that's even open on Sundays!" Not far away and a nice day-trip idea for walkers is the Balze region, where the unique rock formations are said to have been one inspiration for the backdrop of da Vinci's Mona Lisa.
Our top Rural accommodation Vacation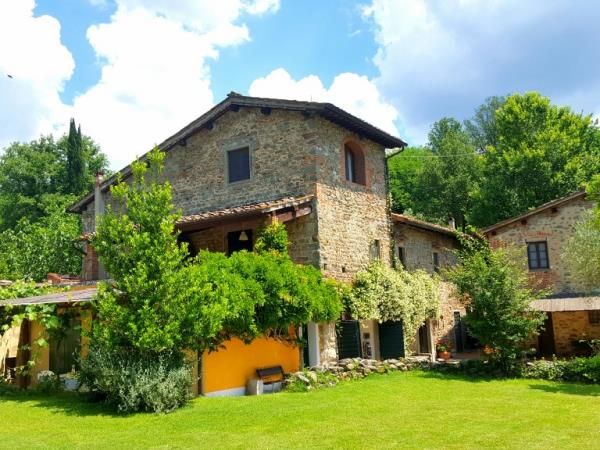 Traditional apartments in the heart Tuscany
From
€

390

to

€

1550
per accommodation per week
Accommodation
If you'd like to chat about Rural accommodation or need help finding a vacation to suit you we're very happy to help.

Things to do
Hiking is also popular in the green Pratomagno Mountains, as is mountain biking. Near your accommodation you've got riding stables and tennis courts, Tuscan wine-tasting opportunities, inviting lakes for swimming, medieval castles and of course the world-renowned galleries, museums and architecture of Florence and Siena. But truth be told, the atmosphere around the farm is reminiscent of the lotus eaters in Greek mythology – so pleasant and relaxed is it that you may find little inclination to roam further afield. A brief walk takes you from olive groves to vineyard to riverside shaded by cypress and pine. Squirrels, foxes, dormice and even wild boar dwell in the woods, and on a hot day you can stick close to the pool.
"But we do recommend you hire a car," Claudia advises. "Because you've got Florence, Siena, Chianti Arezzo, all less than one hour away. I sometimes recommend Trasimeno Lake in Umbria as well, a very easy day trip with beaches, nice villages around, and you can take boat out to an island. And in the valley behind us there are medieval castles, such as the one in Poppi, just a 40-minute drive."
"There are lots of villages around here where you can sample traditional Tuscany produce. We have wine and oil of course, and there are the solfino beans that you only find in this area. And schiacciata, which is the traditional Tuscan flatbread made with salt and oil, is not to be missed."
Practicalities
You'll stay in a spacious self-catering apartment, simply decorated in Tuscan country style. There are several apartments available sleeping between four and six people, all part of an old water mill complex that dates back to the 14th century. One has a jacuzzi tub, while all have a furnished private terrace facing views such as the vineyard, an olive grove or the river. The expansive estate is as peaceful as it is attractive, making it particularly suitable for any guests with cognitive issues.
Stays are available between April and October, making the most of Tuscany's warm climate. Visit outside of the main summer season and you'll not only avoid the worst of the crowds in high-profile destinations such as Florence, but also enjoy lovely colours in the rural scenery.
This is a fantastic option for families looking for a traditional Tuscan escape with the twist that you can, if you want, get involved with a few tasks around the farm. There's also a pool, volleyball and ping pong, and everything you need for a hassle-free stay.
More about Rural accommodation