South Africa safari with a Mozambique beach vacation
If you like your landscapes big and your wildlife even bigger then South Africa safaris combined with a beach break in Mozambique are a match made in megafauna heaven. On these trips, wide open savannah plains, home to herds of elephants, give way to windswept miles of wild coastline, cruised by humpback whales, manta rays and enormous whale sharks.

Hop over the border to Mozambique to add some of the world's biggest underwater beasties into your South Africa safari, alongside swathes of wild, untouched sand.

While Mozambique's civil war may have made headlines two decades ago, this is now a country at peace. Nowhere more so than along its coral coast, where the biggest bang you're likely to hear will be the resounding bem vinda (welcome) you'll receive at your beachside accommodation. Conflict once cut off facilities and communities are embracing tourism as a new way to develop and grow. Lodges which support local people and businesses here boast a family of staff who emit a warmth only matched by the Indian Ocean waves.
Our Safari & beach Vacations
What does a South Africa safari and Mozambique beach vacation entail?
With the exception of a few small guided group tours which travel overland across eastern South Africa, Swaziland and Mozambique, most South Africa safaris with beach breaks along the neighbouring Portuguese colonial coastline are bespoke itineraries tailored to your specific requirements and interests.

Your safari team know about wildlife because their background and passion is conservation. So they take the in-depth knowledge about the wildlife and the habitats they research and they share that with you for a better safari experience.

It means wherever you choose to travel in South Africa your safari is an experience that goes deeper than simply watching animals on early-morning game drives, relaxing in at your lodge pool and enjoying glorious evening sundowners at panoramic viewpoints.
Will Fox, from our safari specialists On Track Safaris explains how his team try to ignite guests' senses in South Africa before they head out in search of wildlife: "One of the things I like to do is what I call our 'bush experience'. We sit a guest down in the bush and shut down their senses – put gloves on them, industrial earphones etc – leaving them with just their sense of smell, then, one by one, we gradually bring those senses back. Hearing and smell are particularly powerful here. We blow out the cobwebs of city life and reconnect them to their senses. They can then tune into what's happening on safari, they become part of it. If they smell popcorn it's probably a female leopard who has spray-marked, or they might hear a warning call and can then help direct us to where it's coming from so we can see what's going on. It gets the guest involved in the safari experience. I have had people getting back in touch after they've gone home to say they sat down in their back garden and just listened, paid attention to their surroundings and were surprised what they had there."
You could be spending a few days in remote Madikwe Game Reserve – it's malaria-free and a good option for families – before kitesurfing, dune boarding and diving around the Bazaruto Archipelago. Alternatively, you might choose a safari in the private Wild Rivers and Thornybush Reserves – part of the Greater Kruger National Park – which are firmly cemented in conservation. Expect to spend a week enjoying guided morning and evening game drives, as well as a chance to get involved in ongoing leopard research projects. You might be helping to set up or check camera traps (the research team's primary way of tracking leopard movements) and in the process engaging with where the leopards are likely to be, and learning more about their behaviour. You can expect to learn more about wider conservation issues as well; discussing over dinner, for example, the dilemma of how the Greater Kruger National Park deals with an overpopulation of elephants when as a whole the species across Africa is under threat.

Sometimes the smallest things make a difference too. Rhino poaching, for example, is a big issue in many game reserves in South Africa. But if you see a rhino on safari don't upload it and share it on your social media – as tempting as that Instagram 'like' might be. Poachers have been known to use these posts to track rhino movements – and even with precise geotags removed, simply knowing which reserve, or which lodge you're staying at can be revealing enough.

To make the most of your trip you'll also want to have an idea of what you want to see. Are you particularly keen to snorkel with whale sharks? Or would you prefer more time on safari and just a few days to relax on the beach. Your safari specialist will be able to help craft a trip that works best for you.
Will Fox, founder of our safari specialists On Track Safaris:
"The beach is great for a short time if you just want to lie there, do a little bit of snorkelling and relax – but I wouldn't recommend ten days if that's all you want to do. But if you want to see megafauna stay a little longer to maximise your chances. Saying that, doing nothing on the beach here isn't a bad thing – all the rooms face east so you wake up with the sun washing over the sea and the dunes in front of you, and maybe a humpback whale playing just off shore. It's magical."
Our top Safari & beach Vacation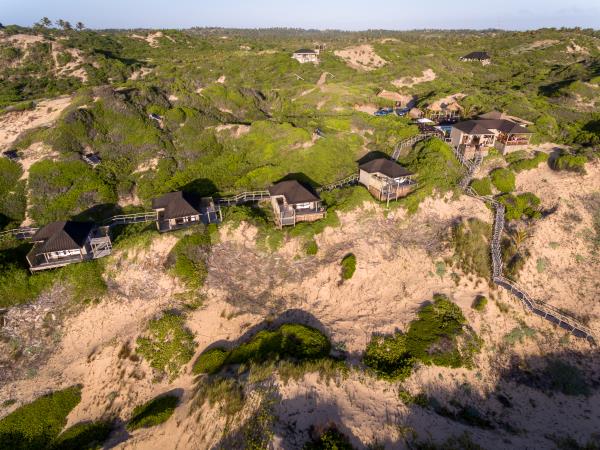 Beach and Ocean Safari Whale watching Mozambique
From
£

2000

to

£

2500
7 days
ex flights
Tailor made:
This trip can be tailor made throughout the year to suit your requirements
If you'd like to chat about Safari & beach or need help finding a vacation to suit you we're very happy to help.

Combining South Africa and Mozambique practicalities
Unless you're feeling particularly adventurous you're going to want to fly between your South Africa safari and your beach break in Mozambique. The roads between the two, while in places spectacular, can also be remote and sandy and especially towards the coast require a not-so-novice level of 4x4 skill to navigate. A few guided group tours will take you overland, but most tailor made bespoke safari itineraries will include a flight. Regular direct flights operate between Nelspruit – the gateway to the Greater Kruger National Park – Johannesburg, South Africa and Vilanculos, Mozambique, and take just over an hour. Your safari specialist will be able to help you arrange flights and transfers between your safari camp and beach accommodation.

Mozambique is still an infant when it comes to tourism (particularly compared to South Africa) so don't expect everyone you come across to speak English in the quiet fishing villages that line the coast. Portuguese is the mother tongue here – along with indigenous Bantu languages – so brush up on your bom dia (good day) and obrigado (thank you, obrigada with an 'a' if you're a girl).
Why not KwaZulu-Natal's glorious St Lucia coastline? Or the penguin-lined surfing shores of the Western Cape? Both offer littoral bliss in their own right (and the former is accessible overland from the reserves surrounding Greater Kruger National Park) but Mozambique is megafauna central – it's one of the best places to see whale sharks in the world – and its humpback whales and giant manta rays are beacons calling snorkelers and divers from far and wide. Add in untouched swathes of golden sand – even 'developed' beaches here are a far cry from the more popular Indian Ocean islands further north – and you have a uniquely wild, wildlife experience.
Will Fox, founder of our safari specialists On Track Safaris explains why he loves Mozambique: "This is a beautiful place, very wild, very unspoiled. Just walking along the beach is gorgeous. It's really unique too – one moment you're out on the sea watching humpbacks or snorkelling with whale sharks then around the corner you can snorkel in an estuary looking for tiny seahorses.

Lots of people, when they think of Mozambique, think of civil war. It's not like that anymore. Also the cyclone, which is being blamed for a drop in tourism, had absolutely no effect on the beaches around Inhambane. I'd say don't listen to the nonsense you hear – most of it is all historic and not relevant anymore. It's a wonderful place, with wonderful people who really feel like they are part of the lodge family and want to look after you as guests in their country. I can't speak highly enough of it."
Despite the civil war ending over two decades ago, rural communities in Mozambique are still recovering from the devastation the conflict wreaked on facilities and infrastructure. And when your lodge employs local staff and empowers them to reach their potential as managers or guides, and supports local businesses, your trip can have a lasting positive impact on local lives. You'll benefit too – from a wonderfully warm welcome, having someone who knows your beach like the back of their hand show you around and from utterly delicious dinners of freshly-caught seafood with food miles measured in mere metres.
Will Fox, founder of our safari specialists On Track Safaris, explains how they support local communities in Mozambique: "Supporting the local community, essential for tourism in Mozambique, goes beyond buying freshly-caught fish. It's the stuff that's not glamorous that's really important. For example, rather than driving back to South Africa to get our pick-ups serviced or fixed we allow local mechanics to do it. To start with they'd just bodge it – tie it up with a trouser belt etc – but the lodge we use has a well-trained mechanic so he'd work with them and now they're starting to do a good job. It's a slow process, but by putting the trust in the local mechanics to do the work, and providing them with the necessary skills to do it well, we're setting them up for life. We use every opportunity to train local people along the way."
Sometimes the smallest things make a difference too. Rhino poaching, for example, is a big issue in many game reserves in South Africa. But if you see a rhino on safari don't upload it and share it on your social media – as tempting as that Instagram 'like' might be. Poachers have been known to use these posts to track rhino movements – and even with precise geotags removed, simply knowing which reserve, or which lodge you're staying at can be revealing enough.
Best time to go to South Africa
and Mozambique
While in South Africa, safaris in the August to October dry season are wonderful, this isn't the greatest time of year to snorkel or dive in Mozambique, when the water can be churned up and murky. At the same time however humpback whales can be seen cruising the coast of the Bazaruto Archipelago and around Inhambane at this time of year. Don't stress that you need to pick one country over the other – a good safari guide in South Africa will know the animals' behaviour, habits and habitats like the back of their hand, and should be able to offer you an incredible wildlife experience on safari whatever the season. For the best of both worlds consider traveling in May when underwater visibility in Mozambique can reach 30m. At this time of year the South African safari experience is lovely too – there's still some lush green corners, even though the rains will have stopped some weeks before, and lots of young animals around. Whale sharks and manta rays can be seen year-round, but tend to be most concentrated in the waters around Inhambane from November through to February.
More about Safari & beach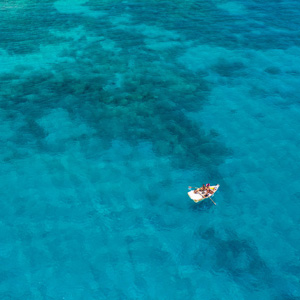 With dawn and dusk game drives and exhilarating wildlife spotting, safaris are far from lazy vacations.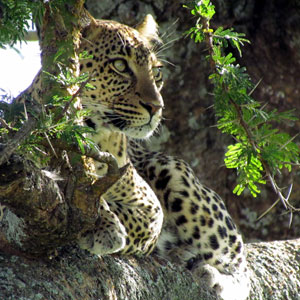 It's best to pack binocs and flip-flops on a combined safari and beach vacation, but read on to hear more advice from our experts in Africa, and from fellow travelers who have enjoyed wildlife and wind-down time in one memorable African escape.