Where to go on a safari & beach vacation
---
MAKE THE MOST OF YOUR TIME
When it comes to safari and beach vacations, there are some perfect pairings out there already, but with any number of tweaks and variations available. Kenya and Diani Beach, Tanzania and Zanzibar, and South Africa and Mozambique are dream teams, but the choice of game park or reserve, beach or island, will often be yours. In almost all cases, domestic flights will do the transport heavy lifting, often using tiny airstrips such as the one on Mafia Island, and reducing overland journeys to just the short drive to your safari lodge or beach retreat, plus those essential game drives.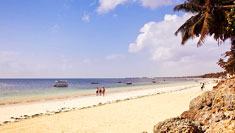 KENYAN COAST
Kenya's south coast delivers luxurious resorts, secluded keys and a handful of islands, scattered through the Indian Ocean. Vibrant Diani has 10km of palm fringed, white sand beaches with colobus monkeys living just inland. At its southern end sits the slightly quieter Galu Beach. All are easily reached from Mombasa. Don't want to sunbathe? Surfing, kitesurfing, snorkelling, diving and big game fishing are all available.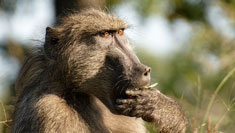 KRUGER NATIONAL PARK
Kruger is the most famous gem in South Africa's twinkling tourism crown – and deservedly so. This 19,485km² park encompasses a vast array of habitats and is home to over 500 species of birds and 147 mammal species, including the Big Five. Top-end safaris and luxury lodges provide a first-class experience, with Mozambique's beaches and the Elephant Coast conveniently close, too.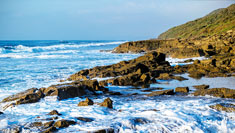 ELEPHANT COAST, KWAZULU-NATAL
The empty beaches and subtropical forests of northern KwaZulu-Natal are pristine and wild, with sea turtle nesting grounds and fish-filled seas ideal for scuba diving and fishing. The iSimangaliso Wetlands were South Africa's first UNESCO site, and shelter over 500 bird species, swamp forests and 220km of beaches leading out to coral reefs.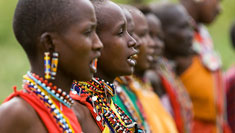 MASAI MARA
This national reserve is synonymous with both wildlife and the Maasai tribes. A stage for the Great Migration, the Mara sees some two million wildebeest and zebras spilling into it from Jun-Oct – if they survive the precarious Mara River crossing and the hungry crocs lying in wait. The surrounding Maasai conservancies provide the chance to meet these fascinating people, via bushwalks and village visits.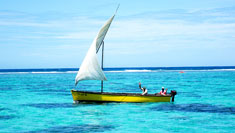 MAURITIUS
The word 'exotic' gets overused with Mauritius, but its white sand beaches and succession of sheltered lagoons, alongside one of the largest coral reefs on the planet, make it a gorgeous destination for a post-safari chill out. Take time to explore, too, hiking trails to waterfalls and canyons in Black River Gorges National Park or climbing Le Morne Mountain on the southwestern tip.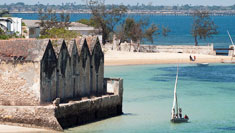 MOZAMBIQUE COAST
Mozambique's coast is beautiful and unspoiled, with a mix of luxury accommodation, rustic cabins and even camping the way to stay. In Vilankulos and the Bazaruto Islands, snorkel and dive alongside turtles, stingrays, dolphins and a rainbow of reef fish. Active types will love kite surfing, dune boarding, waterskiing and kayaking, or just soak up the peace and sunshine.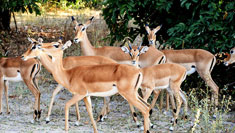 SELOUS GAME RESERVE
Little-visited Selous is even larger than the Serengeti, with the wildlife numbers to match. Thousands of elephants, buffalo and antelopes roam the park, along with rare African wild dogs, not usually seen in the north. A boat cruise on Lake Tagalala gets you close to hippos, crocodiles and birds. The massive space and handful of lodges mean you're far more likely to see wildlife than tourists.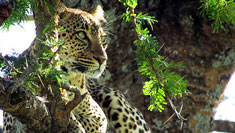 SERENGETI NATIONAL PARK
A vast landscape of wide plains, the Serengeti is Tanzania's oldest park. The Great Migration begins here as early as December, the Big Five are ever-present, and one of the largest populations of lion in Africa call this 15,000km² park home. The nearby Ngorongoro Crater boasts equally impressive wildlife sights, with 30,000 animals living within the 25km-wide volcano crater.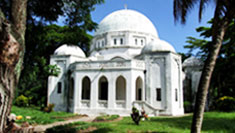 ZANZIBAR & MAFIA ISLANDS
A mix of Middle Eastern, Indian and Swahili influences feed into Zanzibar's culture, history and food. Explore the alleyways of Stone Town, then escape to a tranquil resort, with white sand and deep blue sea. Offshore, Mafia Island boasts coral reefs, turtle nesting beaches and tropical forests. Diving, kayaking and dhow tours bring you closer to the marine life.


Safari & beach travel advice
---
TIPS FROM OUR FRIENDS IN AFRICA
Tanzania's best parks & how to access them
---
Amanda Marks, from our safari supplier Tribes Travel, highlights the benefits of flying when on a safari and beach break in Tanzania: "You can get to Ruaha and Selous National Parks by road, but that is very time consuming, and not what most people want to spend their vacation on. Even the cheaper safaris to these places tend to use flights. Once here, the wildlife viewing is great, particularly in Ruaha which has far fewer people than Selous, but I also love Selous, too. I'd say Ruaha's distance from Dar Es Salaam and the very limited number of camps makes this park particularly relevant in luxury itineraries. Selous can certainly offer luxury safaris, but it can also offer safaris which don't necessarily break the bank."
Advice on getting the most from Mauritius
---

Sarah Jackson, from our supplier Audley Travel:
"It is very easy to not want to leave your hotel but there is so much more to see and do – visit the nature reserves and local towns. I loved using my GoPro video camera whilst I was last in Mauritius. I took it snorkelling, zip lining and quad biking and got some great footage."
Fishing in Mozambique
---
Dirk Reiche from our supplier Sunway Safaris: "If you are a keen fisherman contact a fishing charter company before you head to this beautiful country and try your hand at landing some really amazing game fish. Try the local restaurants on the coast as they have a great Portuguese style of cooking and when it comes to fresh fish this is a must."
Tips from our travelers
---
ADVICE FROM THOSE WHO HAVE BEEN ON OUR HOLIDAYS
At Responsible Travel, we think the best people to advise our travelers are often... other travelers. They always return from our tours with packing tips, weather reports, ideas about what to do – and opinions about what not to.

We have selected some of the most useful safari and beach travel tips that our guests have provided over the years to help you make the very most of your vacation – and the space inside your suitcase.
"We went here on our honeymoon. We wanted to combine a more typical honeymoon, relaxing in beautiful places, with a more active part. This was perfect as we had so many new exciting experiences on mainland Tanzania, and then we could relax in Zanzibar." – Natalie Lefevre on a vacation to Selous, Zanzibar & the coast
"Complete your PADI diving course before you go on vacation – the coral reefs around Mafia are too incredible to miss. Pack very little – the laundry services are incredible in all the lodges we stayed in in Tanzania." – Liz Taylor
"We probably weren't quite prepared for how cool it was in the evenings, especially at the rim of Ngorongoro. Pack some fleeces! Do plenty of research about the different game parks. It probably wasn't the best time to visit the Serengeti although our guide made sure we saw plenty of wildlife. Be prepared to be incredibly hassled in Stone Town (Zanzibar)!" – Philip Karstadt
"Be sure you don't mind flying. Lots of flying, and some of it on some pretty old and/or small planes. If we had known, we would have maybe have chosen a different beach destination than Mozambique, as this added quite a bit of flying." – Dirk Bettels on a Southern Africa luxury vacation
"Take two sets of binoculars – and good ones. We had one less good pair, but we were very glad we were not fighting to see the animals. Also take more memory cards for your camera than you think you will need." – Alice Crawley