Places to visit in Saint Lucia
---
Make the most of your time
At just 43km long and 23km wide, it is more than possible to explore Saint Lucia in a short vacation. The north is more densely populated with the capital and main port of Castries and the tourist hub of Rodney Bay. The south is quieter and home to the bulk of Saint Lucia's natural attractions: Soufrière volcano, the Pitons and an offshore nature reserve. The calm Caribbean Sea laps the western beaches; this side is more family friendly with few waves. The eastern shoreline is buffeted by Atlantic breezes, making it a haven for wind and kite surfers. Car hire is easy (you'll need a US$20 permit), while taxis across the island have fixed point-to-point fares.
Click on the blue map points below for our best places to visit in Saint Lucia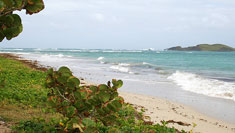 Anse de Sables
Saint Lucia's largest beach remains wonderfully undeveloped – thanks to its Atlantic gusts and remote location close to the island's southern tip. Reefs shelter the bay, while the reliable trade winds make it a haven for wind and kite surfers (equipment can be rented) – though this is not the best spot for young families. A number of restaurants are nearby – as well as the town of Vieux Fort, less than a kilometre away.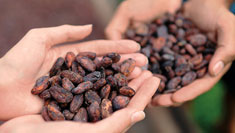 Cocoa Farm
Anyone familiar with Hotel Chocolat will be thrilled to discover that the cocoa for their luscious products is harvested in Saint Lucia – and the plantation is open to visitors. Take a tour of the Rabot Estate and make learning the processes with the guidance of an expert chocolatier – planting a seedling, picking the ripe fruit, roasting the dried beans and grinding and mixing your own delicious chocolate.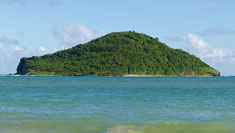 Maria Island Nature Reserve
These two small islands were declared a nature reserve in 1982 in order to protect their unique flora and fauna – including 80 species of plants and five endemic reptiles. Incredibly, some migrant birds travel here all the way from West Africa; the reserve is closed during the May-August nesting season. Take a fishing boat here, explore the land with an expert guide then snorkel in the surrounding reefs. Bring a picnic!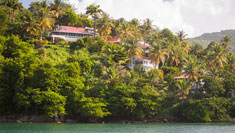 Marigot Bay
The ridiculously idyllic Marigot Bay is the classic Caribbean setting; white sand brushed by coconut palms and backed by steep walls of tropical greenery – it's easy to see why this is a favourite with film crews. While some spots around the bay are heavily developed, other coves are much more secluded and only accessible by boat; regular ferries cross the lagoon.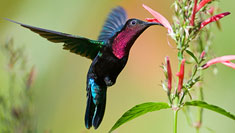 Millet Bird Sanctuary
Saint Lucia is a treasure trove for birders, and this bird sanctuary is the biggest jewel of all. Over 30 species can be found in the forest, including five of the island's six endemics – the elusive Saint Lucia parrot amongst them. The classic 2-hour, 3km trail reveals a variety of scenery, taking you up to 300m for stunning views from the clearing at the top. Feeding stations line the route, increasing the chances of bird sightings.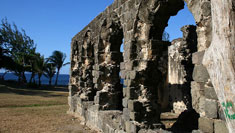 Pigeon Island
Pigeon Island has a fascinating history, with many of its historical landmarks now atmospheric relics to explore on foot. Sounding like something out of Pirates of the Caribbean, its first European settler was French explorer Jambe de Bois – 'Wooden Leg' – in the 1550s. Now linked to the mainland via a wide causeway, Pigeon Island has a barracks, a well-preserved fortress with canons, and lovely if somewhat crowded beaches.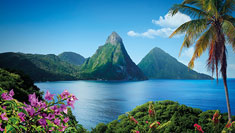 The Pitons
These two volcanic cones – Saint Lucia's most famous landmark – were named by the indigenous people after their gods; Yokahu is Gros Piton, and Atabeyra is Petit Piton. While Gros Piton is higher at 738m, it's an easier climb than the sheer walls of Petit Piton. The four-hour round trip is tough in the heat, but the ocean and island views from the top are a decent reward –as are the winding forest trails to get there. Guides must be used.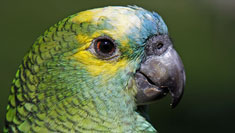 Quilesse
The Des Cartiers rainforest trail is a 4km walk here with the option to spot 30 species of bird – including the Saint Lucia parrot. This reserve is still somewhat off the beaten track so you'll likely see few other visitors on the 1.5-2hr winding trail. Call ahead to book with the ranger, who can help you spot the birds – and warn of any nasty plants! More strenuous options are available in the neighbouring Edmund Forest Reserve.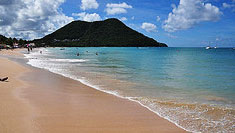 Rodney Bay
With its handful of resorts, flashy marina, vast mall and a casino, this small town doesn't really embody the peaceful spirit of Saint Lucia. However, you may find yourself passing through the town on the way to Pigeon Island or the fishing village of Gros Islet – now famed for its Friday night "jump up" street party, a throbbing introduction to Saint Lucia's music and street food. You'll also find unspoiled beaches nearby.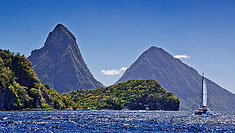 Sailing
Few experiences will leave you feeling more like a movie star than sailing the Caribbean in a private sailboat. Cruising the stunning coastline with trade winds filling the white sails, these restored wooden ships combine glamour and adventure. Join a scheduled trip with just 4-6 passengers or charter your own, and enjoy access to remote coves, pods of dolphins and snorkelling spots. You can even learn how to sail.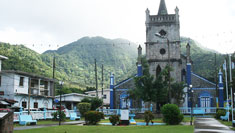 Soufrière
Saint Lucia's former colonial capital, Soufrière was named after the still-active volcano nearby. The charming French-Caribbean gingerbread houses and market square mean the town itself is a pleasant enough place to spend a chilled afternoon or two – but Soufrière's real draw is its proximity to Saint Lucia's main natural attractions: the Pitons and the drive-in volcano, along with its beautiful botanical gardens.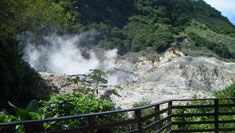 Soufrière Volcano
Stinky, bubbling mud and steam may not be what springs to mind when you picture a Caribbean landscape – but this is exactly what you'll find in the ancient crater of Soufrière (named by the French after its "sulphur air") – best known as the world's only "drive-in volcano". A guide will lead you around the observation platforms to see the belching mud pools, multicoloured mineral deposits and noxious vents.


Hello.
If you'd like to chat about Saint Lucia or need help finding a vacation to suit you we're very happy to help.
Rosy & team

01273 823 700
Travel times in Saint Lucia
---
The following times give you a rough idea of the travel times between the main attractions in Saint Lucia.
Soufrière – Marigot Bay: 1 hour by road
Castries – Marigot Bay: 20 minutes by road
Rodney Bay – Marigot Bay: 45 minutes by road
Castries – Anse Chastenet: 1.5 hours by road
Hewanorra Airport – Rodney Bay: 1.5 hours by road
Hewanorra Airport – Soufrière: 40 minutes by road
Responsible Travel would like to thank Saint Lucia for their sponsorship of this guide
Photo credits:
[Top box: Saint Lucia Tourist Board] [Anse de Sables:
Ian Mackenzie
] [Cocoa Farm: Saint Lucia Tourist Board] [Marigot Bay:
_dChris
] [Millet Bird Sanctuary: Saint Lucia Tourist Board] [Pigeon Island National Landmark:
Ian Mackenzie
] [The Pitons: Saint Lucia Tourist Board] [Rodney Bay:
Raymond Tang
] [Sailing:
cjuneau
] [Soufrière:
Ian Gratton
] [Soufrière Volcano:
D G Brown
]