Scotland railway vacations guide
Train is, without a doubt, the best way to explore Scotland. Relaxed, and wonderfully scenic as it takes you through landscapes unscarred by roads, rail travel also allows you to hop off and on as you please. So if you want to climb Ben Nevis or grab a few Munros, try and catch a photo of the monster in Loch Ness, or tour a few of Scotland's finest whisky distilleries, it's easily arranged through expert vacation operators able to tailor your itinerary with precision. And if you'd like to try some car-free island hopping, jump on the West Highland Line to Mull, Iona and Skye.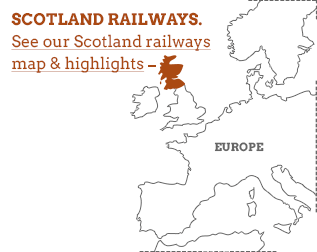 I wish I was the brakeman on a hurtlin' fevered train, crashin' head long into the heartland like a cannon in the rain.

– Fisherman's Blues, song by The Waterboys
What we rate & what we don't
Sail Rail
There are great connections with islands via Scotland's rail network, and as these are tailor made vacations, your tour operator will be delighted to organise onward travel to islands such as Skye from Mallaig station, or the Orkney or Shetland archipelagos from Thurso. Or various other options of course, with Oban being a good rail station to connect with the Inner Hebrides for example.
Off season travel
Autumn in particular is stunning, with leaves turning across the forested Highlands, seafood is particularly brilliant at this time, and the game season is on. Trains are quieter and nothing beats a roaring fire with a hot toddy in a top Scottish guesthouse. Spring has a celebratory feel here too after a long winter, although if you can take the West Highland Line when the snow falls, you will have won the golden ticket.
Accessible travel
Scotrail, the company that runs the majority of train journeys in Scotland has an impressive
Accessible Travel policy
. Same goes for the
Caledonian Sleeper
. Combined with the fact that Scotland railway vacations are tailor made, your tour operator will do their utmost to ensure all your needs are catered for not only during travel but at the accommodations you stay at en route.
The Kyle Line
This is the coast to coast Kyle of Lochalsh to Inverness line and one of Scotland's most underrated train journeys. At 120km and taking 2.5 hours one way, it is worth just doing a return day trip, or take a transfer to Isle of Skye from Kyle of Lochalsh. Beauties along this train line such as Lough Carron, Beauly Firth and copious gorgeous glens are worthy of an epic movie soundtrack in the background.
West Highland Line
Starts in Glasgow, terminates in Mallaig on the west coast and gateway to Isle of Skye and Small Isles. This is no small journey however. Take at least four days to hop on and off this colossal Caledonian journey through the likes of Rannoch Moor, Ben Nevis, and many other bens. Glenfinnan Viaduct is a veritable coup of engineering, and going over it on the Jacobite steam train in summer is an added bonus.
Exploring Skye
Hop across the causeway to the iconic Isle of Skye from Mallaig or transfer from Kyle of Lochalsh. But it does get busy in summer, so ask your tour operator to book a local guide to help you get off the beaten track. Hikers seek out the Old Man of Storr or Loch Coruisk, swimmers be prepared for the magic of the faerie pools and birding fans; Skye's the limit.
Pitlochry
We do rate it, although perhaps not in the height of summer when coachloads in search of clans and tartans zoom in and zoom out. Get in at sunrise off the Caledonian sleeper train, however, and you will have it to yourself, or just stay at a charming Scottish guesthouse and head out to the likes of Killicrankie Gorge and many other local trails. The Wild Space gallery is eco art and literature.
London-Scotland sleeper
The atmosphere in the famous Caledonian Sleeper train bar, at 10 o'clock at night, is one of those rare and unforgettable travel experiences. Some taking a deep breath as they leave London and their workloads behind, others visitors getting excited about their trip up north. You'll meet hikers comparing routes, cyclists comparing Lycra, and other whisky drinking adventurers. But nothing beats waking up in the middle of the Highlands. One to set your alarm for.
Train booking websites
Scottish online train booking systems are sent to try even the most patient travelers. This is where the train gods step in. The expert rail travel operators who know how early to book, which ones get booked up quickly, how to grab a bargain berth if you decide to take the sleeper train and basically how not to go down the timetable trauma route.
Transport links
Tourism in Scotland is still very geared up to tourists arriving by car, with websites giving you copious GPS instructions on how to get there, even though the railway station may just be nearby. However, your tour operator will give you detailed instructions on how to reach your accommodation or site of interest, and organise a taxi transfer if necessary.
Moaning about midges
They are Scotland's most unwelcome visitor between May and October, especially on the west coast. They aren't on your train, of course, but when you take a night or two on the west coast, in particular, you may need to take care. But don't panic, they aren't everywhere. Mostly by the water's edge, at dusk and if there is little wind. Do pack a midge net, however, if evening strolls are your thing.
Food
In general, it is always good to stock up on snacks before you board a train in Scotland. This country has some of the best local food you could wish for, and yet train companies don't seem to have woken up and smelled the coffee on that front yet. Suss out good local delis or markets before you travel, or ask your hotel for a picnic breakfast to go.
Our Scotland railway Vacations
If you'd like to chat about Scotland railway or need help finding a vacation to suit you we're very happy to help.

Is a Scottish railway vacation for you?
Do go on a Scotland railway vacation if…
… you really want to sit back and enjoy Scotland's scenery, without arguing over maps or worrying about GPS. Look out for deer, remote cottages or castles, waterfalls and hikers taking on the hills.
… you are usually the designated driver. Sit back and let someone else transport you around for days on end.
… you want fine local hotels, great food and all within easy access from a station. And all organised for you.
… you enjoy a wee dram. No breathalysers on the West Highland Line, although Scottish trains don't allow alcohol between 9pm-10am.
Don't go on a Scotland railway vacation if…
… you want the Royal Scotsman. These are real train journeys for real people. We like to think more in terms of grand views and a grand welcome, rather than a grand a day. … you like to hold the timetable reins. Scotrail is the boss on this vacation and they have strict timetables. … packing light is a challenge for you. You need to be able to get your own bags on and off trains quickly and easily. … you want sunshine. You know what the Scots say? A rainy day in Scotland is just whisky in the making.
More about Scotland railway