When to go on a Scotland rail tour

You don't go to Scotland for the weather, you go for what the weather creates.

In many ways it is your train driver who dictates when to go on a Scotland rail vacation. Timetables are not to be messed with. Apart from that, just go when you feel like it because you are never going to go for the weather anyway. The further north you go, the shorter the days become in winter, however, and some tourism businesses shut up shop for the season. The small towns and islands are quiet in spring and autumn, and wonderfully atmospheric, with wild and windy highlands, snow capped Cairngorms, stupendous sunsets and even Northern Lights in autumn if you are lucky.
When to go on a rail vacation to Scotland
Get off the train and onto the roller coaster that is the Edinburgh Festival in August. Two festivals actually: the International biggie and the fringe frenzy. If you want to avoid crowds, get straight back on that train and into the Highlands.
If you are taking the train with a view to stepping right off into the hills, and you'd be right to do so, be aware that stalking season is 1 July to 20 October, with a hind season until 15 February. Although Scotland has a freedom to roam policy, you are best to check out Heading for the Scottish Hills website to see who is shooting what when.
You may not approve of stalking, but you may be a fan of Scottish game, and foodies find this at its finest around October.
Counting sheep won't send you to sleep as you travel by train in April during lambing season here, but test your abilities not to say 'Awwww' out loud too many times.
The midges in Scotland tend to descend between May and October, but they aren't everywhere. By water, and at dusk, is when you need to dress to unimpress, with nets and all.
May is a great time to see nesting birds on the west coast and islands. And for seeing more of the day itself, June builds up beautifully to the longest day at the summer solstice. On Orkney and Shetland they call this time "Simmer din" and there are plenty of celebrations at ancient sites there.
If you want to see Skye light up, head there in September by train to Mallaig or Kyle of Lochalsh for their big annual Skye Live music festival. Book your accommodation well in advance for this period.
Railway vacations aren't really recommended in the thick of winter, say December and January, due to unpredictable weather conditions affecting timetables. However, do chat with your tour operator if you fancy the Cairngorms covered in crystals. There are some routes that are pretty reliable.
Many island ferries do connect from railway stations, but services do slow down between October and March. Similarly they get busy in peak season, July and August, so it's an advantage that your tour operator can book them in advance.
Edinburgh & Lowlands Weather Chart
Our top trip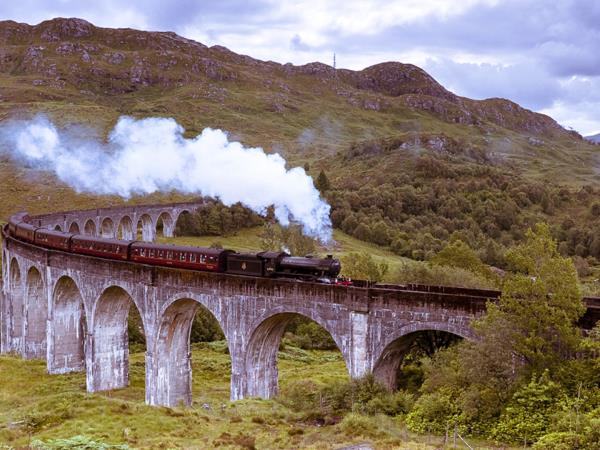 Experience authentic Scotland independently and car-free
From £1395 to £1525 8 days ex flights
Tailor made:
This trip can be tailor made from April to the end of October.
If you'd like to chat about Scotland railway or need help finding a vacation to suit you we're very happy to help.

Responsible Travel recommends
Robert Kidd, Director at one of Scottish railway vacation partners, McKinlay Kidd:
"Everyone wants to go on our rail vacation to Scotland in May or June, but actually I think the nicest times are actually in the autumn. The weather can be a bit more mixed, but you get the autumn colours and especially the heather from late August, and then in September the trees begin to turn, and then later in the autumn when the leaves fall off the trees, the views are much more open. So I think the autumn can be rather beautiful. We also just don't really organise these trips in the winter, due to train disruption and so on. I wouldn't go in the depths of winter to be honest. What is really special about Scotland is that even in the middle of July you can find a beach that is completely empty."
More Scotland railway articles