Slow travel sprang – gently, of course – from the slow food movement, which originated in Italy as part of a campaign to block a McDonald's from opening near Rome's Spanish Steps. But it's out of the cities, in the countryside from Piedmont in the Italian Alps to Umbria and Tuscany further south, that slow travel really comes into its own.

Both small group and tailor made vacations roam historic towns and villages in these regions, often on foot. Pause to sample cheese, wine and olive oil, mingle with local shoppers at farmers' markets, and learn how to create seasonal dishes with cooking lessons run by your hosts. You may prefer the thought of a tailor made trip so that you can set your own schedule, but even small group tours in Italy follow a stately pace, as if falling into the countryside's natural rhythms.

In keeping with the spirit of slow travel, there's no need to set foot inside an airport. You can get to Turin in Piedmont from almost anywhere in Europe by train in a single day. If traveling from London, you can stop for lunch in Paris and be in Tuscany or Umbria late the following morning after a leisurely breakfast.
Slow travel in the Italian Alps
Marla Gulley and husband Fabrizio Roncaglia, both former chefs, are the maestros behind our partner Bella Baita. They offer walking and cooking vacations around the Chisone valley between Turin and France.
"We've seen an uptick in people staying for longer since Covid, and more interest in the many activities in this area – climbing and cycling, as well as the cookery courses we offer," says Marla. "I think there is an appetite to take things easy and not move around too much."
From this tranquil community immersed in forests of pine and chestnut trees where Fabrizio has lived all his life, the couple have purposefully cultivated an intimate connection with the area, spearheading a drive for sustainable mountain tourism rooted in slow food.
Our traveler Kay Garvey stayed at their 
alpine B&B
and found that "the most memorable part of the vacation was the feeling of really getting to know, in a personal and down to earth way, about a place with its own distinct culture and traditions".
"A lot of the time people arrive after a few days of city sightseeing," says Marla. "It's the last part of their trip, they want to relax, they want a slower paced experience."
You'll slow down to a happy crawl up here in the Italian Alps, where local producers abound. Marla and Fabrizio delight in showing their guests how to create Piedmont specialities from seasonal ingredients plucked from the farmers' market, or whatever needs using up from their own organic garden.
Farmers' markets & cheesemaking lessons
Market day in Pinerolo, at the mouth of the Chisone valley, is a highlight of a slow travel vacation in the Italian Alps. The market has been operating for over 1,000 years but is far from a tourist attraction. This is where people come to do their weekly shop, as well as to treat themselves with the award-winning pasticcini (miniature pastries, usually filled with cream) found here.

"You get farmers, cheesemakers, itinerant people coming up from the south with citrus and artichokes, liqueurs made from mountain herbs," says Marla. "Everything but the kitchen sink." Meals at your accommodation, prepared by either Marla and Fabrizio or by you under your hosts' watchful eyes, are shared family-style. That communal, sociable experience is another key ingredient of slow travel in Italy.

If you opt for one of the many walks hereabouts, then you'll sit down around the table with a healthy appetite every evening. Relatively challenging footpaths lead up to waterfalls and meadows speckled with wildflowers, pretty villages and, in summer, above the treeline via chairlift. You'll eat in mountain trattorias or bring your own picnic.

Visit in late August to take part in a project sponsored by the local slow food chapter that Marla and Fabrizio are a part of. Known as Open Meadows or Alpeggi Aperti, it sees shepherding families opening their homesteads to visitors and sharing how Saras del fen, a ricotta cheese, is made from goat and cow milk.
Our Slow travel Vacations
If you'd like to chat about Slow travel or need help finding a vacation to suit you we're very happy to help.

Patrizia Spada is the co-founder of our partner Italian Delights, organising sumptuous slow travel vacations in Umbria and Tuscany. They know the recipe for success in their tours, and (unlike the secretive fast food giants of the world) are happy to share theirs.

"It's because we know these shops, markets and restaurants personally," says Patrizia. "We're not just guides; we live in these communities ourselves. When we talk about places and recommend them, people appreciate that we are constantly trying and testing them ourselves as customers."

There's a sense of genuineness, which is something that comes across strongly in Umbria.

"Not everyone speaks perfect English in the markets we take our guests to," says Patrizia. "They're not so well-prepared for tourism. But it feels like real life."
From wineries to saffron villages
Though it's certainly no stranger to the limelight, Umbria still feels undiscovered compared to neighbouring Tuscany.
It's a little easier to escape the crowds in this bountiful region in the heart of Italy. Patrizia, sister Cristina and family organise relaxed 
cooking tours in Umbria
that make the most of the region's gourmet reputation. They source their ingredients from markets, wineries, organic farms and their own garden, and offer lessons that can be adapted for vegetarians and vegans.
Your hosts, never happier than when showing people around their own communities, may take you to Orvieto, known for its Classico white wines, a village famed for saffron, and across into neighbouring Tuscany, to hilltop Pienza, where a renowned type of pecorino cheese originates.
"We shop at farmers' markets where you get a lot of small producers all the time," says Patrizia. "It's not only organic food, as not everyone can afford to pay for that certification, but it's very good quality food and drink. Not all of them speak perfect English but they are always happy to talk to you about what you're buying for your packed lunches. And, of course, without this support these local producers are at risk of disappearing."
Our Tuscany slow travel vacations explore two picturesque areas just south of Siena: the Val d'Orcia and the Crete Senesi, and the various communities scattered around them. Explore on foot or, if you prefer, by electric bike to tackle those rolling hills with ease.
Our traveler Roy Bouchard took a 
walking vacation in Tuscany
with our partner Italian Delights. He says: "We found the landscape stunning, but in a different way than the standard postcard scenes. The things going on with life in the small towns we stayed in contrasted with the fields and vineyards of the countryside, giving real texture to the experience. It is intriguing to be immersed in history spanning millennia. Not being in a hurry also has the added benefit of opening your eyes to the details of rural life and landscapes."
Meals with a sense of place
As is often the case in Italy (and you'll hear no complaints from us), slow travel vacations tend to revolve around food and drink. Sampling it. Talking about it. Dreaming about it during a postprandial nap. Making plans for what to try the following day. You get the picture.

One day you might be wandering the narrow pedestrianised streets of Montepulciano to find an enoteca (wine shop) in the main square where you can revive with a glass of the region's famous Tuscan red. The handsome 15th-century town of Pienza, birthplace of Pope Pius II, is a UNESCO World Heritage Site for its magnificent Renaissance architecture as well as a renowned variety of pecorino cheese made with the aromatic sheep milk of the Val d'Orcia.

Visit the frantoio (olive mill) in San Quirico d'Orcia, a town that produces a sublime extra virgin oil. Elsewhere, hilltop Montalcino is well-known for the red wine, Brunello, that comes from the surrounding vineyards.

"We always try to seek out family-owned guest houses and small hotels in Tuscany and Umbria," says Patrizia. "And we aim to choose those with architecture that reflects the character of each town. Often, there will be local produce at breakfast too, so your meals have a sense of place."
"It's more fun for people to go out & find something themselves"
Having built a healthy appetite walking each day, you'll dine in local restaurants in the evenings. Our partners happy to provide recommendations.

But moving slowly in Italy lends itself to exploring other aspects of a region's culture beyond its epicurean delights. With time on your side, you can visit artisans across Tuscany who continue to use traditional techniques: copper workshops in Montepulciano; wrought iron and pottery studios in Pienza; tiny terracotta factories in Montalcino.

Slow travel is designed to support these small producers. It encourages visitors to seek out the places that can easily be missed if you're simply rushing to snap a photo of the landscape or the duomo before jumping back aboard the tour bus.
More about Slow travel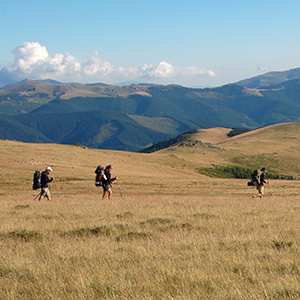 Traveling slowly makes for more meaningful and sustainable vacations.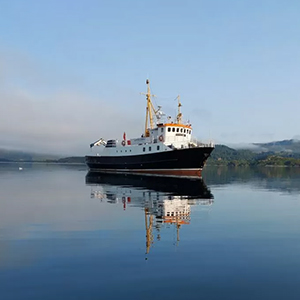 Our top 10 slow travel vacations celebrate the pleasure of taking your time.