Spain & Morocco routes & highlights
All of our trips build up to a raucous finale in Marrakech, but while some start in Madrid, others pick up the trail in Malaga. From Madrid you can make your way straight down to Andalucia, or veer northwest to the university city of Salamanca, well off the typical tourist trail and an interesting contrast to all the Islamic architecture to come. Continue into Portugal, winding through Coimbra, Sintra and Lisbon before emerging back out in Andalucia.

All tours dip into southern Spain's historic cities, before taking the hour-long ferry ride from Tarifa, at Spain's southern tip, to Tangier. En route to Marrakech, you might visit Fes, Rabat or Casablanca, for example. Throughout, you'll be making the most of great public transport networks, with public buses and coaches (particularly in Spain), as well as trains. There may be some private minibus transfers, too.
1. Chefchaouen
A three-hour bus ride from Tangier, your arrival point in Africa, Chefchaouen is Morocco's 'blue city', with its houses painted in every shade from Delft to lilac. Tucked between two Rif Mountain peaks, this is a city of artists, founded in the 15th century by Moors and Jews fleeing newly Catholic Andalucia. Shop for carpets and crafts, meet local bakers, hike up to impressive viewpoints, then relax in a hammam.
2. Fes
Fes's medieval medina is a shock to all five of the senses. It's a rowdy, busy place, filled with the smells of roasted spices and pungent tanneries, as hawkers call out to customers and prayer calls ring out from loudspeakers mounted on every minaret. Sip a mint tea in the Fes el Bali old city and take a walking tour of the beautifully restored madrassas, which recall Fes's history as an important center of Islamic learning.
3. Granada
Granada was the last Moorish stronghold in Spain, and in the narrow, whitewashed alleyways of its ancient Albaicin neighbourhood, you might think you've already arrived in Morocco. Put a day aside to visit the magnificent Alhambra palace and Generalife landscaped gardens, widely considered the finest example of Moorish architecture outside the Islamic world, then recharge with hearty tapas – free with every beer.
4. Madrid
The Spanish capital is a majestic start to an overland tour. Home to world class museums (make time to see Guernica and The Garden of Earthly Delights, at the very least), the lovely Plaza Mayor, superb restaurants and tapas bars, and nightlife that throngs the alleyways until long after the sun has risen. You may want to arrive a day or two early to make time for independent exploration.
5. Marrakech
Few destinations are as captivating as Marrakech, with the immediate blow to the senses that is its Place Jemaa El-Fna. Food hawkers, henna ladies, snake charmers, acrobats, buckets of snails, tea brewers and more jostle for space in this wedge-shaped 'square' that borders the vast bazaar – you can quite literally get lost in there for hours. Escape the hustle in Marrakech's tranquil palaces and exquisite gardens.
6. Portugal
Swing west from Madrid on your way to Morocco and cross into Portugal, to explore the whitewashed university city of Coimbra, the tile-covered capital, Lisbon, and the laid back Algarve, with its olive and almond groves. See mournful fado performances; climb up steep steps to Lisbon's crown, São Jorge Castle; take a detour to the fairytale town of Sintra; and get your fill of cod, sardines and pasteis de nata.
7. Seville
Once the gateway to the New World, via its Guadalquivir River, Seville today is a glimpse into a much older one. The city has Roman and Moorish origins, a Catholic cathedral with a mosque-like minaret, and winding streets echoing to the sound of flamenco and clinking glasses of Cruzcampo. For more Islamic insights, explore the vast Alcázar palace, where cool rooms and lush gardens bring respite from the heat.
Things to do in Spain & Morocco
Things to do in Spain & Morocco...
From Andalucia south, it's all about the Moorish architecture – created by Berbers and Arabs who migrated to Spain; by Spanish Muslims who returned to the Maghreb when 'al-Andalus' fell once again to the Christian Kings; and by Catholics in 'reconquered' Spain who turned the mosques into cathedrals with the simple addition of a chapel. Low whitewashed houses, tiled roofs, geometric tiles and labyrinthine medinas are ubiquitous, wherever you go – even in Portugal, which was ruled by the Umayyad Caliphate until the 12th century.
Not only is the food in this part of the world particularly moreish (sorry...), but you don't need to fork out for Michelin stars to try the best. Andalucia is the home of tiny plates, and tapas bar crawls around cities such as Seville and Granada will seek out the specialty dish at each little place. Salmorejo soup, tortillas made with tiny shrimp, and stewed spinach and chickpeas are all local recipes. In Morocco, you'll feast on tagines, couscous and sweet chicken pastillas, washed down with orange juice and glasses of mint tea. The highlight may come at the end of the tour, as you dine in Marrakech's crazy Jemaa El-Fna square by night, savouring the atmosphere as much as the food.
Overland tours use public trains, buses and ferries to whisk you from one city to the next. This reduces costs, as well as carbon footprints. Traveling on public transport as part of an organised tour means all tickets and timetables are sorted out for you, as well as transfers when needed, so you won't be hanging around at the station, wondering which way to your hotel. Private minibuses may be used for the odd excursion, but in general you'll be riding – pretty comfortably – alongside local people.
Things not  to do in Spain & Morocco...
Enter the mosques, unless you're Muslim. These stunning buildings are one of Morocco's big tourist draws, but the vast majority are off limits to non Muslims. A notable exception is Casablanca's Hassan II Mosque, which offers guided tours outside of prayer times. On the edge of the Atlantic, this is largest mosque in Africa, able to hold 25,000 worshippers. To get your Islamic architecture fix, visit the many restored madrassas instead, particularly in Marrakech and Fes. Resent the Moroccan shopping experience. Don't confuse a souk with a supermarket – you won't find everything with its own neat price tag. Shopping in Morocco means haggling; it's as much a part of the experience as the item itself, so just go along for the ride and enjoy it. Guides may select stores for you to shop in, from which they receive a commission. Some vacation companies are upfront about this – it's not corrupt, or unethical, it's just the way that some things are done here. You're in Morocco to discover and embrace cultural differences – this is one of them. Stay glued to maps, apps and guidebooks. These streets were made for walking – quite literally, as many of the labyrinthine alleyways of Morocco and Andalucia are simply not wide enough for cars, and even the donkey carts struggle. When you have free time to wander, don't stare down at a book or phone – freestyle it, and see where the streets take you. You might discover hole-in-the-wall cafes, spice merchants, exquisite floral patios and beautiful churches not described in any guidebook, and see local life away from the tourist hotspots. If you get lost in the lanes, just ask for directions, the old fashioned way.
Our Spain & Morocco Vacations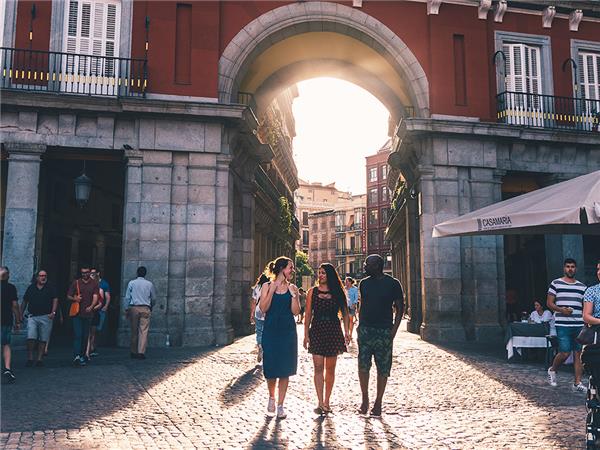 Experience first-hand Spanish, Portuguese & Moroccan lifestyles
From
US $

2809

to

US $

4300
15 days
ex flights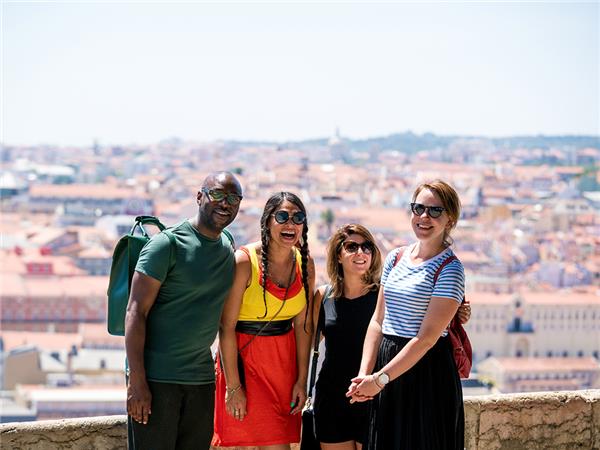 Take a vibrant tour through Spain, Portugal and Morocco
From
US $

3961

to

US $

5110
24 days
ex flights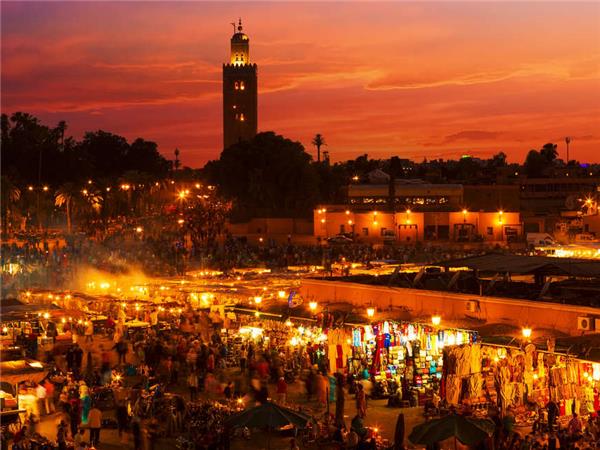 Visit villages and Moroccon cities
From
US $

2080

to

US $

2410
13 days
ex flights
If you'd like to chat about Spain & Morocco or need help finding a vacation to suit you we're very happy to help.

Spain & Morocco vacations advice
Radek Nowak, from our leading Spain to Morocco overland experts, Intrepid Travel, shares his tips for a multi country tour:
Why choose an organised tour?
"Both countries can be visited independently, and in terms of logistics, there shouldn't be any issues with organising a trip. However, the benefit of traveling with small group tour operator comes with the local knowledge of places and people. As an independent traveler you may end up at a random flamenco show that is designed with 'tourists' in mind, whereas with the right vacation company, you are guaranteed to see the one that local people go to. In Morocco you might have heard that mint tea is a popular drink and as an independent traveler you will definitely have a chance to try a cup or two, however traveling with the company that knows the right people, you may have a chance to actually visit a nomadic family and share this cup of tea with them. These moments are unforgettable and make all the difference."
Local encounters
"This is what makes this trip so special. Meeting with locals, being guided by locals and getting to know them and their culture in depth is what we do. A fado show in Portugal is performed by a local artist, for example, while in Fes you will be guided by a local expert and in fact that is the only way to visit the city, otherwise it is guaranteed you are going to get lost! In Algarve, it is all about discovering the little towns and villages to see the way local people go about their daily lives. And many more encounters, as we have established plenty of great relationships in these lands."
Traveling around
"It is fair to say that some of the drives are fairly long, but one must expect that on the tour that covers so much. The balance however is good as we spend two days in many locations. So after a transport day that may be up to five hours long, you would still have an afternoon and next day to enjoy in the destination. Two days in Coimbra, Lisbon, Algarve, Chefchaouen, Fes and Marrakech make this 15 days tour really well balanced, given the amount of ground we are covering."
Do your homework
"Traveling through a few countries on one tour requires a little bit of preparation, as each country may have different, quirky local traditions and habits. For example, tipping in Morocco is almost expected, so please don't be surprised! Also, reading the pre departure documents helps, just so you know what to expect each day. An open minded approach will also make traveling more enjoyable as things may not quite work as they do in your country – Spain may have bit more relaxed approach to timing and tend to stop for siesta around midday, when it is impossible to buy a thing! Then Portugal, with all the delicious food it has on offer, normally dines pretty late in a day so be ready for your dinner to be later than you would have it at home."
Spain & Morocco travel tips
At Responsible Travel, we think the best people to advise our travelers are often... other travelers. They always return from our tours with packing tips, weather reports, ideas about what to do, and opinions about what not to.

We have selected some of the most useful Spain and Morocco travel tips that our guests have provided over the years to help you make the very most of your vacation, and the space inside your suitcase.

Traveling through Morocco was wonderful and it would be difficult to choose just one part, but the trip to the High Atlas is definitely one of the most impressive.

"Traveling through Morocco was wonderful and it would be difficult to choose just one part, but the trip to the High Atlas is definitely one of the most impressive. Nothing to be worried about, just enjoy the tour and go along with your new friends. We used only local guides, visited local craftsmanship places and used local transportation." – Danila Marinaro

"From Salamanca in Spain to Coimbra in Portugal to the end of the experience in Marrakesh, all was just beautiful and nutritius. I keep great memories of the trip, thank you!... Avoid thinking the modern part of Fes will look alike all over the country. This idea made me take a bad decision to avoid staying longer in Marrakesh which I would very much enjoyed. Stay longer in Marrakesh and do the Sahara!! I would encourage to ask your clients going to Marrakesh to avoid taking pictures of cobras, snakes and monkeys in the market in the plaza. This is so harmful for this animals!! they suffer so much by passing from one hand to another." – Patricia Deza

We did eat in quite a few local restaurants, out of the way spots which was lovely.

"Read your guidebook in advance - sometimes it was hard keeping all the info from the guides straight and we got lots of different versions of what stuff was/ meant etc. Be prepared to carry luggage up and down steps a lot and lift it up and down from high racks on the trains. The hotels were very, very basic. No hot water in Fez a lot of the time. Food can be pretty samey - especially the breakfasts - lots and lots and lots of bread! It benefited local guides, hotels etc in Morocco. I think the train travel definitely had a minimal impact. Also guide quite often had us walk between station and hotels, sending our luggage ahead in a taxi – which minimised the number of minibuses/taxis we used (and probably had more to do with keeping the tour operator's costs down than the environment!) We did eat in quite a few local restaurants, out of the way spots which was lovely." – Miriam O

"Travel light. Take easy care clothing that dries overnight. Take some scarves to refresh your wardrobe."
– Jan Tydde
More about Spain & Morocco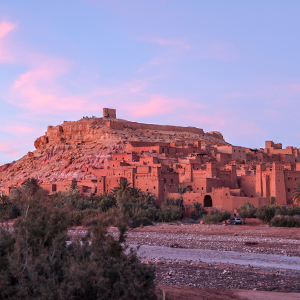 Spain and Morocco vacations reveal the long, shared history of these two countries, both at the tips of their continents, and just 14km apart.