Family vacations in Andalucia
While cities such as Granada and Seville attract many thousands of tourists every year, more rural parts of Andalucia see far fewer visitors, and so remain much quieter, more – dare we say it – authentically Andalucian. Such is the case with the Altiplano de Granada region, a high plateau surrounded by mountains that might have been purposefully carved for outdoorsy family fun. It is served by a good number of international airports including Granada, Malaga and Alicante, where you can pick up a rental car; you will need transport to get around between activities.
We think the biggest attraction of vacationing in Altiplano de Granada, going by our vacation reviews anyway, is the accommodation. You'll stay in a delightful, family run hotel in such a secluded location that evening stargazing is always a popular attraction due to minute levels of light pollution. The helpful and welcoming hosts here are firmly embedded in their local community, able to arm you with a wealth of useful information and recommendations on what to do, where to go out and eat, and able to put together a flexible itinerary for you that's balanced with free time to do your own thing as a family.

What's more, they'll introduce you to neighbours, such as the farmer nearby who opens his gates exclusively for their guests and offers a charming guided tour of his allotments and aromatic gardens, and shows children how to milk the goats, make cheese and bake bread in a traditional wood-fired oven. This, need we say, is a guaranteed highlight of any stay.

You'll have comfortable and spacious rooms with private balconies and bathrooms, but naturally you will spend much of your time with other families in the hotel. A convivial atmosphere is standard, with adults and kids alike making new friends during the activities, then over shared meals on the outside terrace, dining on often local and organic food with plenty of good wine.
Besides the aforementioned farm skills tour, there is vast potential in Altiplano de Granada to put together a flexible itinerary that is in equal measures exciting, interesting and relaxing. So when we say there's something for all the family here regardless of their generation, you can take our word for it.
Activities such as kayaking and hiking can be tailored to a degree based on the ages of participants (four to six is the minimum) but for older kids and their more adventurous parents there is canyoning, white water rafting and rock climbing to get the blood pumping. You can hike amid gorgeous scenery in Castril and Cazorla Natural Parks, take a walk across a suspended bridge over a gorge, and you'll want to bring towels and swimsuits with you everywhere because there are many chances to take a dip in pristine mountain lakes and rivers.
To add a more cultural aspect to your trip, there is the option of taking a lesson in Andalucian cuisine, or even flamenco lessons. You can explore ancient cave villages (there are some 5,000 of them in the area, often restored to become unusual vacation homes or artists' communes); take a daytrip to Granada to see the magnificent Alhambra, or just pamper yourselves rotten with a spa visit.
The fact that itineraries can be customised with such ease according to your interests and the ages of your kids makes family vacations to inland
Andalucia
exceptionally good value. Combined with the genuine warmth of the people here and the sense of seclusion, you may find this is a place you return to over and over.
Our top trip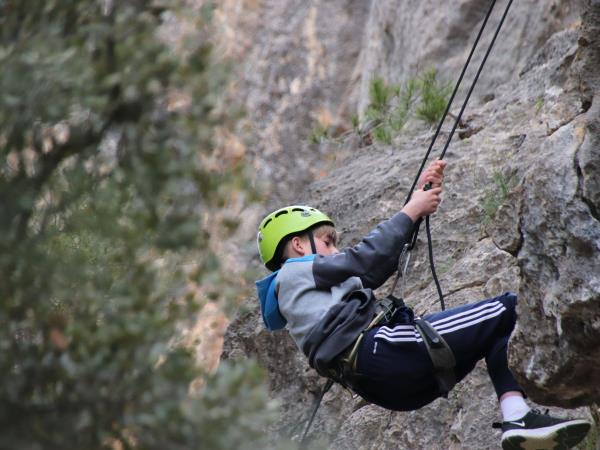 Multi-activity family vacation in the Spanish Lake District
From
€

495

to

€

793
8 days
ex flights
Tailor made:
This vacation is available April to October and can be tailor-made to suit your requirements.
If you'd like to chat about Spain family or need help finding a vacation to suit you we're very happy to help.

As this is a tailor made trip you can travel at any time of year. Obviously Andalucia gets uncomfortably hot in the summer so families with little ones especially might want to look at other dates such as Easter. If you are traveling in summer then you have an outdoor pool to cool off in every afternoon, and you can arrange an itinerary that includes plenty of water-based activities from rafting to wild swimming.

"The vacation was a great success for our whole family. Activities to keep all ages and levels of fitness happy - canyoning, paddle boarding and rafting with other families were particular highlights. We had planned to sample the local cuisine but found the food at the hotel delightful from the first day. We ate in the stunning setting, watching the sun go down and socialising every night. We combined active days with visits to local areas of interest, as well as relaxing beside a beautiful, non-tourist outdoor pool in the local small town, with all the effort of planning activities left to our wonderful hosts." – Fiona Gaultier in a review of her Altiplano de Granada activity vacation
Ilaria Grieco from our supplier El Geco Verde explains the attractions of inland Andalucia to families: "The Farm Skills visit is a vacation highlight for many people. Local farmer Jose Maria is charismatic and passionate about ecology, the medicinal qualities of plants, traditional methods and self-sufficiency. He fires up a huge wood burning oven and takes participants through the bread making process, explaining masa madre which utilises naturally occurring yeast to make a sourdough loaf. While waiting for the dough to rise or the bread to bake, Jose takes the group on a guided tour of his biological huerta (allotment) and teaches novices how to milk a goat! The milk is then transformed into fresh cheese which guest can enjoy on their freshly baked bread, accompanied by glorious organic tomatoes, olive oil, honey, figs or whatever is in season."
More Spain family articles