Family vacations in Catalonia
Barcelona, and the undeniably beautiful Costa Brava with its ample stretches of golden sand, garner most of the attention for
Catalonia
. But heading further inland and north towards the foothills of the Spanish Pyrenees you'll find wide open countryside spaces that promise idyllic family vacations, the vast and volcanic Garrotxa Natural Park (long extinct, don't worry) swathed in greenery, the pristine Lake Banyoles, largest in the region, and what feels like endless trails for hiking and mountain biking. Here you're within easy reach of famed Catalonian destinations such as Girona, Figueres and of course Barcelona itself, and the coast is a short drive away, but such is the beauty and tranquility in this rural area you may find yourselves perfectly content to stay exactly where you are.
Our Spain family Vacations
For cyclists and horse riders in particular, this boutique sports hotel couldn't be positioned anywhere better. It's set in the heart of the countryside, with outstanding panoramas over the natural park, and with over 100 different routes right on the doorstep ranging in distance and elevation. But what really sets it apart is that this accommodation is designed to be as accessible as possible for people with a variety of physical, mental or cognitive disabilities.

A small onsite team is able to adapt to different needs as required, aware for instance that autistic guests prefer a peaceful atmosphere with few disturbances; able to provide food to satisfy any dietary requirements; and arrange rooms for people with mobility issues. Well trained staff with a can-do attitude ensure that fit people with disabilities are able to do as much, if not more, than their active, able-bodied family members and other guests, whether that be kayaking, horse riding or swimming.

Due to the rural location, hiring a car will give you flexibility in terms of exploring the wider area, but there are also excellent public transport connections, airport and train station transfers available as supplements. There is so much to do in the close vicinity however that in many cases guests are more than happy to get around on foot, horseback or bike.
Itineraries in Catalonia can be tailor made according to level of fitness, level of ability, and naturally how much or how little you feel like doing on your family vacation. You might want to spend a morning doing a high ropes course, taking horse riding lessons with a friendly and professional tutor, or simply lazing around by the pool. All activities have trained coaches and guides who are used to looking after people with special needs and ensuring they get the most from the experience. That goes from horse riding, where the coaches are certified for helping disabled riders; to the sports center on nearby Lake Banyoles where Paralympian teams train in kayaking, rowing and swimming.
On easygoing days you might want to take a stroll through the pretty woods, enjoy a lakeside picnic or head a little further up into the Pyrenean foothills. And of course if you want to take a daytrip into Barcelona to see Gaudi's iconic Sagrada Familia, or Figueres to explore the Salvador Dalí Museum, then they're both within easy reach.
This is a sporty destination where you're encouraged to get out and about, but there's no pressure at all. And with Catalonia being one of the top accessible destinations in Europe, it's a fantastic choice for families that have one or more members with special needs.
"Make sure you research all there is to do so that you can take advantage of exactly what you like best. The region is absolutely full of incredible things to do, especially sporting activities. We were full to the brim AND we'd have liked to do more research even before going." – Jeneva Patterson in a review of her Catalonia family mountain biking and activity vacation
Our top Spain family Vacation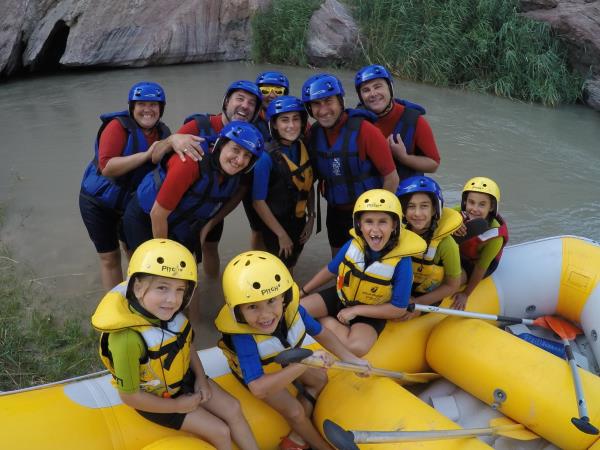 Multi-activity family vacation in the Spanish Lake District
From
€

450

to

€

700
8 days
ex flights
Tailor made:
This vacation is available April to October and can be tailor-made to suit your requirements.
If you'd like to chat about Spain family or need help finding a vacation to suit you we're very happy to help.

Fiona Smart from our supplier Mas Pelegri on exploring Catalonia by four wheels and four legs: The ideal times for Catalonia family vacations tend to be Easter or summer; February half term can still be a quite cold although the weather is normally crisp and clear. On the coast of course it's very busy from July to September, but out in the countryside that's far less of an issue, with plenty of space for everyone. The height of summer can be pretty hot, but with a pool and free swimming available in beautiful Lake Banyoles you'll have lots of opportunities to cool down.
"We are very happy to discuss with guests before they arrive as to whether they would need a car or not. It is a very personal choice and just depends on what they want out of their trip. If you just want to get away: hike, bike and horse ride and enjoy the peace and quiet of the countryside then they you don't need a car. But if you want to visit the beaches and coves of the Med, the water slide park in Roses and Salvador Dalí sites around the Alt Empordà (also possible by long bike ride), or visit the mountains (again possible by bike) then we would suggest use of a car. If families have teenage children who are not interested in hiking or biking, then the family may like to have a car to go out exploring."