Swedish Lapland travel guide
Swedish Lapland is one of vanishingly few places in Europe where you can get a sense of Mother Nature at her most raw and untamed. In winter, branches bend beneath the weight of snow in immense forests of spruce and pine; lakes freeze so solid that you can ski or snowmobile between islands, and Sami reindeer herders diligently trudge after their shaggy charges.

The Northern Lights are notoriously fickle about their public appearances, so it's a good thing there are so many other incredible experiences here to compensate.

You can sleep in a hotel built from ice; snack on smoked capercaillie and cloudberry jam at a huge Sami market that takes place just once every year; watch the Northern Lights from a treetop cabin; or cosy up around the fire in a log cabin hours from civilisation. In spring the snow melts, and rivers that drain the fells far north of the Arctic Circle become surging torrent. By summer the scenery is transformed, with long days perfect for hiking around national parks. It's easy to get away from it all here, but near-impossible to tear yourself away.
Our Swedish Lapland Vacations
Swedish Lapland is…
so remote and so close to the Arctic that it's one of the best places in the world to witness the phenomenon of aurora borealis.
Swedish Lapland isn't…
your typical family vacation. Thrilling winter activities, quirky accommodations and magical snowy landscapes all add up to a unique destination.
Our top Swedish Lapland Vacation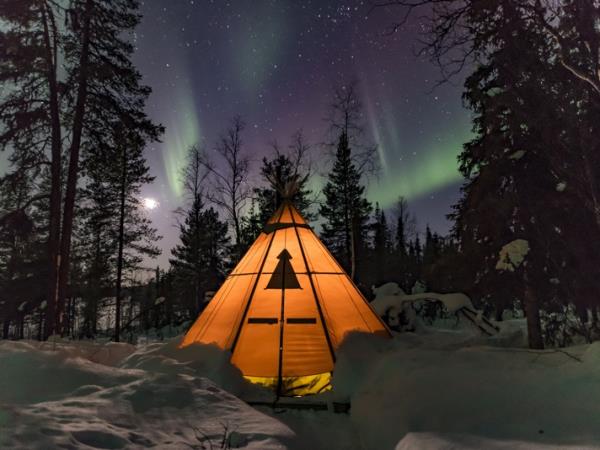 Winter glamping, wildlife, dogsledding and Northern Lights!
From
€

2800
8 days
ex flights
Small group travel:

If you'd like to chat about Swedish Lapland or need help finding a vacation to suit you we're very happy to help.

Swedish Lapland map & highlights
Lapland, otherwise known as Sápmi, is the name given to the northernmost provinces of both Sweden and Finland. Some of the largest, oldest and wildest national parks in northern Europe are located here, in which nomadic Sami people tend their reindeer herds. The winter climate this close to the Arctic is formidable, and remote areas can sometimes only be reached by snowmobile or sleds drawn by dogs, but the landscape is utterly majestic. Vacations in Swedish Lapland usually begin either in Kiruna, which is home to the famous Ice Hotel, or Luleå, gateway to the picturesque Bay of Bothnia. Both towns have airports with regular connecting flights to Stockholm.
1. Bay of Bothnia
There are over 4,000 islands in the Bay of Bothnia, and many are uninhabited, while some have seasonal fishing and seal hunting settlements. Larger islands can often be reached by ice road in the winter. The bay is a desirable coastal destination among Swedes, with many species of birdlife and exciting activities, but it's not so well known abroad. Perhaps we shouldn't even be telling you...
2. Brändöskär
The old fishing harbour of windswept Brändöskär is among the most attractive of the Luleå archipelago, and the island itself has a raw beauty to it, with trees bent backwards by the elements. Linked to neighbouring Uddskär by an isthmus, Brändöskär is reached by boat during summer, but you can snowmobile out in winter.
3. Gammelstad Church Town
The harsh climate can make it difficult for worshippers in northern Scandinavia to get to church, so blocks of houses were built to accommodate the faithful on weekends. Gammelstad, near Luleå, is a well preserved example of these communities, and the 400 wooden houses surrounding its 15th century church are a UNESCO Site. It's now an open air museum, but some houses are still used for big religious celebrations.
4. Jokkmokk
With several wilderness areas on its doorstep, Jokkmokk is a good location for observing the Northern Lights, dog sledding, snowmobiling and exploring Sarek National Park. The town is also a hub of Arctic foodie culture, and a good place to pick up unique handicrafts, especially on the first Thursday in February when it hosts the 400-year-old Jokkmokk Market, a hugely popular meet up for Sami people.
5. Kiruna
The northernmost town in Sweden, Kiruna is dark for half of the year yet it is still an excellent base for hiking, seeing the Northern Lights and other winter activities. The big attraction, however, is in the nearby village of Jukkasjärvi where the Ice Hotel, one of the world's most unusual properties, is built afresh every winter in an astonishing feat of design and engineering.
6. Laponia
A raw landscape composed of four national parks: Sarek, Padjelanta, Muddus and Stora Sjöfallet, plus two nature reserves, Laponia is a UNESCO World Heritage Site that's made for exploring by hiking in summer, and snow shoeing in winter. There are several Sami communities here that herd reindeer. Sami tradition says it is only the wind that owns a reindeer herd, and only nature can decide how big it grows.
More about Swedish Lapland
The days are short and the temperature well below freezing, but winter is definitely the best time to go to Swedish Lapland. The snowy scenery is like something out of a fairytale and if you can escape built up areas, you may catch a mesmerising, nighttime light show.