Tunisia is a leading olive oil producer and the largest exporter of organic olive oil in the world. The balmy climate of dry, warm summers and crisp, cool winters creates the ideal setting for olive trees to thrive, and they do so alongside dates, tomatoes and grapes that are harvested for the country's underrated wines.

With almost 1,300km of Mediterranean coastline, it's no surprise that the country shares dietary sensibilities with Southern Italy, Spain and France – Tunisian markets are laden with fresh fruit and vegetables, aromatic herbs and incredible fish and shellfish, from red mullet to giant cuttlefish. The country's cuisine has also been shaped by invasions, from the Romans to the Turks to the French. As well as North African staples like couscous and spicy stews, Tunisia's eateries serve up baguettes and croissants, sticky sweets of Ottoman origin and squares of fresh pasta called nwasser.

A typical 10-day culinary tour combines foodie highlights with the best of Tunisia's nature and history, taking in big city medinas, ancient Phoenician and Roman ruins and the empty landscapes of the Sahara. You'll support traditional enterprises and family-run businesses, all the while learning more about the fusion of cultures and ingredients that has created Tunisia's diverse cuisine.

You might head to the hills to get the lowdown on olive oil and date production, visit vineyards for a glimpse of Tunisia's centuries-old winemaking traditions, spruce up for fine dining in Tunis or enjoy traditional cheese laced with mountain herbs at a homestay in the mountains. There'll also be opportunities to take Tunisian cuisine into your own hands, learning tricks and tips from both accomplished chefs and home cooks.
Our top Tunisia Vacation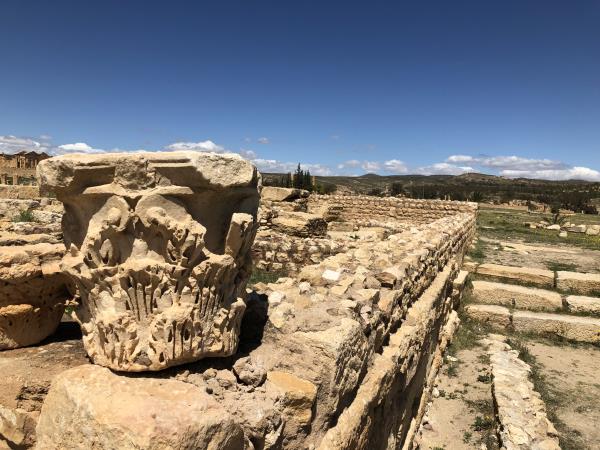 An immersive culinary and cultural experience in Tunisia
From
US $

4780
12 days
ex flights
Tailor made:
This trip can be tailor made throughout the year to suit your requirements
If you'd like to chat about Tunisia or need help finding a vacation to suit you we're very happy to help.

Couscous is the main staple in Tunisia. Recipes number in the hundreds and you'll find it combined with every type of meat, fish and vegetable out there. Almost all meals in Tunisia are accompanied by bread, with khobz tabouna, a circular flat bread baked in a terracotta oven, the local loaf of choice. Some of the best food in the country is found at roadside stalls and in small family-run cafés tucked deep in the medinas.
Brik a l'oeuf
Brik a l'oeuf is a classic found everywhere in Tunisia, from street food stalls in the medina to the finest restaurants. Simply put, it's a thin sheet of filo-like pastry stuffed with an egg yolk, folded into a triangle and then deep-fried, with the optional addition of herbs, cheese, potato or tuna. It's typically eaten with your hands, so bite with care to avoid runny egg dripping down your fingers!
Gris de Tunisie
Tunisia has a 2,000-year history of winemaking and these days production includes excellent sparkling whites, dry Muscats and robust reds. The country's most famous wine is Gris de Tunisie, a dusky, fruity rosé that's best consumed on a hot day by the sea, perhaps with a platter of local seafood for company.
Harissa
Harissa, a thick spicy paste made from chillies, peppers, garlic, caraway seeds and salt, is the Tunisian condiment of choice. You'll find it used as a marinade, stirred into soups and stews or served alongside grilled meats and fish.
Makroudh
Tunisian sweets are sticky and soft, with a seriously sugary punch. Among the best is makroudh, a diamond-shaped biscuit filled with date paste and fried, then covered in sugar syrup.
Mechouia salad
You might be sick of the sight of mechouia salad by the time your vacation is over. This Tunisian favourite is served as a first course to practically every meal, so it's lucky that it's delicious. It's made from chargrilled green peppers, tomatoes and sometimes aubergines, finely chopped and mixed with garlic, coriander, lemon juice and plenty of olive oil.
Merguez
Traditional in North Africa and also found throughout France, merguez is a long, thin sausage with a serious kick. Made from lamb, beef or a mix of both, it includes harissa as well as cumin, sumac, fennel and garlic. Eat it straight off the grill or in a sandwich, or as part of an ojja stew.
Mint tea
Drinking sweet tea made from fresh mint leaves is a Maghrebi tradition that every region does a little differently. In Tunisia it's served after a meal, either hot or over ice. The Tunisian twist? The presence of crunchy pine nuts floating on top.
Ojja
A national favourite for breakfast or a quick lunch, ojja (also known as shakshuka) is a hearty stew of eggs poached in a sauce of tomatoes, onions, garlic and green peppers, along with optional ingredients such as merguez, potatoes or courgettes. This simple dish is eaten with bread: break off chunks to dip into the sauce.
Tunisians love to eat, but not as much as they love to spoil their guests. Visitors are treated to a mezze-style spread of dishes, often served on ceramic platters painted in bright geometric patterns or traditional green and yellow. There's often an abundance of food – expect to be offered extra helpings; initial refusals will be dismissed as polite gestures and not taken seriously.

Remember that you should only handle your food with your right hand, especially if eating from a communal platter of couscous or the like. The left hand is thought of as unclean as it's used for going to the loo.