Wildlife vacations in USA travel guide
---
2 MINUTE SUMMARY
The fact that every USA state has a national animal says it all. Just to put it into perspective, in the UK, ours is a lion – a case of symbolism over substance, it would seem. In the USA, they are more in touch with real wildlife and, with their extensive national park system, prioritizing its conservation. In California the state mammal is the endangered grey whale. In Colorado, the state animal is the Rocky Mountain bighorn sheep and Nevada the Desert bighorn sheep. Alaska has the moose, Wyoming the bison and Montana the grizzly bear.
The national animal is, of course, the bald eagle, which soars around large expanses of water such as Katmai National Park, Alaska, the Hudson River in New York State, mangrove swamps of Florida and the Grand Canyon's Colorado River. Which is more than can be said for lions in the UK.
Read more in our Wildlife vacations in the USA travel guide.
Go if…
---
...you are organised. Bear watching vacations, for example, book up well in advance.
...you want to get what USA's national parks system is all about: protecting wildlife.
…wolves, whales and wilderness are your thing.
…you crave a USA that is free of theme parks and highways. There is so much more out there.
Don't go if…
---
...you want to do a whistlestop wildlife tour. Good things come to those who wait.
...don't do extreme elements. USA's wild places get super hot and super cold.
…. you think national parks are like safari parks. They aren't. There are no fences, they are all about allowing wild animals to roam free. And don't even think about touching any of them.
…you want to drive everywhere. Hiking is the way to hone in on habitats.
Wildlife in America
---
MAP & HIGHLIGHTS
The USA's prolific and pioneering national park system is inextricably linked with wildlife vacations, as the parks were fundamentally created not for our enjoyment, but to protect wildlife and their habitats. There are thousands of hiking trails, but they are carefully managed to allow habitats to grow and wildlife to thrive. Watch elk roam free in Rocky Mountain National Park, bison beauties or elusive wolves in Yellowstone, grizzlies in Alaska's Denali National Park and golden eagles soaring over the Grand Canyon. Wildlife isn't exclusive to national parks, however. You just get the most undisturbed viewing there. Head to Hawaii for extraordinary whale watching or Fort Myers in Florida for loggerhead turtles and manatees. And, just an hour from Manhattan, dolphins off Long Island and bears in the Catskills Mountains.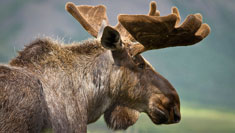 Alaska
Alaska is way up there, and way out in terms of wildlife watching too. A land of extraordinary national parks including USA's largest, Wrangell St-Elias, take in tumultuous taiga and tundra with resident wildlife wonders such as orca and humpback whales, grizzly bears and wolves. Katmai NP is a top spot for viewing the Kodiak bear preying on migratory salmon heading upstream – if they can make it past the clambering claws.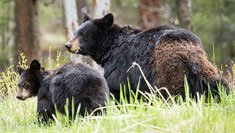 Bears
Bears are surprisingly widespread across the USA, with Yellowstone NP the top spot for viewing grizzly and brown bears out on fishing expeditions. The national parks of Alaska, with their tumultuous taiga and tundra, shelter Kodiak bears preying on migratory salmon – particularly in Katmai NP. Head to Yosemite, the Appalachians or the Rocky mountains for black bears to be wary and in awe of.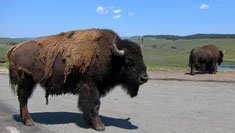 Bison
Once thundering across the plains in their millions, North America's largest land animal was reduced to just a few hundred individuals in the 1800s by hunters. Bison have had an impressive comeback though – and while many now live on farms, herds free roam in Yellowstone in large numbers. Massive males can weigh up to 900kg, with their humps up to six feet tall. Wobbly babies can be seen in April-mid June.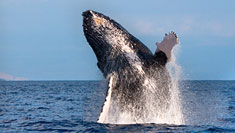 Hawaii
Humpback whales aren't stupid: they choose these tropical islands as their mating and birthing grounds. They perform their acrobatics in the wild between late Dec-May, sometimes directly off the Maui coastline. Other cetaceans to celebrate include dolphins, false killer whales and pilot whales, with boat trips for closer sightings. Alaska is another top spot for cetacean seekers – as is California's Monterey from April-Dec.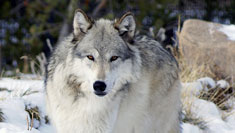 Wolves
Head to Yellowstone National Park's Lamar Valley in winter for a magical wolf tracking experience, following their distinctive prints through the snow. Montana's Glacier National Park protects a section of the Rocky Mountains in Montana where wolves roam free, and Alaska's enormous Wrangell-St Elias National Park, the largest national park in the USA – also has resident packs.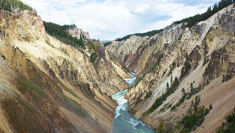 Yellowstone National Park
The mother of them all as Yellowstone was America's first national park. And also where Mother Nature nurtures a plethora of wildlife. Although it is famous worldwide, it is not as packed with visitors as you might think, as it's harder to access. So, take in the bison masterfully marauding the plains, grizzlies or brown bears fishing by the creeks, or go wolf tracking in winter in the Lamar Valley.