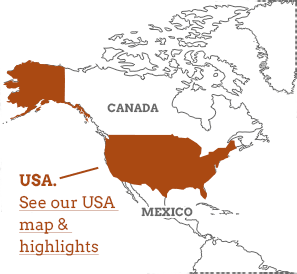 We all feel that we know the USA already because of icons that have pervaded the psyche during our lifetimes. When you take your first trip to New York you just instantly feel as if you are on a movie set. Hit the deserts and ranchlands of the southwest, and it's like you've entered a time machine, unable to resist the urge to whistle the theme tune from The Good, the Bad and the Ugly. But the USA has so much more - The Gorgeous, the Beautiful and the Unforgettably Uplifting. Such as the Rocky Mountains, Alaska and the Deep South respectively. And that's just for starters, because the USA is just so big.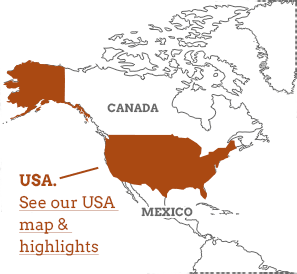 AFTER SEEING ALASKA'S GLACIERS, THE DESERT CANYONS OR THE RESPLENDENT GEYSERS OF YELLOWSTONE, YOU WILL NEVER TEASE AN AMERICAN ABOUT NOT OWNING A PASSPORT. THEY HAVE MORE NATURAL WONDERS THAN MOST OF EUROPE PUT TOGETHER.

Americans can sometimes seem obsessed with telling you that their state has the longest river, tallest building or highest peak. They just can't stop themselves from making everything a competition. But they don't need to. Every state has at least one star. We know that from their flag, right? Our USA travel guide shows off the lesser-known stars that shine just as brightly as the icons.
The USA is...
cliché one minute, cataclysmically beautiful the next.
The USA isn't...
Disneyworld. It's a wild world, a natural fantasia.
What we rate & what we don't
Deep South blues
Feel the blood of the Deep South's cultural heart pumping on every street corner, bar and shoreline of the Mississippi River as you travel through iconic places like Nashville, Memphis and New Orleans. Combine this with the civil rights history of Memphis and Birmingham, every stop in this region is a cultural highpoint. Throw in gumbo or jambalaya, local whisky, and you have one big party.
Indigenous culture
We associate tribal culture more with Africa or Asia, but indigenous tribes of the USA play an important role in tourism. The most politically correct term for indigenous Indian people is Native American, American Indian or the full tribal name, such as Ute Indian. In addition, there are Alaska Natives and Native Hawaiians many of whom are keen to engage in tourism and have their stories told.
The Big Green Apple
More of a Big Secret than a Big Apple. Stretching all the way to Canada, New York State has a capital called Albany, is home to Niagara Falls, touches two Great Lakes and the Atlantic Ocean, has ski slopes an hour from the city and its Adirondack Mountains region is bigger than five of the biggest national parks combined. Manhattan is cool, but Brooklyn is the biz. And the Statue of Liberty is fab, but kayaking there feels like having freedom of the city.
Food
America introduced us to fast food, but there is now a huge backlash against it in the US, with slow food, or 'Farm to Fork', more prevalent in New York, for example, than London, Paris or Tokyo. People won't look at you strangely if you ask what's local on the menu and many restaurants are even learning to reduce the famously American wasteful portions too.
Alaska
A land of extraordinary national parks and indigenous culture. Wrangell St-Elias National Park is the USA's largest national park, a giant of glacial gorgeousness the size of Switzerland alone. Head here for hiking on glaciers, ice climbing, kayaking through frozen fjords, and taking in the tumultuous taiga and sub-arctic tundra and its resident wildlife wonders such as orca and humpback whales, grizzly bears and wolves.
Panoply of parks
There are 60 extraordinary national parks in the USA, with superbly managed trail systems, informative websites, and all-knowing rangers that resemble all your favourite geography teachers ever. In addition, there are national monuments, rivers, seashores and so much more, all coming under the national park umbrella
Wildlife watching
People forget how many vast, wild places there are in the USA. Escape the flashy theme parks and mega-mall shopping, get off the tourist trails and onto the back trails to see the likes of elk roaming free in the Rocky Mountains, bison in Yellowstone or whales basking in Alaska. The national parks are the best places for spotting wildlife in their natural habitats.
You're welcome
And they really mean it. America is the hostess with the mostess. She does hospitality. It's in her genes. Once you get past the nightmare that is US immigration, they smile, they adore Europeans, they bend over backwards to help you, feed and water you and, and if you have a query, they will do everything they can to find the answer.
Captive killer whales
Theme parks are a big attraction for many tourists to the USA, with Mickey Mouse being the main reason for many first time visitors. Unfortunately, Captive orcas, dolphins and sea lions are often part of this package, where the exploitation of these marine mammals is, in our opinion, totally unethical. It is also the growing opinion of many travel companies now removing trips there from their itineraries as awareness grows.
Orlando & Miami
Why go for the theme park tourism of Florida, which is not only superficial but super humid and super crowded, when you can explore the nearby national parks. So near and yet they feel like separate worlds. The Everglades Wetlands are home to crocodiles and manatees, while Biscayne, with emerald islands and coral reefs, is shimmeringly beautiful. You will save a fortune and see a whole new side to the Sunshine State.
Las Vegas
There are times when you just have to jump on that high horse and shout "enough already!". Gambling, over-usage of energy, prostitution (illegal in Las Vegas itself, but plenty of legal brothels in the environs), traffic congestion, the arid climate yet water costs $5 a bottle, tacky consumerism, drunken antisocial behavior. Know when to fold 'em.
Los Angeles
The city everyone thinks they have to visit once, but much of it is actually just one big smelly traffic jam and the rest is a somewhat surreal trip into the excesses of Hollywood and hedonism. Head to San Francisco, Seattle or Portland which all offer just as much. And more, if overdosing on wild places, the ocean, mountains and nature are more of the sort of hit you need.
Eating & drinking in the USA
Farm to fork, or slow food, is everywhere. They even coined the phrase locavore, meaning people who love local food.

Cajun and Creole just add to the tasty cultural mix of the Deep South.

Carnivores will go bonkers for bison and elk in the ranchland states.

Alaskan seafood is the best. And if you are game, try caribou, moose or elk.


Microbreweries and micro distilleries are unstoppable right now in the US. As are vineyards. Yet, it is still illegal to have an alcoholic drink with a picnic in the park in most states. Go figure.

Our top USA Vacation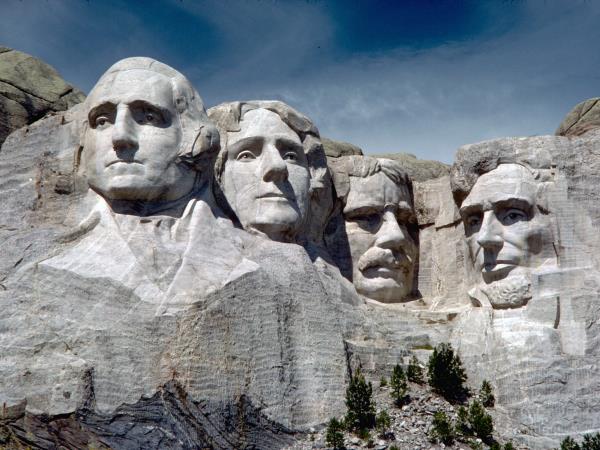 Explore the United States fantastic National Parks.
From
£

6500
24 days
inc UK flights
Tailor made:
This trip can be tailor made throughout the year to suit your requirements
If you'd like to chat about USA or need help finding a vacation to suit you we're very happy to help.

Screen & scribe
There are so many books and films on the USA, but here are a few gems to seek out before you go:

Wild by Cheryl Strayed (2012), a hiking memoir set on the Pacific Crest Trail which was turned into a film in 2015

The Longest Road: Overland in Search of America by Philip Caputo

The Wilderness World of John Muir by John Muir (2001)

American Indians and National Parks by Robert H. Keller and Michael F. Turek (1999)

True Tales of American Life by Paul Auster (2002)

The National Parks: America's Best Idea, a six-part documentary series from acclaimed filmmakers Ken Burns and Dayton Duncan, available on iTunes

12 years a slave: Oscar winning film, screenplay John Ridley, Director Steve McQueen


Gifts & shopping
Cowboy hat. Can't have a vacation in the Wild West without one. A few suppliers make them bespoke but this is rare. Saddler shops are your best bet.

Seek out American Indian reservations to buy their crafts in situ not at 'the mall'.

There are a lot of farm shops in the USA with nonperishable goods such as woollens or handmade toiletries.

The USA does great gear for outdoor lovers. Lots of small towns have boutique stores for hikers, bikers and kayakers.

The locally crafted indigenous Ulu knife from Alaska is a great gift.


New York's biggest industry? Not money markets, not tourism, but agriculture. And mostly from smallholdings. It has to be the hottest farm to fork state out there.

How much does it cost?
Annual pass to all national parks for two adults: £60

Coast to coast Amtrak train NY – San Francisco: From £135

Standard tip in restaurants: 15-20% of the pre-tax bill
Bottle of Coloradan wine from winery: £10-15
Remember restaurants and retailers always add a sales tax to the total bill.
A brief history of the USA
Americans always have a bit of a chip on their shoulder when it comes to history, especially if you are visiting from Europe. 'Oh, we have nothing very old or interesting here compared with you guys', many of them say. And given that the first permanent Spanish settlers arrived in 1565 in St Augustine, present day Florida, this is true in many ways. The old buildings look almost mid twentieth century modern to many Europeans. Americans should knock off that chip, however, because the history and journey of its pre and post-colonial existence is totally enlightening, and indeed often frightening, so it is really worth reading up in more detail before you spend any serious time there.
Read more