Every American state has its own animals – there are official state amphibians, birds, mammals, insect, reptiles... North Carolina has a state carnivorous plant. Wisconsin has a state bacterium. There's maybe no better indication of the immense pride that many Americans take in their country's diverse wildlife, and there sure is a lot of it to go around.
Between urban metropolises, the USA is blessed with vast expanses of natural splendour, from rocky desert landscapes to dense mangrove swamp to mountain chains and frozen wilderness far in the north. Not two hours from New York City you can see dolphins off Long Island, or bears in the Catskills, while urban terrain is also ideal habitat for many creatures – witness the thousands of Mexican free-tailed bats that swarm out from beneath the Congress Avenue Bridge in Austin every summer evening that draw almost as many spectators.
The best introduction to the
wildlife of America
, and perhaps as close as you're going to get to guaranteed sightings, is through the country's pioneering National Park system – almost 60 natural oases, some of them absolutely vast and almost untouched such as Wrangell-St. Elias in Alaska. America's national parks were created to protect wildlife and their habitats and for the most part they do a superb job of it. Who needs African safaris when you can track Alaska's very own Big Five in Denali National Park: caribou, Dall sheep, moose, grizzly bears and wolves? Or admire the incredible animals of parks such as Yosemite and Yellowstone, to see both black and grizzly bears, wolf packs, bison and elk? This is where the wild things are.
Wildlife watching in America's national parks
American national parks are there to be explored – often easily accessible, with a wide range of
small group tours and tailormade tours
available that either focus on one park, or can take you around several with a few days spent in each. Together they offer thousands of hiking trails, mountain biking routes, canoe or kayaking options that bring you nose to nose with the parks' permanent residents. You can watch elk roaming free in the Rocky Mountain National Park, wolf packs on the hunt through the snow in Yellowstone National Park, grizzly and black bears fishing for salmon, or whales breaching the waves off the coast in Alaska's wilderness parks, and one American icon, the bald eagle, soaring high above another, in the Grand Canyon.
Some vacations in American national parks put the sole focus on wildlife watching, such as
wolf tracking in Yellowstone
, while others are designed to let you explore on your own terms in places where encounters with the wildlife whilst camping or hiking are highly likely. It might be a dozing bison blocking the trail, a chipmunk in a tree, a seal swimming alongside your kayak or a mother bear with her cubs by the side of the road as you drive
slowly
past.
Why the emphasis on slowly? Because not all American wildlife is cute and cuddly, and not all visitors to the parks are as careful as they need to be either, unfortunately. The bottom line is that these are wild animals, and that fact needs to be respected. In parks where large carnivores such as bears and wolves roam at liberty you need to stick to marked hiking trails and prepare adequately, such as by packing a can of bear spray. If you're camping, your food needs to be always securely stored well away from tents to ensure hungry bears don't come a calling, endangering both you and themselves. Likewise, it's only logical to give powerful mammals like bison, moose and elk their distance, and of course vehicles need to stick within the limits on park roads because you never know what might come sprinting out of the forest.

Happily, America's wildlife is not confined to the parks. You can spot whales off Hawaiian islands and the rugged Pacific Coast; black bears, moose and even mountain lions on the famous Appalachian Trail; and beaver, white-tailed deer and moose in New England.

Wildlife spotting in America is a thrill for families, too, as sightings are combined with a host of other fun activities from walking to geyser watching, ranger-led talks to kayaking trips. National park vacations do tend to be best suited to older kids, given the amount of travel involved, but no one knows what you children are capable of better than you.
Our top USA Vacation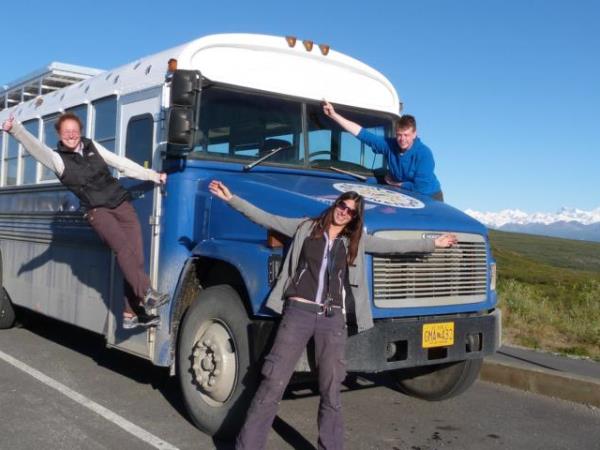 Active small group adventures in a retrofitted school bus
From
US $

4880

to

US $

4980
20 days
ex flights
Small group travel:
2023: 24 Jun, 15 Jul, 5 Aug
2024: 8 Jun, 29 Jun, 20 Jul, 10 Aug
If you'd like to chat about USA or need help finding a vacation to suit you we're very happy to help.

Best time for wildlife watching vacations in America
Wolves
The best time of year for wolf watching in
Yellowstone National Park
is in the winter, when they can be more clearly seen against the snow and vegetation is thinner. Expert guides lead tracking expeditions in areas that packs are known to frequent, such as the Lamar Valley, known as 'America's Serengeti'.
Bears
Spring and autumn are the months when bears are most active in American national parks such as Denali in Alaska, Yellowstone and Yosemite. In autumn they are on the hunt as they prepare to hibernate, while in spring they have just woken up hungry. However if you want to see
bears hunting for spawning salmon
in the rivers of Alaska, the late summer through to autumn is best, which happily coincides with the main visitor season.
Whales
You can see whales off the coast all over America at any time of year. Hawaii is great in January and February, while June is good for Alaska, and June through October is the
best time to see the mighty blue whale
off California.
"(Our most memorable moment) was sitting in a small boat, in a remote lake, about 25 or 30 metres away from where grizzly bears were catching and eating salmon. We spent a brilliant 4 hours there, having flown in using a small float plane. Completely unforgettable! Kayaking among the icebergs in Prince William Sound, among the sea otters, was pretty special too! Best vacation that our family of four has ever had. Absolutely recommended." – Howard Robinson took a camping vacation in Alaska