Vietnam cycling vacations routes
---
VIETNAM A VELO
One question on many cycling enthusiasts' lips is 'how flat is it?' In fact, a lot of the cycling in Vietnam is relatively flat, except for some good climbs (always optional) in the Central Highlands, such as Bidoup-Nui Ba or Hai Van Passes. There is plenty of coastal cycling, using the resort town of Nha Trang as a base to head out to smaller beaches and islands. Cycling through the Mekong Delta takes you into a wonderful watery world of floating homes, markets and rice paddies. And then there are always the great cities of Ho Chi Minh, Hanoi or Hoi An to explore, which may be flat in one respect, but in another, are totally effervescent.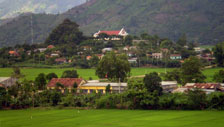 Dalat & Central Highlands
Cycle up Bidoup-Nui Ba Pass through the Central Highlands which, settled by the French to escape tropical heat, still have a European alpine feel with pine forested hills, waterfalls and lakes. Then you turn a corner into a world of coffee and tea plantations. Dalat town was called Le Petit Paris by the French. Less colonial is the emperor's palace and Thien Vien Truc Lam Monastery, accessible by cable car.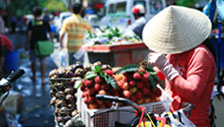 Ho Chi Minh City
Cycle tours often start or end in Ho Chi Minh (formerly Saigon) and, either way, there is nothing like negotiating this city on a bike. In many places, it's still very respectful of traditional bike transport, with whole lanes and roads dedicated to two wheels. Negotiate your way around the likes of Ben Thanh Market, Taoist temples, eat amazing street food, see artisan workshops, and take in its War Remnants Museum.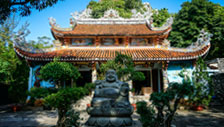 Hoi An
Hoi An is a magnanimous city and a lot less manic than others. It still has such a deeply traditional feel with its car-free streets in the old town, colonial architecture (albeit crumbling) and artists' and artisans' studios. If you want to escape the city, cycle out to Cua Dai or China beaches or into the Marble Mountains, with fascinating caves used as Buddhist sanctuaries. And less serenely, by the Vietcong.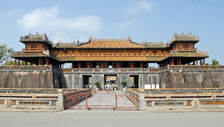 Hue
This is the point where people get on or off the famous Reunification Express which allows cycling adventurers to experience both north and south Vietnam. It is a fascinating city, the former capital of the Nguyen Dynasty where you can visit emperors' tombs, an ancient citadel with Mandarins' palaces, as well as the remains of the Forbidden Purple City – emperors, eunuchs and concubines need only apply.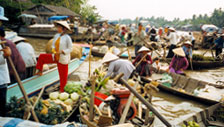 Mekong Delta
Cycling through this spectacular and somewhat uniquely Vietnamese land and waterscape is a highlight for many. You can take in the water dwelling cultures, pass by the floating markets of Mai Tho and Cai Rang, eat or get a massage in Ben Tre market, or pedal around the paddies while sampling produce of the nearby rice, fruit and honey harvesters.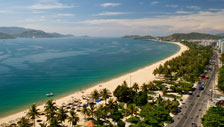 Nha Trang
Often the chill out point on cycling vacations, as this is soft sandy beach territory with coral reefs, islands, restorative hot springs and mud baths and sublime seafood. The main beach is not great nowadays, but there are many more stretching out along the coast, and this is the jump off spot for trips out to islands such as Hon Ong or Whale Island for a bit of saddle free bliss on the beach.


Vietnam cycling vacations travel advice
---
TIPS FROM OUR FRIENDS IN VIETNAM


Brett Seychell from our leading Vietnam cycling vacation supplier, Social Cycles, shares some advice.
Discovering Vietnamese culture
---
"Get off the beaten track. The Mekong Delta is a labyrinth of canals and rivers, twisting and turning through remote villages to enjoy on your bike. It's an incredible variety of terrain and a photogenic paradise. Ride the journey, not the destination. Want to dive deeper than museums and monuments? Engage with local experts and discuss local issues in the world of social impact within Vietnam. Scratching the surface has never been so rewarding. Eat everything. Food is what makes Vietnam so incredible and the best food is from the street. Forget fancy restaurants trying their take on what the street delivers. Go to the local traditional experts, get down low on those tiny red chairs and indulge!"
Advice on when to go
---
"Different times of year bring with them different experiences. The rainy season brings beautiful green landscapes, the dry season brings slightly cooler weather, but more tourists. It's always a good time to go, just adjust your expectations accordingly."

Danh Nguyen, tour leader with our leading Vietnam cycling vacations supplier, Exodus, shares some advice and tips.
Shopping tips
---
"In Vietnam any problem can be solved by being happy and smiling. So on the first day I always teach the group oi choi oi, do you know? Oi choi oi is like "Oh my God!" Whenever they go to buy something, I tell my group – you don't ask for a discount but you just say oi choi oi – "oh my God, too expensive!" And you look happy, smiling and they can give you a good price!"
Discovering Vietnamese culture
---
"A very important thing to show the group is how to cross the traffic in Vietnam. Walk slowly, never run, never stop. On the first day a lot of the group members are really scared and they stay in their hotel until they meet the tour leader. They meet us and we give them the way you cross the traffic. And after that they can do it. So I think that is the most important thing to know as they have a culture shock with the traffic. Six million scooters in Ho Chi Minh City!"
Fitness Tip
---

Andy Ross, Cycling Manager at our supplier, Exodus, shares some fitness advice:
"Do as much training as possible beforehand as the fitter you are the more you can relax during the trip and properly appreciate the experience and where you are cycling. That said, always avoid the temptation to be competitive on the trip, someone will always be the slowest rider and it really doesn't matter if that is you. A good cycling vacation will have always been designed to allow enough time for most people to complete the rides each day."
Vietnam cycling vacations travel advice
---
TIPS FROM OUR TRAVELLERS
At Responsible Travel, we think the best people to advise our travelers are often... other travelers. They always return from our tours with packing tips, weather reports, ideas about what to do - and opinions about what not to.

We have selected some of the most useful Vietnam cycling vacation travel tips that our guests have provided over the years to help you make the very most of your vacation – and the space inside your panniers.
"Take more money than recommend, especially if you want to take presents home or drink wine with you evening meal. Some people couldn't get money out of the ATMs so tell your bank that you are going to Vietnam. You don't really need US dollars, just take Vietnamese money out. Don't take any energy bars, the support truck carries fresh fruit, nuts and snacks. You need to be fairly fit for this trip so if you haven't cycled for a long time, get out on your bike for at least 6 rides of about 20-30km to strengthen your legs. Definitely take a padded saddle cover, a few people who didn't suffered from saddle chafing… The most exciting part? Climbing the Hai Van pass. We all made it to the top and were supported throughout by our guide Danh who gave us cold drinks and cheered us on." – Cath Lysley

"Take a gel seat, water bottle a two pairs of cycle shorts." – Ian Maceachern

"Don't be put off if you are traveling on your own, you will be sharing this wonderful adventure with a group of great, like-minded people… This was, without doubt, the most memorable and wonderful small group vacation I have been on. I would highly recommend it to anyone interested in visiting and learning more about this amazing part of the world, who enjoys a physical challenge and/or want their travel to have a direct, positive impact on local communities... What makes this tour different to other cycling vacations is the opportunity to visit and engage with NGOs working with some of the most disadvantaged communities. Their vision and commitment to making a lasting difference is inspiring and we were able to directly support their work." – Ali Kenny