Wildlife sanctuary volunteering
in Namibia
One of the most popular volunteering options in Namibia takes place in an animal sanctuary which rescues and rehabilitates cheetahs, lions, baboons and other indigenous wildlife. Many animals are just passing through before being relocated to a safer area away from farmland, after being viewed as a threat to livestock, while orphaned baboons have come in after their parents were shot as pests. Volunteers support the fulltime team by preparing food and feeding the animals, cleaning enclosures, undertaking research and doing general maintenance.

Although working in a wildlife sanctuary is all about giving hands-on help to the animals living there, you will also be supporting local communities that often struggle to live alongside the animals. The main focus of the work is addressing human-animal conflict, and the sanctuary often steps in to ease tension by relocating animals such as cheetah that farmers don't want living near their livestock. Over the years the sanctuary has released hundreds of animals back into the wild, all with the help of volunteers.
Despite working towards the rehabilitation of all animals that come in, there are some permanent residents of the sanctuary who, because they've been too abused, or have been raised by humans from a very young age, aren't equipped for life in the wild. Your work supports these residents, too, and interacting with these habituated animals can be hugely rewarding. Taking young baboons on enrichments walks in the bush is a total delight and not something you'd get to do on a typical trip to Namibia.

In addition to doing lots of invaluable, hands-on conservation work, volunteering at a wildlife sanctuary in Namibia is a brilliant opportunity to get to know the wild landscapes of this beautiful country. Open savannah, grassy plains and rocky mountains are the backdrop to your daily activities, and you can easily tag on trips to explore Etosha National Park, the dunes at Sossusvlei and the coast around Swakopmund. You'll meet a lot of motivated people from all over the world and make new friends, and see a side of Namibia that regular tours miss – all while making a genuine contribution.
Our Namibia volunteering Vacations
What do these vacations entail?
Working day
Volunteering at a wildlife sanctuary isn't a lazy option, so come ready to work. You can expect to get up at around 7am each day, start work at 8am and break off for lunch at 1pm. Work starts again at 2.30pm and continues until 4pm or 5pm when you're free to relax. You typically have Saturday and Sunday afternoons off, and there may be a traditional braai one evening, when you can enjoy a great meal and hang out with sanctuary staff and fellow volunteers.
Daily tasks
Feeding the animals is a large part of every day's work. The sanctuary is home to lots of species, large and small, and you'll help care for them all, prepping meals and making sure they are fed and have clean, comfortable spaces to live in. Expect to nurture and care for meerkats, impossibly cute rock dassies, vervet monkeys, genets, lambs and warthogs. You will also get the chance to feed the carnivores living here. While feeding a baby meerkat will play to your strongest maternal instincts, lobbing huge chunks of meat into the African hunting dog enclosure is altogether more thrilling. Project facilitators will fill you in on the awe-inspiring carnivores being cared for here – cheetahs, lions, caracals – and round out this exciting experience. You'll also help out with maintenance work around the site and there's usually the chance to assist with research work in the wider reserve: retrieving camera traps, sorting and analysing data, and locating free roaming rhinos, elephants and wild dogs using GPS trackers.
Volunteer activities
Although you'll be working each day, some of the activities you'll be asked to get involved with are hardly onerous. The baboon walk, for example. Baboons are seen as pests in Namibia and lots of orphaned baby baboons come into the sanctuary after their parents have been shot or perhaps hit by a vehicle. As baboons are incredibly social animals, these young animals need lots of stimulation and interacting with them is a big part of their care. Taking them for enrichment walks through the bush helps educate them and is lots of fun. It's pretty standard for them to view enrichment as climbing all over the nice, smiley volunteer. Once the baboons grow older, they are introduced to an adult troop at the sanctuary and integrate with them. Volunteers no longer interact with them, as that would be too dangerous. Little research has so far been done into releasing baboons back into the wild, and while the wildlife sanctuary is looking into this, for many rescued baboons the sanctuary will be a safe refuge for the rest of their lives.
Another highlight is walking with cheetahs. Walking with carnivores is sometimes offered as a tourist activity and is highly irresponsible, as big cats are often reared to be petted and walked with until they are too old and dangerous, at which point they are released onto canned hunting reserves to be shot – you can read
our stance on canned hunting here
. Rest assured that this is
not
what's being offered at a wildlife sanctuary in Namibia. Here, there are a handful of cheetahs that are too used to humans, or too badly injured to be released into the wild. Although they have massive enclosures, volunteers can take the cats on enrichment walks which give them the opportunity to run as if they were in the wild. This is for the cats' benefit, rather than an irresponsible 'thrill' sold to general tourists.
Michael Starbuck of wildlife volunteering specialist The Great Projects:
"All carnivores that arrive at the sanctuary are looked after and released as soon as possible; however, it may not be possible for some, who, for example, have long term injuries or have been habituated. For these animals, the sanctuary will provide a safe refuge for them for the rest of their lives and so volunteers may take part in walks with them and the staff as they leave their enclosures and go for exercise in larger areas. If an animal can be released, the volunteers will not have any interaction with it as this would be detrimental for any release efforts."
For anyone with a creative streak, creating enrichment items for the animals is really satisfying. These items are really important, helping keep the captive animals stimulated, and they can include puzzle toys and even papier-mâché creatures that the animals have to rip open. It's a proud moment when you see a couple of cheetahs pulling your creation to bits, that's for sure.
Our top Namibia volunteering Vacation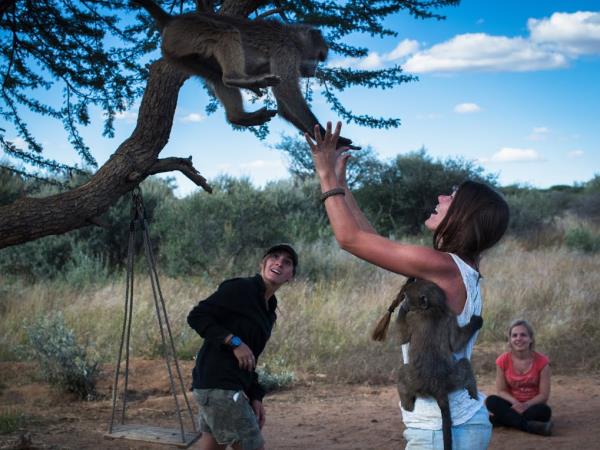 Care for rescued animals in Namibia
From
£

995

to

£

5395
15 days
ex flights
Small group travel:
This project can be joined any day of the year
If you'd like to chat about Namibia volunteering or need help finding a vacation to suit you we're very happy to help.

Accommodation & meals
Sharing is the name of the game when it comes to accommodation. There are volunteer rooms for three people of the same sex, plus tent-style rooms with an outdoor shower for two people (of the same sex, or a couple). This is always subject to availability – you're not booking into a hotel after all – and the sanctuary can't guarantee that you get the accommodation you want. Water is solar powered so can be a bit erratic. You'll be well fed while working at the sanctuary and all meals are included, although you'll need some money for snacks and alcoholic drinks.
Fitness & skills
You don't need any specific skills or experience to volunteer at a wildlife sanctuary in Namibia, just bring bags of enthusiasm and a willingness to roll your sleeves up and get stuck in. Some of the work is physical – construction and maintenance of enclosures, for instance – so it's important to have a moderate level of fitness. Bring the right mindset, too; healthy respect for the wildlife and sanctuary staff whom you'll be working alongside, willingness to learn and a relaxed, sociable outlook are much appreciated.
More about Namibia volunteering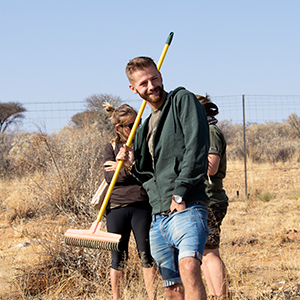 Namibia is vast, a place of extreme and dramatic beauty, with huge areas of desert and grassland that support a surprising diversity of species.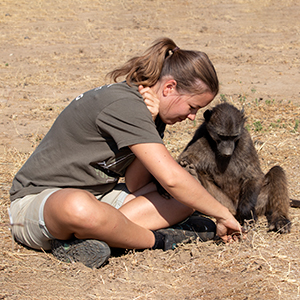 Wildlife conservation and reducing human-wildlife conflict is the main driver of volunteering trips in Namibia, and joining one will bring you close to the country's big elephants, big cats and big landscapes.