Namibia is a destination that you want to zoom out from to really get a sense of just how massive this country is.
Evocative names – the Skeleton Coast, the Namib Desert, the Kalahari – describe these otherworldly spaces, mainly comprised of sand seas, salt pans, inhospitable coastlines and bleak, rocky outcrops. You'll need a wide angle view to really appreciate the scenes during your Namibia vacation, from the crest of a dune, the basket of a hot air balloon, or the window of a light aircraft.

At almost three times the size of Great Britain, Namibia has a population of just 2.3 million people; its towns are few and far between

But the details are well worth zooming back in on: ancient cultures preserved in remote regions; tracking radio-collared big cats or critically endangered black rhinos; wildlife documentary-style scenes at a floodlit Etosha waterhole; 6,000-year-old rock art preserved by the parched climate.
Read out Namibia travel guide to find out more.
Namibia is...
"Post-apocalyptic" according to the crew who filmed Mad Max there in 2012.
Namibia isn't...
Nambia or Zambia
What we rate & what we don't
Township tours
So this is where all the people are in Namibia... Local guides bring visitors to homes, bars and restaurants to reveal the diverse native cultures that still thrive here despite the 'divide and rule' system imposed during the apartheid era. Eye opening tours in townships outside Windhoek and Swakopmund reveal much about southern Africa's violent past, as well as the challenges still faced today.
Stargazing
The Namib-Rand Nature Reserve sits beneath one of the darkest, clearest skies in the world, and astronomers are on hand with giant telescopes to help you make sense of it. Peering at the stars, moons and planets of Namibia's skyscape is every bit as fascinating as discovering what lies beneath them.
Living Culture Museums
Namibia's San, Bantu, Okavango and Damara communities recreate traditional villages in these five museums across the country. Learn how to hunt, fish, dance and weave using knowledge passed down over centuries. These tours contribute to local incomes and community projects, while encouraging traditional skills, music and dance to be shared with the next generation.
Tiny wildlife
Bigger is not always better. Ditch the Big Five during your Namibia vacation in favor of a dune tour: discover dancing lizards, sand coloured sidewinder snakes, tumbling spiders and dew drinking beetles which have developed astonishing ways of surviving in the seemingly inhospitable Namib Desert.
Etosha National Park
A visit to Etosha National Park is probably the closest you can get to standing in the middle of an Attenborough documentary. During dry season, animals cluster around the park's numerous small waterholes - with elephant, zebra, jackals and giraffe jostling for drinking space. By night, floodlights reveal lions, leopards and endangered black and white rhino.
Rhino tracking
Tracking desert adapted black rhino through the wilderness of the Kunene is absolutely thrilling: the animals are completely wild, rather bad tempered and much larger than you'd think. The rarity of seeing them in their natural habitat - and the awful possibility of their extinction - makes your Namibia vacation even more special, and tracking fees support rangers and research which help conserve this species.
Himba village tour
With so many artificial 'indigenous' tours existing solely for the benefit of tourists, Himba villages are wonderful in their authenticity. This semi nomadic community has long worked with tour companies to offer a cultural exchange which avoids exploiting both travelers and villagers, and offers a genuine insight into a way of life far removed from anything you are ever likely to have experienced before.
Sossusvlei
The classic Namibian backdrop - parched white clay, petrified trees and cloudless blue skies stand in contrast to enormous, rust red dunes. While other parts of the desert offer less crowded dune experiences, the tourist hordes arise before dawn to see Sossusvlei with good reason. Just be sure to squeeze in a trip to a more remote part of the Namib as well for a full desert immersion.
German architecture
Despite the hype, the colonial buildings in Windhoek, Swakopmund and Luderitz are very poor tributes to their European counterparts. Finding German-inspired architecture in the middle of the dunes of southern Africa during your Namibia vacation is certainly a novelty, but it would not be worth remarking on at all were it not for the unusual setting.
"Street" photography
As tempting as it may be to take photographs of elaborately adorned Himba or Herero women on the street, or of people you encounter on a tournship tour, it's incredibly invasive to do so without asking permission first. If the Himba are selling crafts, for example, purchasing items is a fair way to compensate them.
Vegetarian meals
Many lodges usually offer two or three dinner options for guests. Unfortunately, the meat free dish almost always consists of a tuna salad, which will soon start to become tedious on a ten-day Namibia vacation.
4WD vehicles
While necessary to reach certain regions, such as parts of the south and Damaraland - particularly during the rainy season - the paved roads across much of Namibia mean that 4WD vehicles are not always necessary, as long as you have good ground clearance. Check your Namibia vacation itinerary, consult your tour operator and you might just be able to save both money and fuel in a standard car.
Eating & Drinking
Namibia has inherited Germany's tasty beer, bread and cakes.

Sling a game steak on the braai - oryx, ostrich or springbok?

Share a bowl of spicy fried mopane caterpillars for an authentic taste of Ovamboland.

Stock up on kudu biltong before a long road trip.

Namibia is the third least densely populated country in the world, after Mongolia and Guyana.

Our top trip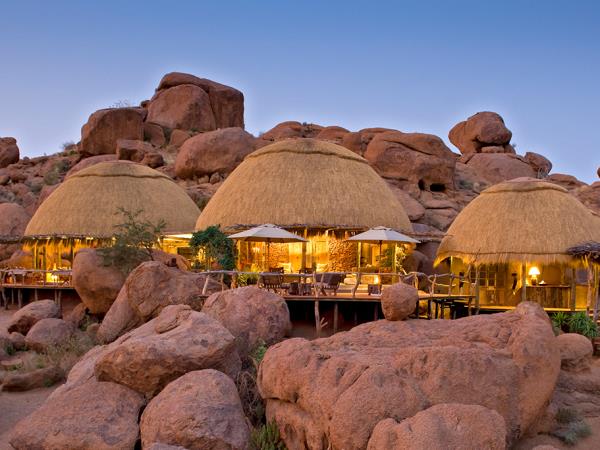 A fabulous small group guided trip in Nambia
From
£

4180

to

£

4475
12 days
ex flights
Small group travel:
2023: 18 Dec
2024: 8 Jan, 19 Feb, 4 Mar, 18 Mar, 1 Apr, 12 Apr, 15 Apr, 22 Apr, 26 Apr, 6 May, 10 May, 17 May, 20 May, 24 May, 3 Jun, 10 Jun, 14 Jun, 17 Jun, 21 Jun, 24 Jun, 28 Jun, 1 Jul, 12 Jul, 19 Jul, 22 Jul, 26 Jul, 2 Aug, 9 Aug, 16 Aug, 19 Aug, 23 Aug, 26 Aug, 30 Aug, 2 Sep, 6 Sep, 9 Sep, 13 Sep, 16 Sep, 27 Sep, 30 Sep, 4 Oct, 7 Oct, 11 Oct, 14 Oct, 21 Oct, 4 Nov, 18 Nov, 2 Dec, 16 Dec
If you'd like to chat about Namibia or need help finding a vacation to suit you we're very happy to help.

People & language
Namibia has 13 main ethnic groups, including indigenous tribes, coloureds and Basters, and whites of Afrikaner and German origin.
Thank an Afrikaner: "Dankie"
Say hello to a Himba: "Moro!"
Ask how is a Damara: "Matisa?"
Gifts & Shopping
Buy unsual Himba jewellery direct from the producers on village tours.

Bring back a bottle of locally produced, organic wine. You can find it in supermarkets - or direct from the vineyard.

!Nara seed oil products are fabulous for the skin in the dry desert climate, as well as being a sustainable source of income for rural communities.

Women's community group crafts create income for impoverished women in townships who have few alternatives.

The San are believed to be the ancestors of all the world's human beings, due to their high genetic diversity.

How much does it cost?
Half a litre of local beer: 95p
Game steak in a restaurant: £6-10
A brief history of Namibia
For much of the 20th century, Namibia fought to escape colonial control. In 1904, German troops massacred around 80,000 native Namibians, including up to 70 percent of the Herero population. In 1915 Namibia was given to South Africa, who refused to recognise the country and called it South West Africa, despite the occupation later being declared illegal.
Read more